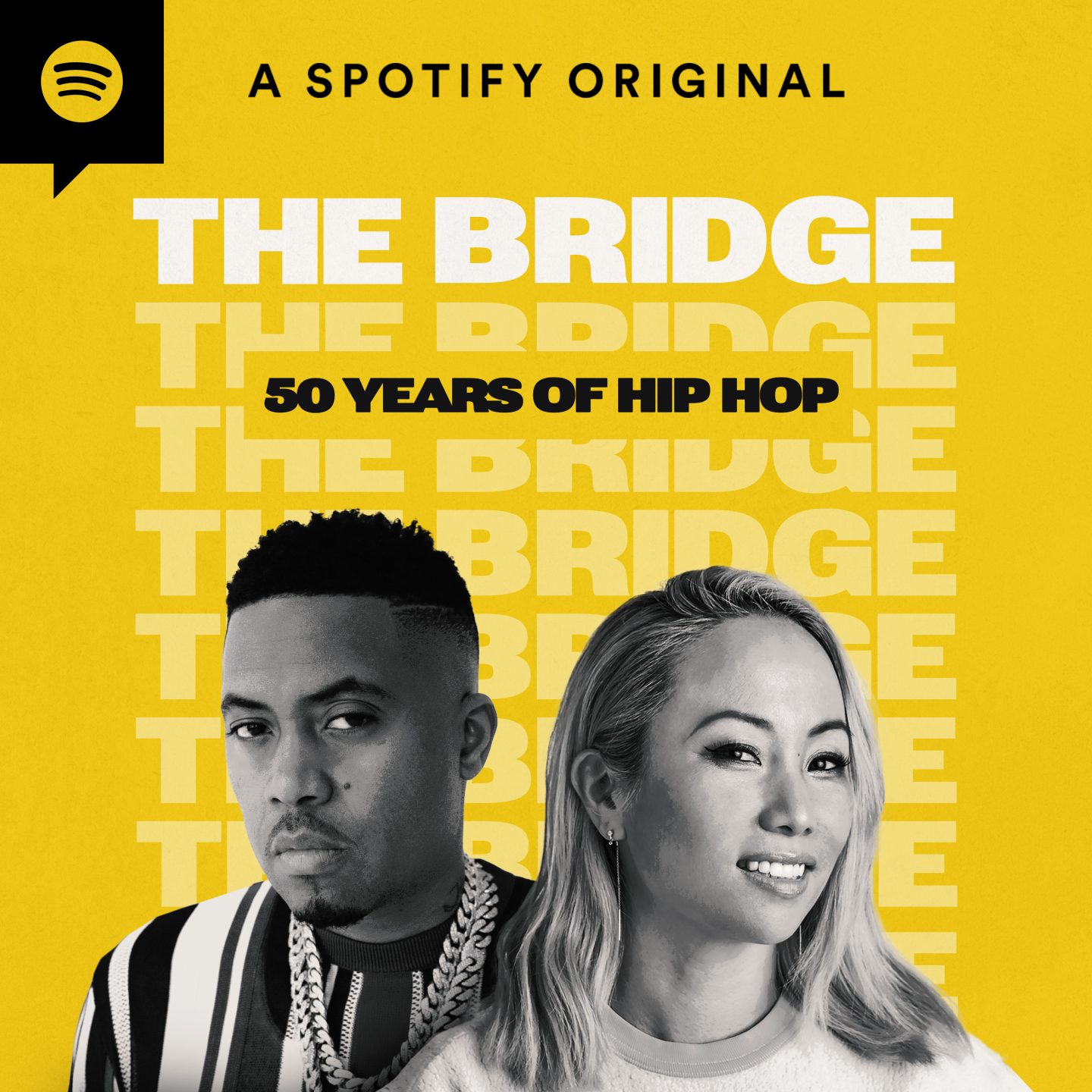 WORDS OF AN ICON
On 'The Bridge: 50 Years of Hip-Hop,' Nas Dives Into the Stories Behind the Genre's Biggest Moments
For the past five decades, hip-hop artists have leveraged the genre to change society, culture, and the music industry as we know it—and have created icons in the process. So to mark the genre's half-century milestone, The Bridge: 50 Years of Hip Hop, a Spotify Original podcast in partnership with Mass Appeal's #HipHop50 program, dives deep into how hip-hop went from the microphones, turntables, and sound systems to big business and a worldwide cultural phenomenon.
Over the past four months, the hosts—rapper and hip-hop icon Nas and veteran journalist Minya "Miss Info" Oh—have interviewed icons such as Ice Cube, Cordae, Mary J. Blige, Jeezy, and Yara Shahidi. Each tells a story as unique as their music, giving listeners a glimpse of their particular place in hip-hop history. But with so many decades and names to choose from, Nas originally wasn't sure where to begin.
"When I first thought about doing this, I thought it would be impossible to choose who to go after first," he told For the Record in an interview. "I got love for everybody." 
We asked Nas to share more about his perspective as a hip-hop icon speaking to other genre giants and about what podcasts he pays attention to.
What are some of the biggest changes to the genre that you've noticed in the three decades you've been on the scene?
The constant changing of the guard. The pioneers have truly inspired the youth. And that youth, they eventually become giants, and then they inspire the new, next generation to do the same and more. And it keeps growing and growing. I like to see the different artists that come out every 10 years. It's crazy.
What's something surprising that you've learned on the show so far? 
Just some of the stories—there's so many untold stories that connect to other stories and allow you to see it as a piece of history. You see the work that was put in that you didn't know had happened. I didn't even know how much MC Lyte had done, just being a female artist waking up and going into a male-dominated industry because it was just something that she felt was her calling. 
Then there's the Ice Cube and N.W.A. stories, like when they talk about coming to New York for the first time and getting booed. Those were hard times in the game. Then Ice Cube had a sold-out solo show at the Apollo Theater. He told the story of it on the podcast. I was actually on 125th Street, outside the theater that night, and I couldn't get in. It was super lit outside in Harlem, NYC. It was that show that really established him in New York City forever. People were crazy for him. I was happy to see it because I was really into his music. And so just hearing from his side of it, how he tore the house down, was really cool.
How did these deep dives into hip-hop history influence your creative process as you put the finishing touches on your latest album, Magic?
They were really different. With the podcast, I got the opportunity to really be a fan, a student, and enjoy the people that really moved me. With Magic, it was just me putting the artist hat on. So, completely two different things, but I can say that talking to all of these guys made me more happy to be an artist in this art form because I could see that there is so much more for me to do. It makes me more happy to be a part of something that the people I'm talking to on the podcast are a part of too. They've inspired me. I am happy to be in their world, pushing what they are pushing.
What was the most surprising thing about creating a podcast? What have been the easiest and hardest parts?
It's been great to step out of my comfort zone and do something that I never thought would be as fun as it's been. I thought I'd be terrible at talking. Timing. Listening clearly—and it's being recorded. I said 'I'll just be me.' I don't even watch my own interviews, and I thought that I'd upset people with all my prying. But I pushed through the sh*t and it's exciting; people tell me they like listening so I guess I'm doing aight.
There are a lot of hip-hop legends who are no longer here to share their stories. If you could pick one person to have on the show, who would it be?
It would be Eazy-E or Young Dolph. I would want to learn more about Young Dolph. I've heard some of his music, but the people I listen to mostly are older, so I want to know more about the things that I've missed that only he can say and explain to me.
What are some podcasts you've been listening to besides your own? 
1619, Drink Champs, and a true crime podcast. 
Get more Nas and Teddy Riley (and maybe one day find out which true crime podcast Nas has been streaming?) on the latest episode of The Bridge: 50 Years of Hip-Hop every Tuesday, only on Spotify.