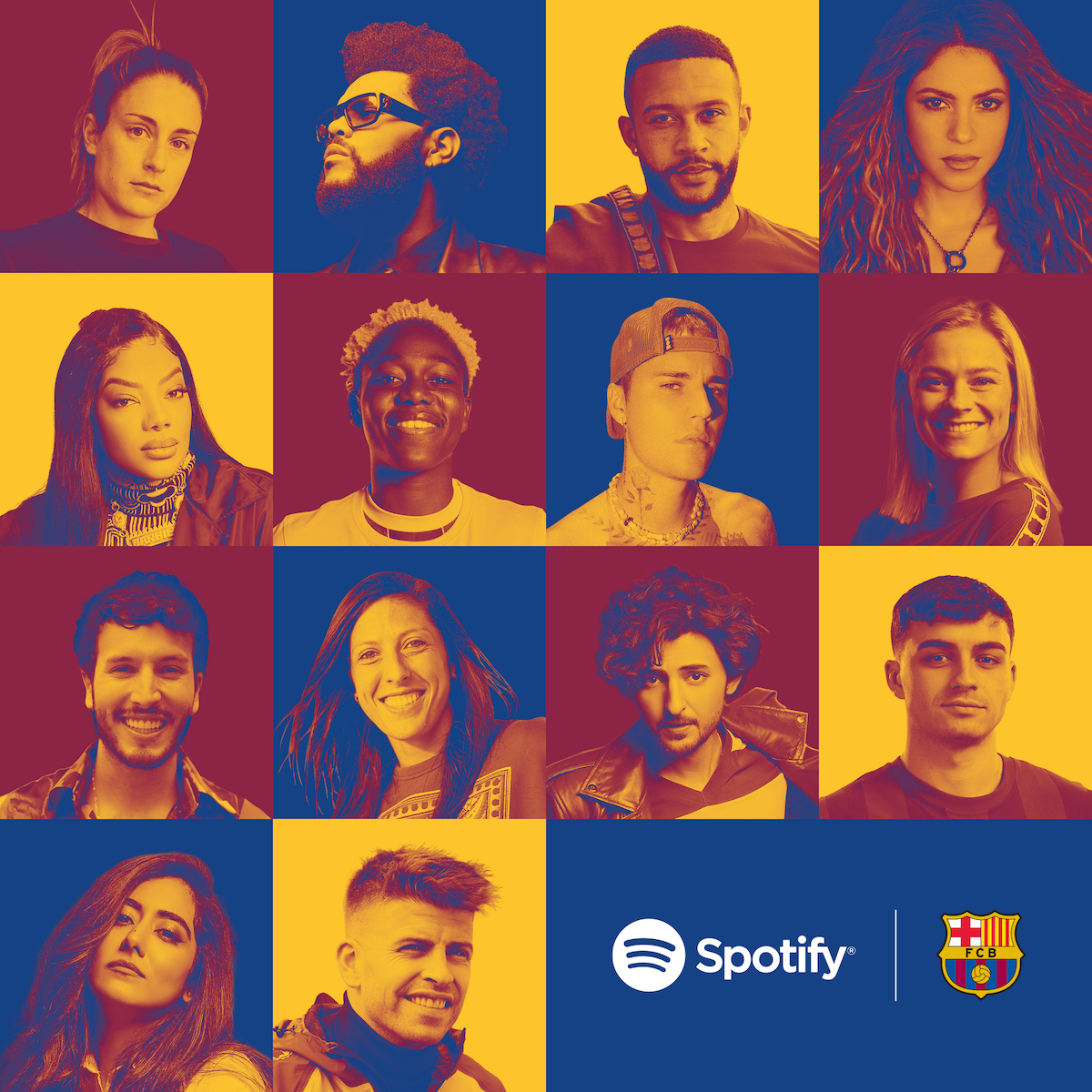 BEYOND THE CLUB
Spotify and FC Barcelona Announce a First-of-Its-Kind Partnership To Bring Music and Football Together
It's official: Spotify and FC Barcelona are pleased to announce a long-term partnership, which officially kicks off in July 2022, where Spotify will become the Main Partner of the Club and the Official Audio Streaming Partner. Our brand will appear on the front of both men's and women's team shirts and training shirts beginning in the 2022-2023 season. Spotify and FC Barcelona will work together to create opportunities for the iconic shirt to be a space that celebrates artists from across the world. Spotify will also become Title Partner of the Stadium with the historic Camp Nou stadium rebranded Spotify Camp Nou. 
Additionally, Spotify will use the partnership to shine a spotlight on artists from all over the world. This will bring the worlds of music and football together, giving a global stage to players and artists at Spotify Camp Nou. 
The partnership plans are subject to the ratification of the Barcelona Members Assembly, which will take place in early April. 
For the Record spoke with Spotify's Chief Freemium Business Officer, Alex Norström, to offer more insight into what fans can expect from this unique deal.
Why did Spotify decide to partner with FC Barcelona? 
That's a great question. Why do Spotify and FC Barcelona make sense together? Why do music and football make sense together? There are a lot of answers from different perspectives—the business perspective, the brand perspective, the marketing perspective. All of which are important.
But for Spotify the answer is very simple: It's about connecting fans with artists of every kind—players and artists, music and sports. Barcelona fans and audio lovers on Spotify will come together to form a massive, globally connected community bridging the worlds of music and football. The vision for the partnership is to create a new platform to help artists interact with Barcelona's global community of fans. 
As we look to grow the Spotify brand worldwide, there are few partners that have this sort of scale and global reach. Being able to connect music and football fans from Barcelona to Mumbai, Jakarta to Rio de Janeiro, is really a unique opportunity. 
Can you talk about how the partnership took shape?
Our vision for the partnership is this: Spotify and FC Barcelona want to bring the worlds of music and football together, giving a global stage to players and artists at Spotify Camp Nou and building new opportunities to connect with fans.
Spotify has never undertaken a partnership at this scale before, but we realized that the magic is approaching ambitious projects at this scale. We've always used our marketing as a platform for artists, so it's adding another huge stage, literally a stadium, to help artists interact with fans around the world. Barça's games attract a huge, global viewership per season and we're looking forward to working with them to connect artists to this audience.
When visiting the stadium and walking down the hallowed corridors of Camp Nou with its breathtaking scale and unmatched legacy, I felt the power, emotion, and aura of the players, the managers, and the fans who call Camp Nou home. It's a privilege for Spotify to support and become a part of the FC Barcelona family and history.
We also love that FC Barcelona is committed to equality and supporting and cultivating diverse talent. These are values to which Spotify is equally committed. So the easiest part of assembling this partnership is supporting both the men's and women's team. We're now proud partners of FC Barcelona, the women, the men, the institution.
What's the vision for how this partnership will come to life? What can music fans and fans of FC Barcelona expect?
We plan to bring this partnership to life in two key ways. First, Camp Nou will become Spotify Camp Nou. Already the home of FC Barcelona fans, Spotify Camp Nou will also put a spotlight on artists and other creators. 
Spotify is working with Barça to leverage our access to in-stadium elements to amplify artists and enable discovery. For example, using the dynamic digital displays to showcase and geo-target relevant artists to Barça's global TV audience. While viewers in Europe may see a message about one artist, TV viewers in India could be served a different and locally relevant message.
Second, as shirt sponsor, Spotify will work to create a new platform to amplify artist voices. We think this can be more than just a Spotify logo on a shirt. The question we've asked is: How can Spotify work with FC Barcelona to make the shirt a bigger platform with more opportunities for artists?
If you think about how we've used our marketing platforms in the past, which regularly spotlight new and female artists through our EQUAL and RADAR programs, you can get a sense of the approach we'll be thinking about for the partnership. We are excited to see what we can dream up together. 
There are also other exciting pieces to this partnership that we're considering, and we'll share more later this year.
Could you share more on the benefits you see for artists and fans?
Spotify has always used its investment in marketing to amplify and champion artists. So we're taking that same approach and applying it to this partnership. 
More fans engaging with our platform means more opportunities for creators to live off of their art, and FC Barcelona's massive global fan base will help fuel that growth. And for fans—both music and Barça fans—we'll be creating more interactive and exciting experiences to connect with the artists they love.
FC Barcelona has legions of young fans across the world—in fact, most of Barça's fans are under the age of 30, which is a hugely important audience for Spotify. Those fans also reside in some of Spotify's fastest-growing markets, including India, Latin America, and Indonesia. 
Against that backdrop, Spotify will be able to amplify the work of artists to new potential fans and supporters.
Celebrate today's news by following FC Barcelona's official profile on Spotify. To get further details on our partnership check out the release here.