AT FULL VOLUME
One Year and More Than 184 Markets Later, Spotify's EQUAL Program Continues To Celebrate Women Artists Around the World
400 ambassadors. 184 markets. 13 million hours of listening. 35 playlists. These numbers represent the powerful impact of Spotify's EQUAL program over the past year. 
Since its launch, EQUAL has shined a spotlight on women artists through global partnerships, activations, new content experiences, and on- and off-platform support—all created to foster equity for women in audio and celebrate their contributions. On Spotify, listeners can find the EQUAL Hub, which is a dedicated space to highlight women creators. The EQUAL Global Music Program extends resources and opportunities to women artists and amplifies their music through the flagship EQUAL Global playlist and EQUAL local playlists. 
On the platform, it's clear our listeners are big fans of the women who are featured in our EQUAL campaigns. Take a look at some of the things EQUAL artists have achieved over the last year.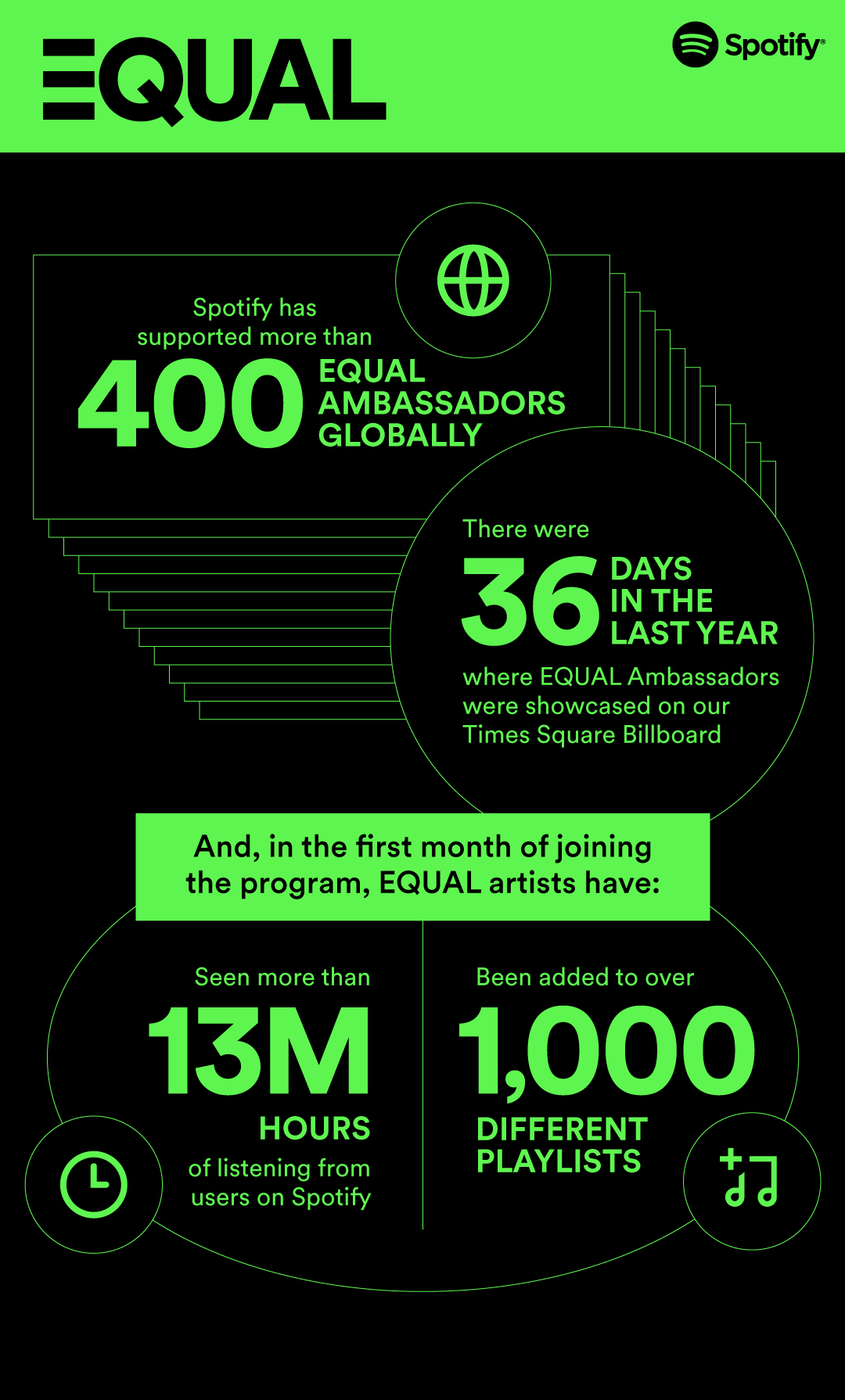 Plus, here are just a handful of accomplishments from EQUAL ambassadors and local market initiatives:
Seven of EQUAL's

Polish ambassadors have been nominated for the Fryderyk award this year. 

Five of EQUAL's Dutch ambassadors have been nominated for the Edison Award this year. 

EQUAL French ambassadors

Juliette Armanet

and

Barbara Pravi

were both nominated for Victoire de la Musique awards, the French GRAMMY equivalent, with

Barbara

winning her category. 

Three EQUAL U.K. ambassadors were nominated for BRIT Awards. 

Last year in Spain, we hosted a roundtable called "EQUAL ESPANA" where singer-songwriter

Rozalén

and Spotify's Head of Music for Southern Europe,

Melanie Parejo

, came together to discuss the importance of women in the Spanish music industry. 

In Japan, two new playlists are launching in the market to celebrate EQUAL's first anniversary:

Curated by Women

and

EQUAL Anime

.

In Colombia, Spotify is taking EQUAL to the stage for the first time. Throughout the month of April, across seven performances, Spotify will bring together 13 outstanding artists including EQUAL Colombia ambassadors Goyo, Paola Jara, Lido Pimienta, Andrea Echeverri, Elsa y Elmar, Ventino, and more to make a statement for gender equality at full volume.
View this post on Instagram
We know this is only the beginning of bringing women creators front and center. Spotify will continue to highlight and amplify women's voices by curating top audio destinations for women artists with global playlists like EQUAL: K-Pop, EQUAL: Indie, Women of Rock, and Galdem – Queens. As we reflect on EQUAL's first year, we know there's more work to be done and Spotify is committed to fostering equity in the music industry and beyond. 
Now that you know all about EQUAL, it's time to celebrate the program's anniversary by listening to the EQUAL Global playlist below.