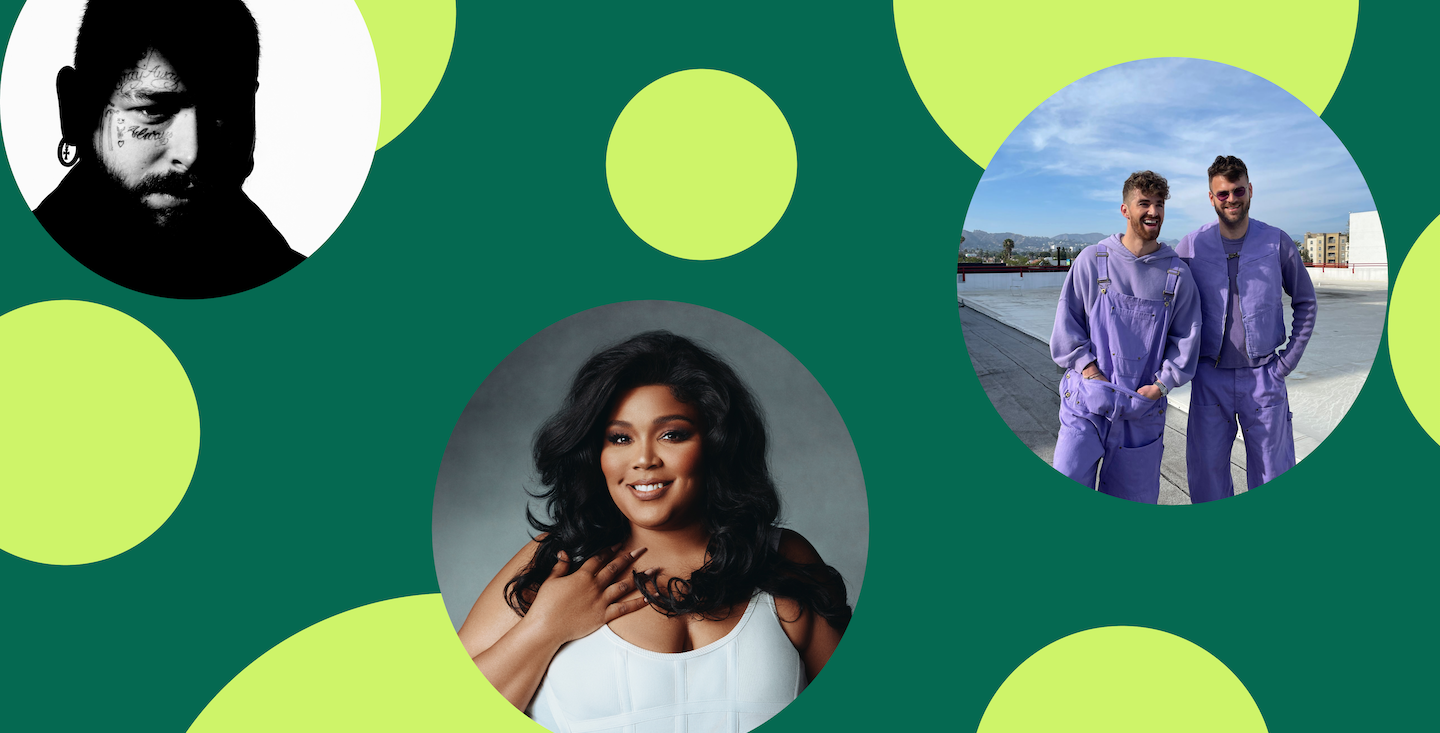 HEART ON YOUR SLEEVE
Blend With Lizzo, Post Malone, and The Chainsmokers—And Buy Their Merch
Listen to this story read aloud in 2 minutes and 20 seconds. 

Music fandom is about more than just listening to music and going to shows: It's connecting with an artist, their songs, and their fellow followers. And what better way to signal your love, and maybe strike up a conversation with another fan, than by repping your favorites with a t-shirt or other merch? 
At Spotify, we're always looking for new ways to grow the bond between artists and fans. Our latest feature, Blend, combines the best of our personalization capabilities and collaborative playlist functionality to help you create a playlist that syncs your music taste with that of your friend's or artists' like BTS, Charli XCX, Kacey Musgraves, and Megan Thee Stallion. 
Now we're expanding the popular feature to even more artists including Lizzo, The Chainsmokers, and Post Malone. And we're also adding a new element: the opportunity to shop artist merch from the Blend experience so you can literally wear your love on your sleeve. 
Here's how you can Blend with one of these artists and then purchase their merch:
Click on an artist's name in this story to be directed to Blend. Or, check out the artist's link from their social channels. You can now choose from

Lizzo

,

The Chainsmokers

, and

Post Malone

. 

Let Spotify make a playlist tailored to your shared tastes.

Check out your

social sharecard. It contains your Taste Match score, which shows

the percentage of music taste you two have in common. Then, share it directly to

Instagram, Facebook, Snapchat, or Twitter.

After you get your Taste Match score, you'll have the opportunity to purchase the artist's featured merch

via our integration with Shopify

. All the pieces of merch have been selected by the artists themselves and include items such as t-shirts, vinyl albums, and more. 
It's our mission to build new opportunities for creators to live off their work, and our larger partnership with Shopify makes it easier than ever for artists to sell their merch on Spotify. By putting merch alongside the music experience, we're increasing purchase opportunities and generating incremental sales for creators.
Blend with Lizzo, The Chainsmokers, and Post Malone by clicking on their names. And find a full list of all available artist Blends here.