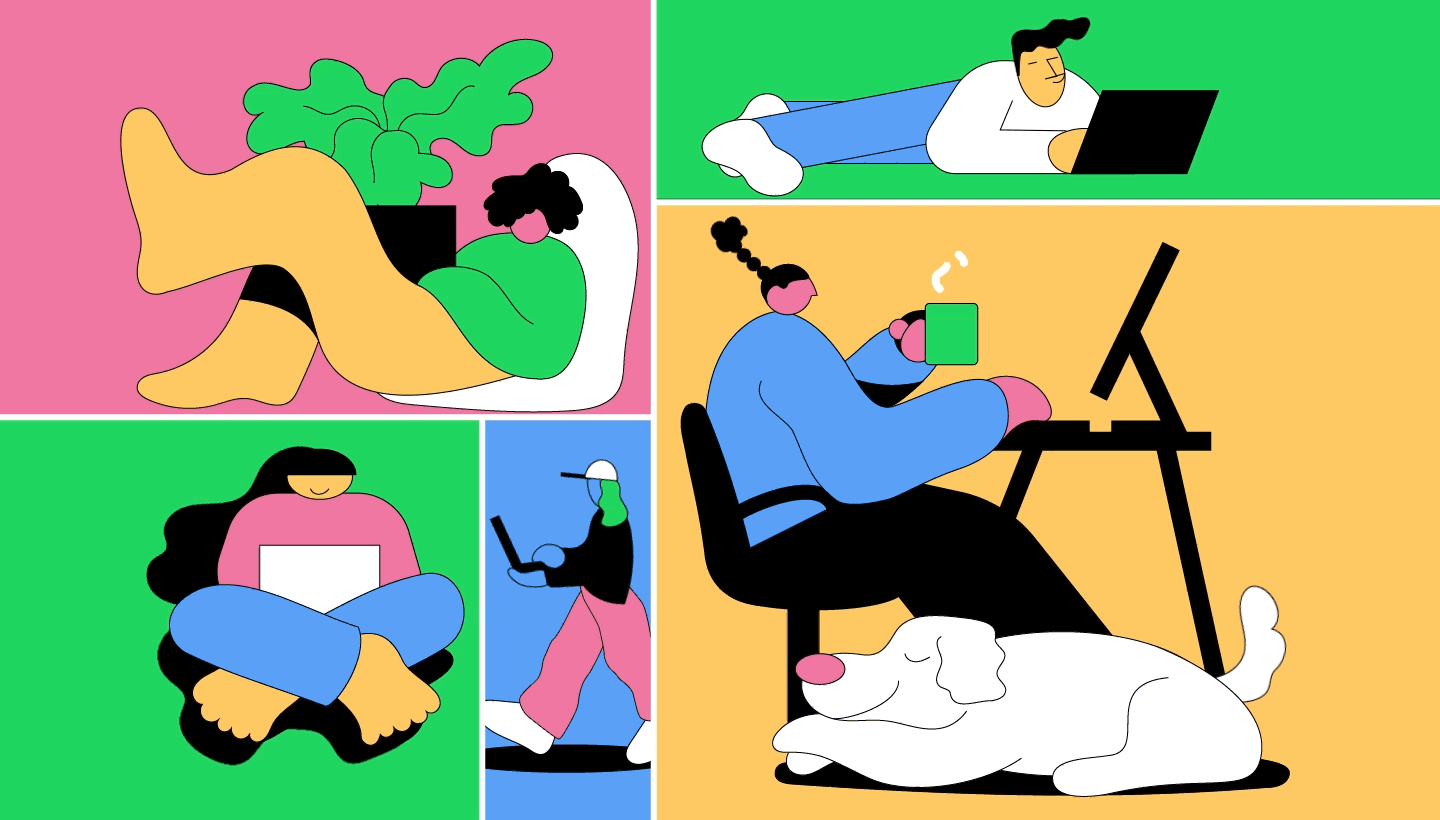 THE DYNAMIC WORKPLACE
Distributed First Contributes to Spotify's Strength
Enter a meeting room in any Spotify office and you'll see a reminder on the screen, a mantra to keep in mind as you turn on the monitor to start your meeting: "We are distributed first," it reads. "Does everyone in the room and on-screen have an opportunity to speak?" 
As a company, Spotify has long appreciated and embraced the intricacies of hybrid meetings. Global and local teams as well as collaborators worldwide meant that combined in-person and virtual meetings were already a big part of the company culture. Still, the majority of our 6,000+ employees were heading into work daily at one of our offices prior to the start of the pandemic. 
Yet Spotify's leadership team recognized early that in-office work wasn't the only way to achieve company goals. Particularly, the goals of globalization and digitalization necessitated an even more flexible way of working. So becoming "distributed-first," or enabling employees to work from the places that were the most conducive to them, was a logical next step. The events of 2020, in addition to employee feedback, served to accelerate this transition. 
Fast-forward two years, in which we've incorporated a Work from Anywhere (WFA) policy and converted our offices to become dynamic workplaces. Now, employees are again holding hybrid meetings, with some in offices and others at home across the world. However, much has changed, and more employees now work fully remote, while those who choose to go into the office one, two, or five days a week find themselves in an entirely new set-up. 
All of this ladders up to our distributed-first mentality—one in which Spotify provides a productive work space for everyone, even when no two employees' work places, preferences, or optimal schedules are the same.
Meet the dynamic workplace
Start with a hub—a location like Spotify's New York office (where you'll be treated to sweeping views of the harbor and comfortable seating for meetings and relaxing alike). Around the corner, desks are dotted across open collaborative areas that are great for in-promptu conversations; the space's quieter padded conference alcoves are ideal for when employees need to focus. Conference rooms with smart monitors for hybrid meetings can be booked for groups of two, four, 10, and more. Employees can flex as their day and work needs require. 
View this post on Instagram
The concept of providing an office space that reflects the needs of employees, or a "dynamic workplace," was under consideration even pre-pandemic. According to Mattias Stålhammar, head of Global Workplace Services, Spotify started office transformations in autumn of 2019. "We consider the dynamic workplace to be an approach and not a solution," he explained. "The goal is to provide a workplace that reflects the needs of the employees and thus the business. The three main objectives are flexibility, well-being and sustainability."
Some view collaboration as their primary motivation for spending time in the office; for others, it's the focus time. Our offices are being designed accordingly. Unassigned desks allow employees the flexibility to change up their office environment depending on their work needs or even their moods. 
"Some of the coolest things I've worked on here have grown out of small talk in the hallways and around our desks," says J.J. Italiano, Head of Global Hits, who works out of Spotify's Los Angeles office. "With the layout of the LA office, it's so easy to run into people that I might not interact with in my normal day-to-day work. Moving from one conference room to another or getting up to grab a snack can turn into a 30-second conversation with a colleague that helps to inspire something I'm working on or get me up to speed on something interesting happening elsewhere in the company that I wasn't aware of before." 
View this post on Instagram
But for J.J., a best-of-both-worlds approach allows him to do his best work. "Some work is easier to do alone at home, like catching up on emails or working on a project," adds J.J. "Other stuff—like planning, brainstorming, and problem-solving—are easier to do in person with the team, where ideas can be bounced around and refined in a group setting." 
In any location, proper equipment is critical. "We provide three different types of workplace nodes," continues Mattias. "Our Spotify offices, coworking spaces, and home offices. In our office and home office nodes, we make sure that we provide an ergonomic set-up together with a proper IT set-up." So employees who work primarily from home and those who are hybrid can order ergonomic equipment to ensure a comfortable environment. 
At the end of the day, J.J. chose to primarily work from the office—something we call "Office Mix"—because his teammates are his favorite thing about working at Spotify. And that's a sentiment that's shared across the business. 
"Our people are our most important asset and it's crucial that we provide the best possible conditions for them to be productive, stay healthy, and feel connected to the company—and, let's not forget—to have fun!" says Mattias. "Our workplace plays an important role in attracting and retaining top-talent to make sure the company continues to develop in a positive way."
View this post on Instagram
A Work-From-Anywhere mentality
Our "Work from Anywhere" (WFA) policy, which was rolled out in early 2021, cements that the office isn't the be-all and end-all for work at Spotify. "We believe that work isn't something you come to the office for, it's something you do" is a philosophy long held by Katarina Berg, Spotify's Chief HR Officer. "Giving people freedom to choose where they work will make great people more effective, and this flexibility will better support work-family balance, ultimately helping to attract and retain talent."  
View this post on Instagram
This mindset has already paid off for plenty of employees. Maria Rossi, a Product Insights Manager for Personalization who relocated from Argentina to the Netherlands six years ago, says she was only looking for jobs where she could work mostly remotely from Amsterdam. She enjoys the flexibility of working from home, which allows her to harness deep focus time during the workday as well as daily runs right before sunset. She doesn't miss opportunities for in-person connections, either.
"Working from Amsterdam while my direct team is distributed across Europe means that going to the office brings the best of both worlds," she says. "I get the flexibility to live in a city I love with friends and family that are here, while having a global team and collaborating with colleagues across the world. Being able to have a distributed-first mentality also enables us to have, in my opinion, the biggest benefit of all: creating a team with different backgrounds, cultures, and experiences by acknowledging that you cannot always find that in one place." 
Marina Cupaiuolo, an Operations Manager, was hired in Stockholm but relocated during the pandemic to Östersund, a five-hour train ride north of the city. The benefits of remote work and the culture surrounding it have enabled her to enjoy her new home and stay connected to colleagues. 
"Without WFA, I wouldn't have been able to live this close to relatives, or afford the kind of living situation I can now—with a house and a big garden and a lake view. I'm able to go outside during lunch and pick veggies from my garden. I get to immediately play with my daughter as soon as I'm done with work. I value the trust that I'm delivering on the work that I was hired for, no matter if I'm sitting at an office desk or not." 
View this post on Instagram
That trust is core not only to her day-to-day life working from home, but the Spotify mentality that contributes to a positive—and productive—distributed-first environment.
"We believe we can make people and teams more effective by building on the lessons we've learned on how Spotify works and rethinking how that work is done," noted Katarina. "Operating as a distributed organization will produce better and more efficient ways of working through more intentional use of communication and collaboration practices, processes, and tools." 
"I know this is a journey and that there are still things we have to figure out, but what I have found amazing is that there's really been a mindset shift towards working distributed first," says Maria. "People are very open and everyone is doing their best to make this work out. I'm confident it can only get better."