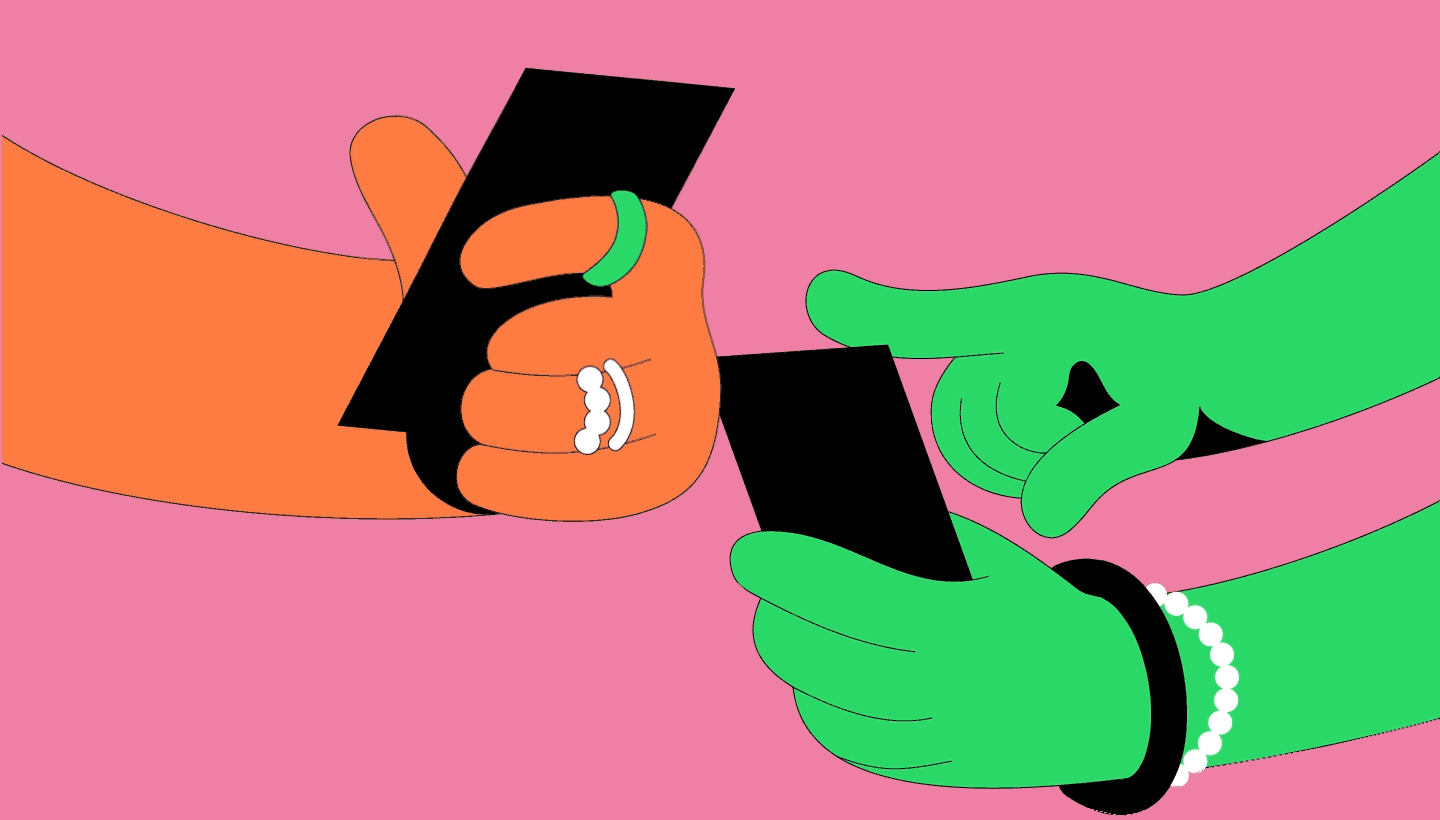 A CONVERSATION WITH
Scrolling Through Social Sharing at Spotify With Priscilla Chan and Agnès Steinwall Berman
Every once in a while, you stumble upon a song that hits you right in the gut. Supercharged with emotion and energy, you send it to the person who you know will feel it with you, and the music brings you together. 
This concept—social sharing—is ever popular among our users. Whether it's an album drop, a podcast episode, or their Wrapped data stories, Spotify fans are eager to share and explore their favorites with friends and family. 
Agnès Steinwall Berman, a Senior Product Manager in Sharing within Platform & Partner Experience (PPX), describes social sharing as "the way you want to express yourself with audio." But it's also more than that, she says: "Functionally, it's the way you can very quickly recommend something to someone else. And it's very much at the core of the conversations that happen between fans, and of course, between fans and creators."
So while social sharing at its simplest entails sharing your favorite songs and podcasts directly to platforms like Facebook, Instagram, or Snapchat, for Agnès, it also means enabling within your social feed new features like Blend invitations or Wrapped share cards (which debuted for the first time in 2019). It also means thinking through the social aspect of offerings like Canvas or Clips, video content enabled for Creators.
"How do we empower fans and artists to express themselves with the content that exists on Spotify?" asks Priscilla Chan, Associate Director on the Business Development team. "We're looking to cultivate more active participation through a shared experience." 
To better understand social sharing at Spotify, For the Record talked to Agnès and Priscilla about the team's early days, what they're focused on now, and the potential for endless capabilities in the future.
Exploring social sharing's origins at Spotify
Priscilla: Our history so far has focused on working closely with partners who support mechanisms and destinations for sharing. Meta (or Facebook) is a longstanding partner given their scale and impact on the social media landscape. A few years ago, as Meta began to expand their platform offerings and diversify the destinations that users could share to, they began to offer tools for partners like us to plug in. This in turn presented an exciting opportunity to invest in the beginnings of our social strategy. 
We began first with sharing to Facebook Newsfeed. Everything naturally grew from there, especially with the popularity of the Stories format. It really started with a simple question, What would it look like to share this content out on social? 
Agnès: The Instagram Stories integration was where we decided to fully invest in building our own share flow, which is the entry point for sharing from the Spotify app. 
Priscilla: Prior to this, sharing was generally seen as an afterthought to the core features on the Spotify platform; whereas now, these partnerships and features are vitally important drivers of the viral loop of growth for Spotify. 
Where we're at …
Agnès: There's been a major shift over the last three years across the company when it comes to social sharing. One of my first projects was to look into the viral loop to understand what the missing data was. Ultimately, we didn't have the full picture of what was driving our growth from a social perspective. We added tools to better understand sharing behaviors—for instance, volume of sharing, engagement and acquisition from shares, interesting industry trends, and so on. With this, we were able to demonstrate the impact and continue to invest with our partners. 
Priscilla: In terms of who we are and how we work, I'm part of the team that works with partners to extend the Spotify experience into all the apps, platforms, and devices where you can consume content. To put it simply, we advocate for, build, and negotiate partnerships that drive long-term value for Spotify. In addition to growing our existing partnerships, we're keeping a pulse on new platforms and opportunities.
We work arm in arm with PPX to build all these experiences, and we're supported by an amazing broader cross-functional team: engineering, design, data insights, legal, and licensing—as examples of our internal stakeholders. 
And when it comes time to launch an integration, we're also road managing the go-to-market plan. That means plugging in with marketing, comms, customer support, and product marketing to coordinate for launch and beyond. I see our roles as hubs in the wheel, if you will, for making it all come together. 
Agnès: I'm product managing two sharing teams, and our mission is to establish the best sharing experiences across Spotify. We work with our social partners to ensure that users and creators can share ubiquitously through a variety of integrations. Similar to Priscilla's, my role entails understanding the industry and where we should be heading in the future. There's the R&D side (what can we build technically?), the business side (what makes sense strategically to meet our vision and key performance indicators?), and the design side (how should the user interface be designed in the most seamless and engaging way?). 
I work closely with Priscilla to make sure we are aligned from all of those perspectives before we move forward. 
For the good of listeners and artists
Priscilla: There are really three key principles underpinning our work: 
Ubiquity: Being everywhere where our existing and potential users are extends our global reach. And of course, that extends artists' reach as well. 
Expression: In a world that is increasingly virtual and distributed, all the platforms that we're deeply integrated with across social media are vitally important to stay connected. Sharing allows our fans to express themselves and allows artists to react to them. Building that community in a meaningful way is something that I see as an opportunity area where we can invest further. 
Audio discovery and consumption: This means seamless ways to connect users on and off platform, and arming artists with the ability to drive and discover consumption of their releases through the shares. It also further establishes Spotify as the leader in audio and spurs opportunities for culture-defining conversations.
Always thinking outside the box
Agnès: We don't want to only look at "what we can do today"—it's all about having a point of view for the future. I work closely with our designers to ensure we're not limiting our thinking, and with our engineers, who can help us define what becomes our minimum viable product (MVP)—the simplest possible version of what we'd need to create to test our idea. And then in the end, we always do some kind of impact and effort sizing. So if we're seeing this new opportunity, something we want to do, but we don't have the capabilities right now, do we think it makes sense for us to invest in that? Or do we think we should stay more within the areas or the capabilities we have today? 
For me, a dream feature would be to work more closely with a creator to make something truly unique with them and find new and creative ways to share their content off platform. 
Priscilla: We approach all of our projects, especially the big ones, with the intent of iterating, with the intent of building upon the MVP. So we'll usually start with asking, What is the baseline experience that we want to launch? And then we'll build it up over time. This naturally opens the door for new opportunities, especially as we're working with some of these larger partners where we have long-term relationship goals and road maps. 
When we launched the first version of Instagram Stories with static content, we always hoped that we would build upon that, and we did with assets like Canvas, Wrapped data-stories sharing, and others. I personally would love to see more features that support UGC (user generated content) video and personalized stats—or even being able to unlock filters and stickers based on your listening history. So there's a lot of ideas that we have about how to take it to the next level.  
No matter how busy it gets, I personally always leave some room for innovation, some capacity for new opportunities. 
Have ideas for social sharing? Submit them to the New Ideas forum on Community.