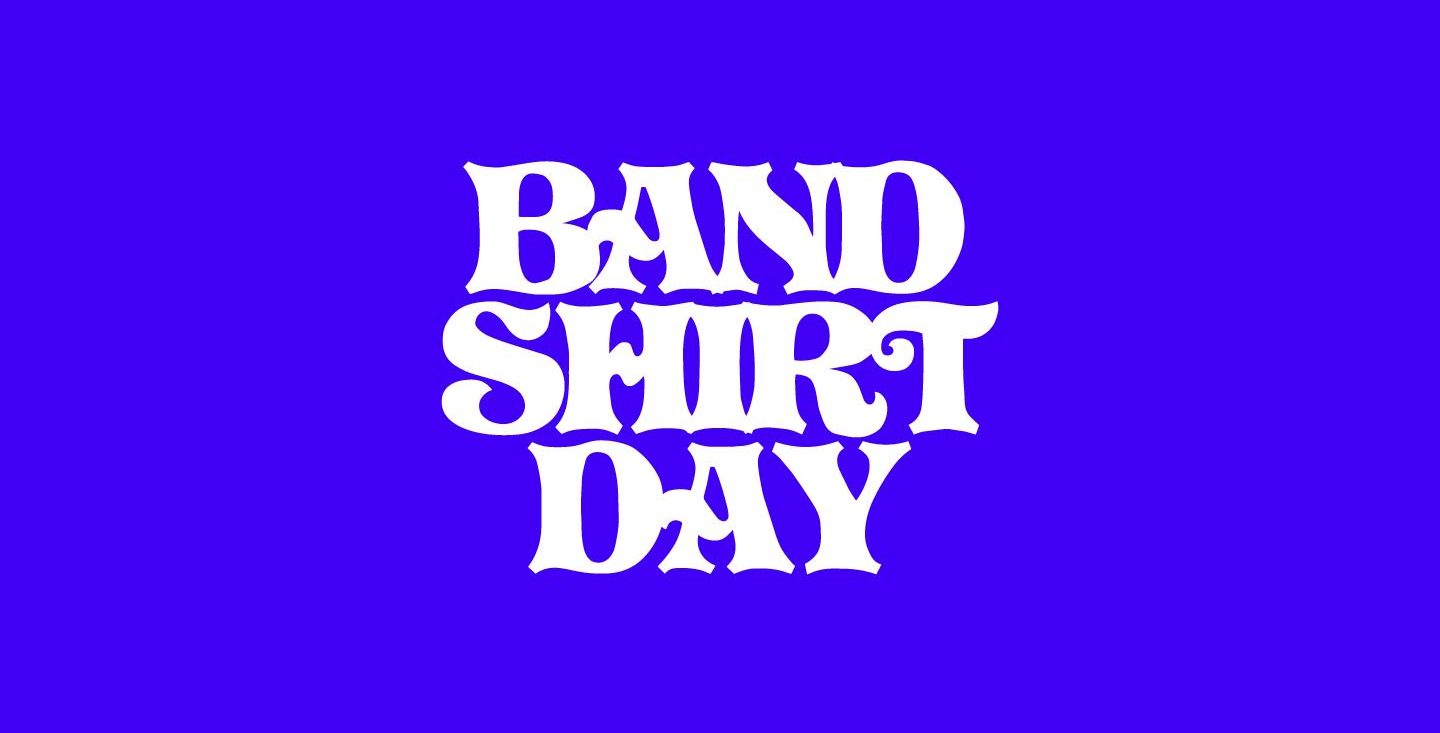 ON YOUR SLEEVE
Spotify, MerchFriends, and More Dub September 16 'Band Shirt Day'
There's no more iconic and instantly recognizable staple of music fashion than the humble but omnipresent band shirt. Take Joy Division's scrawled mountain range, Wu-Tang Clan's Shaolin-inspired W, or Nirvana's faded smiley face. It doesn't matter if you're a first-time concertgoer or a celebrity shelling out astronomical sums for vintage tees. Band shirts are the easiest and most immediate way to proclaim your love of a band or artist anywhere you go. 
That's where Band Shirt Day comes in. On September 16, Spotify and MerchFriends, a nonprofit organization dedicated to building a sustainable ecosystem for independent music merchandise, will launch a holiday dedicated to celebrating band tees (and doing some good in the process). 
Led by artists like Blondie; Mac DeMarco; Portugal. The Man; The Maine; The Format; King Gizzard & the Lizard Wizard; Black Pumas; Parquet Courts; Sonic Youth; Best Coast; Matt Nathanson; Indigo De Souza; Bush Tetras; Roar; SPELLLING; Equal Vision Records; Rude Records and more, this special day celebrates iconic merch and charitable giving for worthy causes like Planned Parenthood, Children of Ukraine, the Ally Coalition, MusicCares, TransLifeline, and the American Civil Liberties Union (ACLU). 
Any artist can participate by offering a special tee or merch deal on their Spotify profile. Artists can also participate by using Spotify's Fan Support tool to drive fans to donate to Band Shirt Day's official GoFundMe or raise money for another cause directly from their artist profile. 
Fans can buy Band Shirt Day merch or donate to the Band Shirt Day fund on Spotify on September 16, and share their #BandShirtDay selfies on social media. They can also tune into a special Spotify Live broadcast hosted by WASTOIDS at 5 PM eastern. Plus, fans can join Spotify in celebrating Band Shirt Day at Rough Trade and Rockefeller Center's Indieplazafest September 17 and 18. Performers include Ali Shaheed Muhammad of A Tribe Called Quest, new wave trio Automatic, lo-fi singer-songwriter Claud, classic indie rock sounds from Horsegirl, R&B singer Yaya Bey, Brazilian singer/songwriter Sessa, harpist Mary Lattimore, and more. 
Band Shirt Day presents us all with an opportunity to make a difference while celebrating the powerful connection that brings artists and fans together. After all, grassroots dedication has always been at the heart of band shirt culture. The earliest band tee iterations were handmade, DIY objects crafted by early rock 'n' roll fans—particularly devotees of Elvis—as a way of proclaiming their allegiance to pop figures in a move presaging the rise of "stan culture" today. 
But by the mid-'60s, a shift had begun. From his perch in the psychedelic stronghold of the Bay Area, concert promoter Bill Graham caught on to the notion that fans were more than willing to act as a "walking billboard" for bands they loved. In the 1970s, this connection intensified, driven by the vibrant logos bands began adopting. Think of AC/DC's lightning bolt, Pink Floyd's rainbow prism, and the Grateful Dead's cornucopia of dancing bears, flower-adorned skulls, and assorted cartoon freakery. 
"Growing up we all wore band T-shirts just about every day to school," say members of Roseville, California-based rock band The Vista Kicks, who cite garments from The Rolling Stones, AC/DC, Metallica, and Black Sabbath as items that hung in their closets. "The shirts allowed us to express who we were and who we wanted to be." 
 When The Vista Kicks were hand-selected by Ronnie Wood to open shows for the Stones in 2019, the quartet found themselves playing to arenas packed with audiences wearing shirts featuring the band's iconic mouth and tongue logo, intensifying the surreal feeling they felt opening for their heroes. In a mass gathering, be it an arena show or all-ages punk venue, band tees become more than just something you toss on; they serve as elements of a fan's identity.
So dig out your favorite band tees: It's time for Band Shirt Day on September 16.