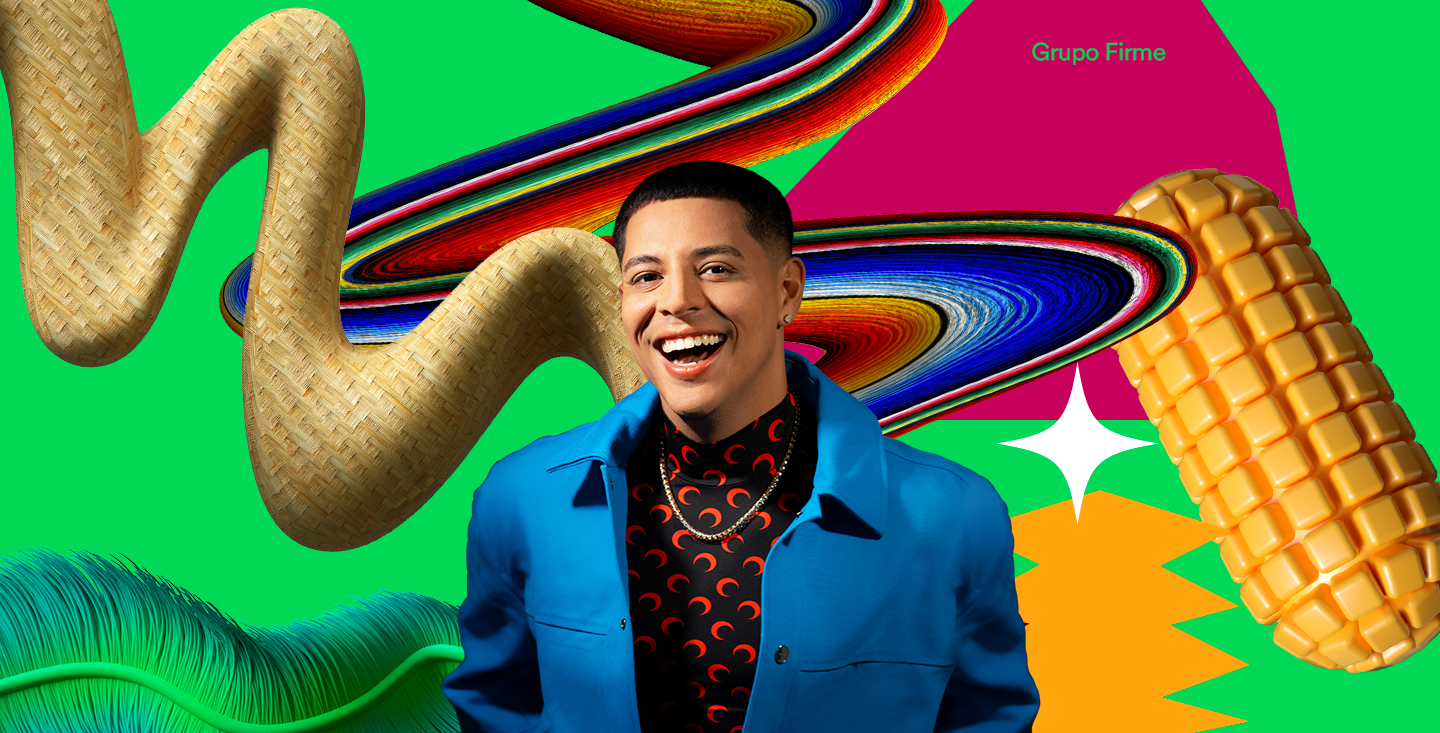 KNOCKING DOWN BORDERS
A New Generation of Artists Is Reinventing Mexican Music and Captivating Listeners Around the World
Spotify data tells the story of a genre that has emerged as an unstoppable cultural force. At the end of August, worldwide Mexican music listening on Spotify grew by 56% annually, doubling the growth rate of the previous two years. And since 2019, the volume of streams has more than doubled to reach 5.6 billion.
To celebrate this movement, we're launching a new campaign titled "México es imparable. Reprodúcelo." At its center are three short films that celebrate artists such as Eduin Caz from the banda septet Grupo Firme, and Julión Álvarez and Yahritza y su Esencia, whose music inspires a generation that returns to its roots to generate different identities.
A genre that brings together a diversity of rhythms such as banda, norteño, sierreño, grupero, and mariachi, Mexican music is becoming one of the fastest-growing local genres on the platform. For reference, the amount of streams of the genre amounts to two-thirds of the volume of reggaeton streams on Spotify. 
In Mexico, one in every four music streams is a Mexican music track. In the United States, Mexican music ranks among the fastest-growing genres. Beyond the traditional strongholds, Mexican music artists are filling ever-larger concert venues in Latin American countries like Colombia and reaching new audiences in geographically remote countries like Chile.
All over the world, industry insiders and fans are wondering why.
Collaboration without boundaries
One key factor that explains the recent revival of Mexican music is that the genre has attracted stars from other genres, like reggaeton, trap, or hip-hop. These crossover artists have embraced the high-pitched guitar requintos that are a staple of corridos, and the wind instruments of banda music to create pop hits.
The number of collaborations between Mexican artists and international artists in the last two years reached 31,000. Which might explain why last year, 66 million listeners on Spotify discovered Mexican music for the first time outside of Mexico.

"Urban Latin music, in its expansion into the mainstream and the exploration of paths towards all kinds of genres, influenced Mexican music artists to make more collaborations," Alejandro Grageda, Spotify Artist and Label Partnership Lead for Mexico, tells For the Record.
"The ability to find new audiences around the world, in addition to the data and best practices that Spotify for Artists offers, have served as a catalyst to accelerate these collaborations and contribute to the expansion of Mexican music."
Collaborations have offered discovery opportunities to new fans around the world. Consider Colombian reggaeton-pop ensemble Piso 21 collaborating with Christian Nodal in "Pa' Olvidarme de Ella." It's their third-most-streamed track to date, and 80% of streams come from Mexican fans. Bad Bunny's collaboration with Natanael Cano on the 2019 remix of "Soy el Diablo" increased the latter's streams by 172% in one week after its release. Spanish trap star C. Tangana in "CAMBIA!"—his version of a corrido tumbado—introduced Carin Leon and Adriel Favela to fans in Spain.  
The trend has only deepened, as evidenced by recent releases such as Camilo alongside Grupo Firme on "Alaska," which performed better than their other songs in countries like Colombia and Chile. There's also bachata star Romeo Santos duetting with Christian Nodal on "Me Extraño," which is distinctively popular with Mexican fans. Despite Romeo having similarly sized fanbases in Mexico and America, Mexicans have streamed the song twice as many times as American fans.
Remixing traditions 
Mexican music's rise in popularity can also be attributed to a new wave of artists who are reinventing their musical traditions and generating sounds that connect with young listeners.
"In Mexico, Christian Nodal and other young artists revolutionized mainstream music by breaking with the conventions of the genre," says Uriel Waizel, Editor Lead for Spotify in Mexico. "At the same time, a generation of Mexican American artists draw on their own musical roots and dominant cultures, such as hip-hop. The result is an original sound and a narrative that reaffirms the identity of its generation within a multicultural landscape."
Two genres in particular have captivated Gen Z fans: corridos and sierreño. Some nostalgia animates the resurgence of these genres, but their bucolic flavor has given way to an aesthetic and themes that are closer to urban genres such as hip-hop and reggaeton.
Corridos Tumbados combine guitar requintos with bass-heavy trap beats, which can be heard in songs from Natanael Cano and Junior H. Their more melodic variant, sad sierreño, is represented by acts like Yahritza Y Su Esencia as well as the duet Eslabon Armado, which consists of brothers Pedro and Brian Tovar.  
Grupo Firme also changed the game by mixing banda and norteño style with contemporary rhythms and ditching the traditional sombreros for a unique glam style. The band has achieved cult status for their epic live performances in stadiums across Mexico and the United States and a devotion that reaches K-Pop levels of fandom. 
"The mix of sounds in Grupo Firme's music has been something very important because many doors have been opened. The stereotypes that Mexican music had have been broken, and fusions have been made with artists from other genres," says Eduin.
As Mexican music finds ways to connect with new fans across generations and borders, we've loved watching its rapid rise across the globe. And through campaigns like "México es imparable. Repordúcelo," we'll continue to spotlight the artists and songs who are turning this genre into a global powerhouse.
Discover MEXCLA, the Spotify hub dedicated to Mexican music and its forays into other musical genres, and the playlist that brings together the best fusions.