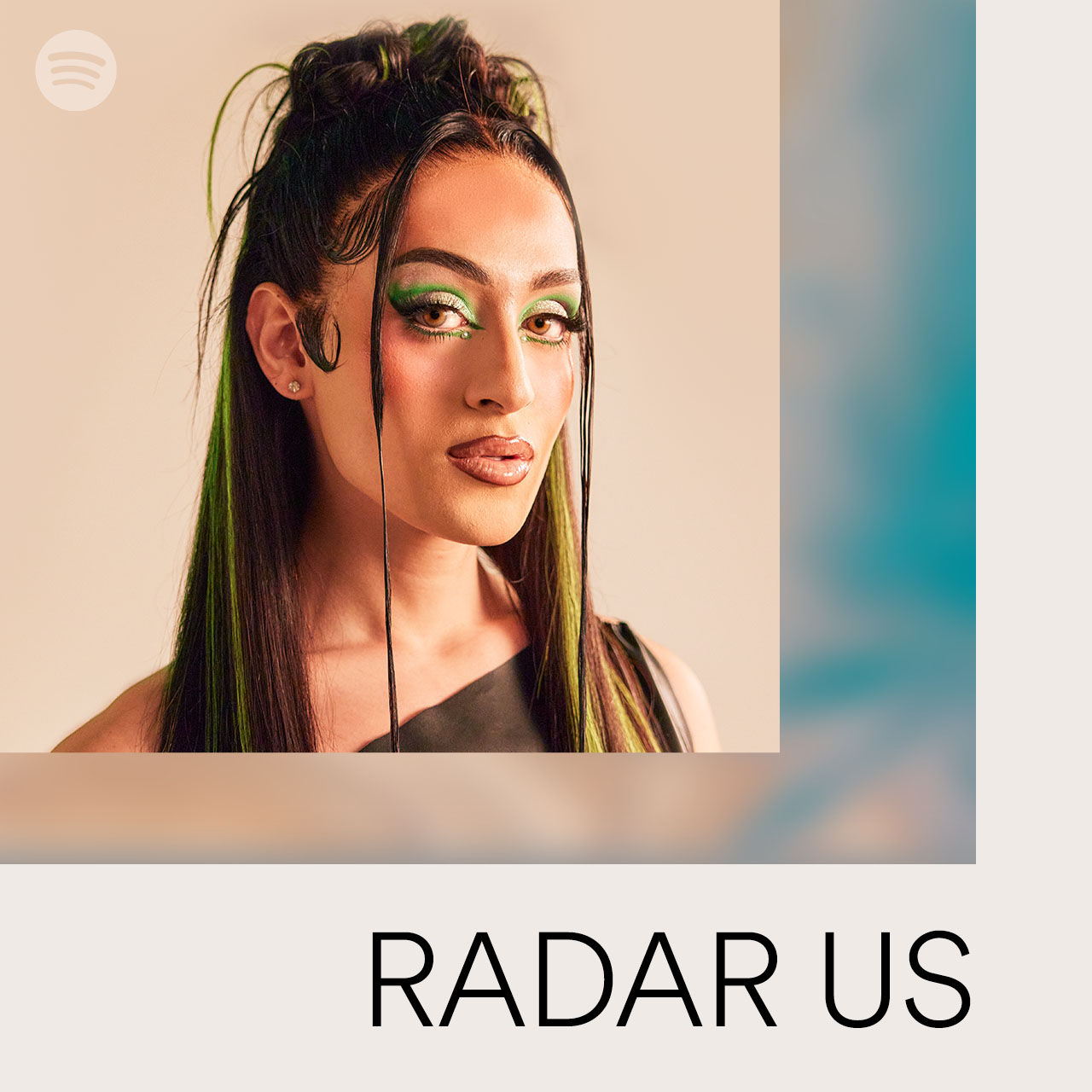 FORGING A NEW PATH
RADAR Artist Villano Antillano Delivers Her 'Magical' Brand of Latin Rap to Fans Around the World
As one of Latin rap's first transgender artists, Villano Antillano is a true trailblazer who has carved out a revolutionary path. She's not only made her way onto more than 40 Spotify playlists—including Viva Latino—but has also been featured on multiple Exitos & Top 50 lists. Now we're excited to welcome Villano to share her personal, unfiltered story with fans across the world as our latest RADAR artist.  
Spotify's RADAR program spotlights emerging talents from around the globe, and in partnering with Villano, we're also amplifying an incredible talent from a largely underrepresented community within the urban music scene in particular. 
Born in Bayamón, a suburb of San Juan, Puerto Rico, Villano generated early buzz with tracks such as "Pajara," "Culo," and "Muñeca," the latter of which was recorded with nonbinary rapper Ana Macho. 
In 2021, Villano enjoyed viral success with the release of her single "Vendetta," and went on to feature on Bizarrap's "Bzrp Music Session, Vol. 51." She then released the single "KLK," which has generated more than 900,000 global streams to date, was featured as a panelist at the 2022 Latin American Music Conference, and was named one of its 2022 Wonder Women of Latin Music.  
And just last week, Villano celebrated the release her debut album La Sustancia X, a project that embodies the beauty and horror of growing up queer in the Caribbean.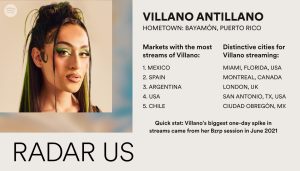 As part of the RADAR program, we will be releasing the first live recorded performances of Villano's new tracks, "Kaleidoscópica" and "Cáscara de Coco." 
For the Record had a chance to talk with Villano to learn more about how her experiences and inspirations are reflected in her music.
What are you looking forward to most as Spotify's latest RADAR artist?
I think being highlighted as Spotify's latest RADAR artist is an affirmation of progress and a shift towards raw authenticity. At a personal level I feel very blessed and empowered because I have had to overcome so much to be here. It's nice to look back and see that, after everything, I have remained victorious. I want the up-and-coming generations to have as many diverse role models as possible—and I believe that myself and a number of other queer artists are heralding a new era. 
I want to reach as many people as possible with a message of power and defiance; I want to wake them up and to have them ask themselves the big questions in the pursuit of happiness. 
For new fans, how would you describe your music?
I'd say my music is tantric. It's a buildup. It flares you up and makes you feel sexy and in control, but it's also very political and concise. I think that if you pay attention, I play into the conventionalities of pop music and exaggerate elements of consumerism and vanity as a form of critique while also admitting that I partake in some of these things as well. 
I'd say my music is just human, admitting to your shortcomings and rising above them with prowess and without guilt. From the trap/reggaetón perspective my music is also very dark and antagonistic; it's also subversive and upsets the delicate egos of a lot of powerful men. I take that into account in my creation process.
Who inspires you, musically?
Sade, Gustavo Cerati, Willie Colón, Rubén Blades, Silvio Rodríguez, Buika, Myrta Silva, La Lupe, Bebe, Tego Calderón, Héctor "El Father", Ivy Queen, Frankie Ruiz . . . the list goes on. Nicki Minaj has also been one of, if not THE biggest inspiration in my musical development. Maybe it's a Caribbean connection, but the way we bend colonially imposed languages and adapt them to us, we both speak in very magical ways. To me she's a writer, and a lot of people don't catch half of the metaphors or puns Nicki crafts into her verses. She elevates anything she touches and I admire and respect that a lot.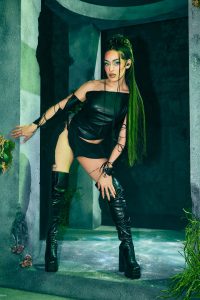 Many of your projects touch on the realities of growing up as a queer person in the Caribbean. Can you tell us a bit about that?
The Caribbean is a magical place—anyone that is actually from here can attest to that. But all of the islands have a horrible history of atrocious abuse, colonialism, and enslavement. Puerto Rico is still to this day a colony of the United States with absolutely no sovereignty, and growing up in a place without freedom is confusing. 
There is a lot of poverty in the Caribbean, and most queer youth end up living in difficult and inhumane conditions. We survive as a community, help each other in the ways we can, and hold each other's hands when there is nothing we can do. I think this pushes us to exercise and perfect our magic and crafts, because as Puerto Ricans, we are very proud and resilient, and LGBTTQIA+ youth on the island are the most revolutionary of all demographics. 
I have a beautiful story to tell because as an artist, I employ realismo mágico to showcase very terrible things that need to be discussed with urgency in a more palatable way. It's all about awareness. I had to leave home at 17 because of my identity and sexual orientation. I did everything I could to survive and I held on to my friends when I thought I couldn't keep going or didn't see the point in doing so. All I can say is that growing up queer in the Caribbean is dangerous, painful, emotionally unbearable, almost always tied to poverty and living under the constant hunt of the church (which is basically the government) and many other terrible things. 
But I would not be anything else. I am where I have to be with the people I have to be with, and in so much chaos we have crafted for ourselves a network of happiness and strength that is the only peace I've known, and the only one I need. 
How important is it to represent queer voices in Latin rap?
We are at a pivotal moment in history. Women are at the forefront of the push for change. Men are starting to ask themselves what it is they actually bring to the table, because more and more women are now able to support themselves without the help of a man who will most likely just end up tossing her a lot of emotional labor and projected insecurities. The newer generations are a lot more aware of where we are headed, and the future is most definitely snowballing into queerness. It is important right now to uplift queer voices in Latin rap—but also across all genres—so that all identities are rightfully represented and we can move past the murderous patriarchal system that has divided us so much. 
I know if I had had a trans role model early in my life I would have felt a lot less lonely and a little more understood, because sometimes that is the line between life and death for teenagers who feel lost and neglected by those around them. Also, because most, if not ALL, current cishet artists, both male and female, are presently benefiting and profiting off of queer culture, it makes perfect sense for the people who invented said culture and trends to be at the forefront of their own revolution. 
Do you have any advice for other emerging artists?
Take time to find and perfect your sound and learn as much as you can about everything you can: cinematography, audio engineering, sound design, fashion, history of art, literature. Soak in the arts that you like and that resonate with you, and let yourself paint a newer picture that reflects your version of things and how you see life. Let it come to you.
Check out tracks from Villano and the rest of our emerging artists on Radar US.