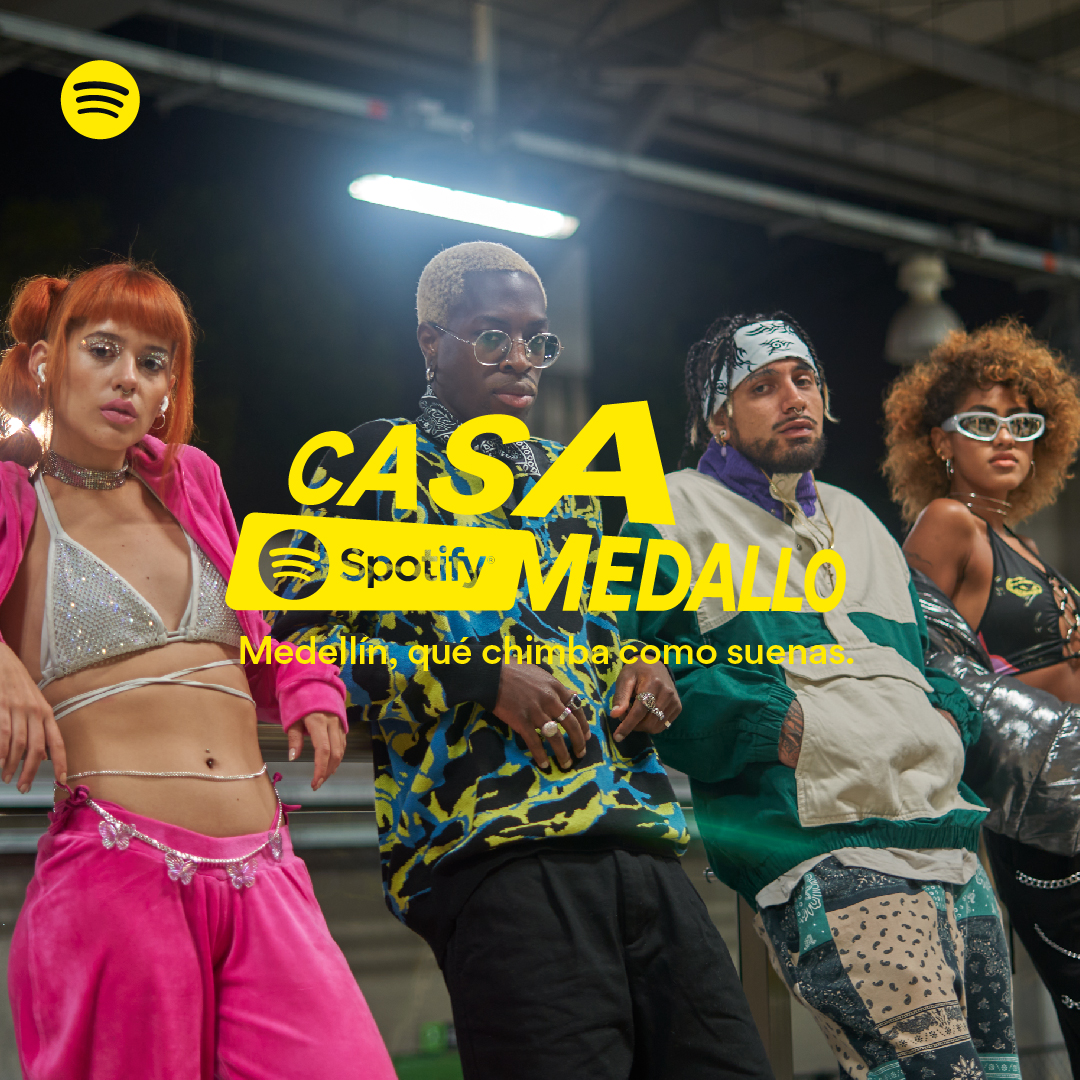 ¿QUÉ MÁS?
Casa Spotify Medallo Brings Together the Finest Talent in Medellín
It's no surprise that Medellín has become an epicenter of Latin music. The sound of the city, which adopted reggaeton as its own a couple of decades ago, echoes around the world thanks to stars like J Balvin and KAROL G.
At Spotify, we're taking our support of Colombian talent to the next level with Casa Spotify Medallo. Located in Plaza Botero across from the Museum of Antioquia, a venue that holds historical importance for the city's rich musical tradition, the four-week program will become a meeting place for both stars and emerging talent in the urban genre. From artists and producers to composers and podcast hosts, creators across the industry are invited.
A bevy of performances and programs for artists
Between October 11 and November 3, the venue will house recording studios and a space for live performances with a lineup that includes Ryan Castro, Farina, and Ovy On The Drums. All the artists will be performing new music for their fans, beginning with "Empeliculados" from Ovy On The Drums, featuring ZARAMAY and Elniko Arias. The soon-to-be hits will be available in a special series of Spotify Singles within the next month.
In addition, a selection of loyal fans will have the opportunity for a meet and greet with some of the artists, like Feid, Blessd, and Farina.
This generation of artists has cemented the country's reputation as a talent-exporting powerhouse.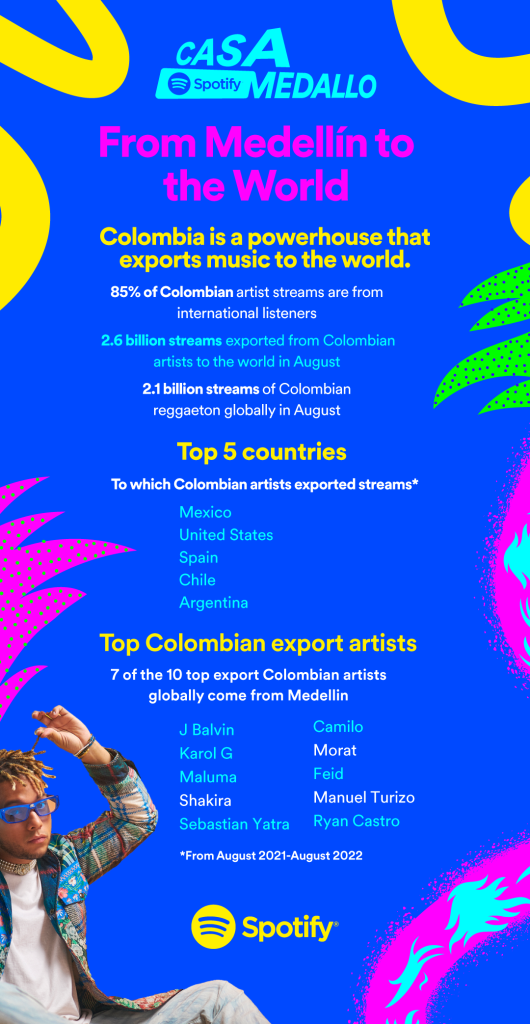 Medellín is also the mecca of musical production in the urban genre. Casa Spotify Medallo will bring together composers and producers behind the hits that are conquering the Spotify charts in both Latin America and around the world. Ovy On The Drums, The Rudeboyz, Sky Rompiendo, and SOG will present a series of keynotes where they share their advice with up and coming producers. 
A place for songwriters to hone their craft
As part of Spotify's Noteable program, The Rudeboyz (a producer duo formed by Chan El Genio and Kevin ADG and who are behind hits like Maluma's "Hawaii" and Shakira's "Me Enamoré") will conduct a three-day work session where they will work with songwriters like Vibarco, Itzza Primera, and Juan Duque to create new music.
Later in the schedule, these studios will be converted to Noteable rooms and will be open to use for any emerging songwriters, producers, and artists who have registered.
A schedule chock-full of workshops and panels
The heart of Casa Spotify Medallo is a daily program that will offer more than 70 educational and inspirational activities in formats such as workshops and panels. In addition to these courses, we will also launch MUdaL, a learning platform created by Music Ally and Relatable, with the support of Spotify for Artists.
Casa Spotify Medallo is the first initiative of its kind in Latin America focused on providing audio professionals with the tools and educational resources necessary to develop their careers. The program is all-encompassing, covering topics like how to make the best use of Spotify tools and the basics of different aspects of the industry—from publishing rights to tours and marketing.
These sessions also include an EQUAL panel. EQUAL is Spotify's program that seeks to foster gender equality in the industry, and this panel will feature artists Farina and Mabiland and designer Daniela Valencia, creator of the TRUE brand.
A place for emerging artists and podcast creators to shine
At the launch of Casa Spotify Medallo, we asked emerging artists to submit music for consideration to our editors. Some of these artists will have the opportunity to participate in the Mercadito, a session in alliance with Circulart, the city's most reputable music industry market. These artists will be able to present their projects and receive feedback from experts. 
The venue will also host a showcase with talent from the RADAR Andinos program, the Spotify program that, for more than two years, has put the spotlight on new talent such as Blessd, Nath, and ICON, among others.
Casa Spotify Medallo will offer workshops for up-and-coming podcast creators, and the topics will cover everything from show planning to production to how to use Anchor tools.
"Our goal is to establish Spotify as the home of creators. A place where artists, composers, producers, and creators can develop their careers and live off their art," says Mia Nygren, General Manager of Spotify in Latin America. "And what better place to make this vision a reality than Medellín, a city that has an enormous influence on the music heard around the world."
Artists, producers, composers, and podcast creators interested in participating in Casa Spotify Medallo can register and find the complete schedule of activities here. 
Spotify's editorial playlists are perfect for fans looking to discover the emerging sounds of Medellín and the next wave of Paisa talent. Barras 24 features hip-hop, trap, and R&B music; Reggaetoncito highlights the latest pop-reggaeton sounds; and Pa'Perrear spotlights perreo and reggaeton tracks. If you're not sure where to jump in, we recommend giving Pa'Perrear a listen below: