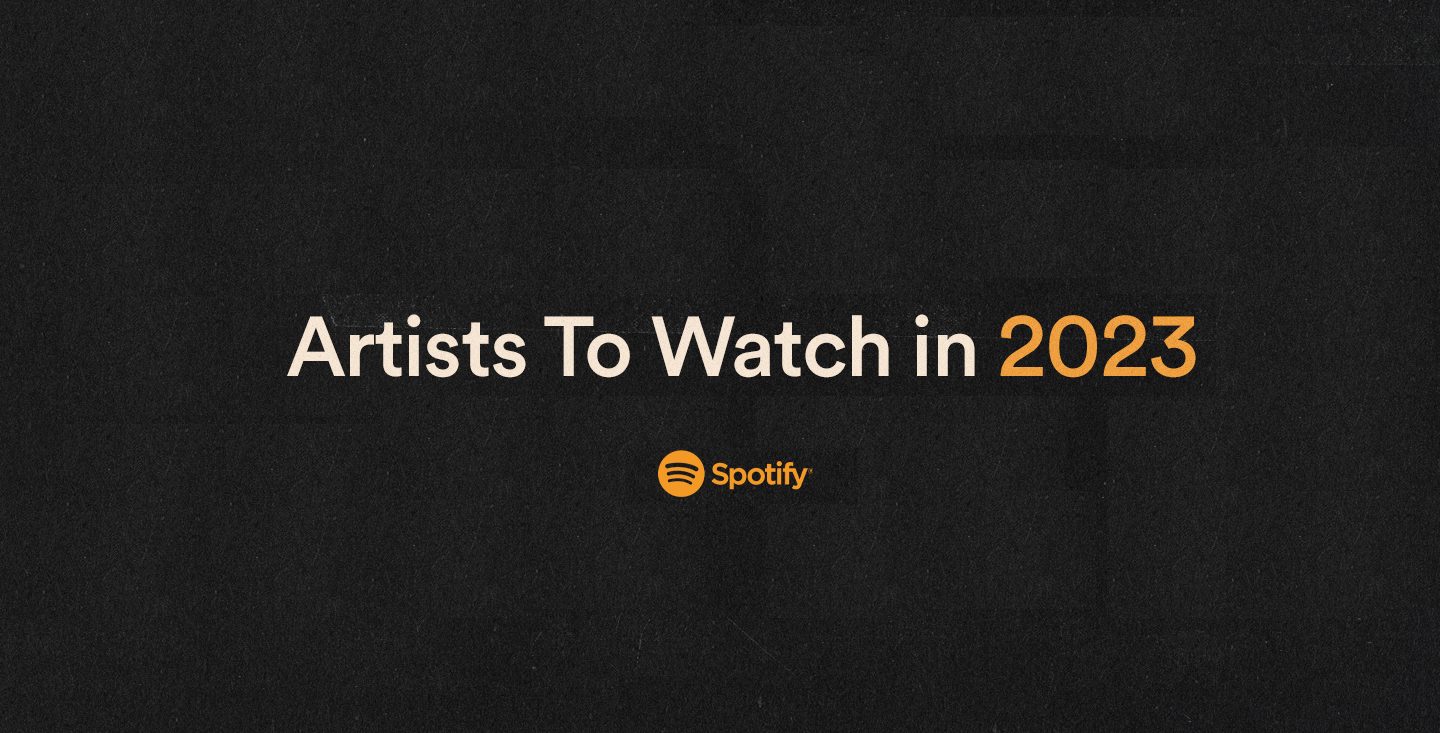 THE FUTURE IS NOW
Spotify's Artists To Watch Are Primed To Make Moves in 2023
It's always exciting when artists enter the realm of bonafide stardom and bring new sounds and ideas to the music world. And it's even more exciting to follow along as it happens. That's why, at the start of each year, we tap our influential playlists to reveal our Artists To Watch. 
With this list, we're amplifying the next wave of music stars who we predict will make an impact in 2023. As we considered this year's Artists To Watch, we were guided by four main playlists: 
"Spotify has always been a place for music discovery and artist growth, and our Artists To Watch lists allow us to showcase up-and-coming talent with serious momentum behind them," said Sulinna Ong, Global Head of Editorial. "We use our fan-favorite editorial playlists, including Hot Country, Viva Latino, Most Necessary, and for the first time, R&B Rising, to tap into existing listener bases. In return, artists are introduced to listeners who will love their sound."
The end result is 40 artists—10 from each list— representing each playlist that should be on your radar in the coming year. Keep reading for our full list of picks.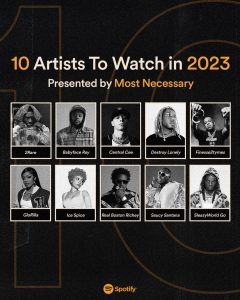 Our picks from Most Necessary, who hail from Atlanta, Brooklyn, London, and beyond, are ready to impact hip-hop culture and make their mark in the music industry. 
GloRilla
Rising to prominence following her Grammy-nominated 2022 song "F.N.F. (Let's Go)," GloRilla has gone on to record chart-topping collaborations with Cardi B and Latto.  
Finesse2tymes
Revered for his thunderous voice and motivational lyrics, this Memphis rapper recently collaborated with Gucci Mane, Lil Baby, and others on his debut mixtape 90 Days. 
SleazyWorld Go
SleazyWorld Go went viral in 2022 with his track "Sleazy Flow" and later collaborated on an official remix with Lil Baby; he's also collaborated with Migos' Offset. 
Central Cee
Known for his upbeat and melodic approach to UK drill, this British rapper and songwriter topped the UK album charts with his first two mixtapes, Wild West and 23. 
Destroy Lonely
The No Stylist rapper resonates with fans for the dynamic and eclectic beats featured in his music.
Ice Spice
This Brooklyn drill artist seized the rap world's attention in 2022 with her viral, chart-topping track "Munch (Feelin' U)."
Babyface Ray
After collaborating with Big Sean and Hit-Boy on his 2021 single "It Ain't My Fault," the Detroit native released his album Face in 2022, featuring collaborations with Pusha T, Wiz Khalifa, and more. 
Saucy Santana
This makeup artist turned rapper commanded the spotlight when his tracks "Walk" and "Here We Go" went viral in 2021. Notable collaborations include the remix of his song "Material Girl" with the "Queen of Pop" Madonna, hip-hop duo City Girls, and Latto. 
2Rare
This Philly rapper stands out for his 2022 collaboration "Q-Pid" with Lil Durk, and later appeared on NLE Choppa's "Do It Again." 
Real Boston Richey
Catching the ear of listeners with his Michigan-style hip-hop production, he's recently collaborated with Future and Lil Durk.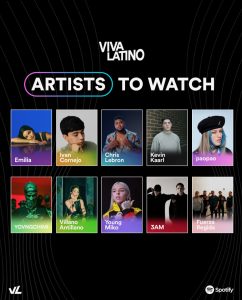 With a selection of artists representing a wide range of styles and countries, Viva Latino's picks are ready to go worldwide in 2023.
Emilia
Finding fame with hits such as "Recalienta" and "No Soy Yo" featuring Darell, this Argentine artist continues to generate buzz. Her first album, Tú crees en mí?, debuted at No. 4 on Spotify's Top Albums Global chart.
Ivan Cornejo
A California native and one of the most promising voices in the sad sierreño scene, Ivan caught the attention of the music world with his debut album Alma Vacía, and is a pivotal figure in exporting Música Mexicana out of the U.S. 
Chris Lebron
This rising Dominican artist already has a few notable collaborations under his belt, most notably teaming up with Romeo Santos on his popular track "SIRI."
Kevin Kaarl
His most recent album, Paris Texas, debuted at #5 on the Top Albums Global Chart which experiments with traditional folk, rock, and lush dream-pop and. In addition to being an Artist To Watch in 2023, the Mexican singer was also part of our RADAR Class of 2022.
Paopao
A Latin Grammy award-winning artist known for her mix of reggaeton and alternative pop, this Puerto Rico native released the all-female EP hembrismo in 2022.
YOVNGCHIMI
A rising star from Puerto Rico, this Latin trap artist is best known for his debut single "Glizzy's Walk." He has numerous collaborations with prominent artists in the Latin trap scene, including Arcangel, Anuel AA, and Ozuna.
Villano Antillano
One of the leading figures of the queer movement within the urban genre in Puerto Rico, Villano was most recently selected as an ambassador for RADAR US, Spotify's global program for emerging artists.
Young Miko
This Puerto Rican artist burst onto the scene in 2021 with the release of her first single, "105 Freestyle." Her debut EP Trap Kitty and US Tour solidified her as a Spotify RADAR US artist. 
3AM
A duo made up of Venezuelan brothers Richard and Christian Bermúdez, 3AM started their musical career after leaving their home country and settling in Boston. They are best known for their songs "Por Ti" and "Vuela." 
Fuerza Regida
Trailblazers of the urban corrido movement, this California group is making waves for a new generation of Mexican Music artists.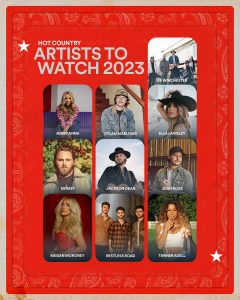 Our picks from Hot Country bring a fresh and unique sound to the world, and these artists are primed to make their mark on the country music scene this year. 
Avery Anna
Having opened for acts like Josh Turner and Martina McBride, the Nashville singer-songwriter is best known for her 2022 single "Narcissist," featured on Spotify's New Music Friday playlist.
Dylan Marlowe
Popping up on the scene with his viral cover of Olivia Rodrigo's "Driver's License," he's continued to make waves with his catchy breakup track "Goodbye Gets Around."
Ella Langley
The "Country Boy's Dream Girl" singer is known for her unique blend of country and rock. 
ERNEST
Known for "Flower Shops," his hit collaboration with Morgan Wallen, this country singer got his start writing music for fellow artists including Florida Georgia Line, Sam Hunt, and Chris Lane. As a performer, he has also collaborated with Diplo. 
49 Winchester
This Virginia-based country group is known for its distinct brand of tear-in-your-beer alt country, sticky-barroom floor rock-n-roll, and high-octane Appalachian folk. 
Jackson Dean
Jackson Dean embodies the old-school, lyric-driven, outlaw style of country, and his hit song "Don't Come Lookin'' was recently featured in the series Yellowstone.
Josh Ross
Topping the charts with his singles "First Taste of Gone" and "On a Different Night," this Canadian singer-songwriter was nominated as a "Rising Star" at the 2022 Canadian Country Music Awards. 
Megan Moroney
The Georgia native made her debut in 2022 with her EP Pistol Made of Roses, and has since built on that momentum with the release of her viral hit "Tenessee Orange."
Restless Road
This Nashville-based country music band first attracted fans with their song "Take Me Home," a collaboration with Kane Brown that was inspired by John Denver's iconic track "Take Me Home, Country Roads." They went on to reach new heights in 2022 with their hit single "Growing Old With You," which they performed on Season 26 of the television series The Bachelor.  
Tanner Adell
Bringing a fresh new vibe to country music, Tanner's catchy and dance-worthy singles "Country Girl Commandments" and "Honky Tonky Heartbreak" have continued to generate buzz.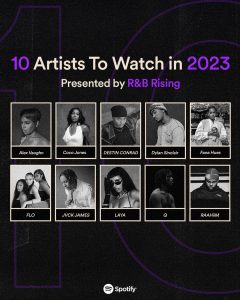 To cap things off, R&B Rising also revealed its first-ever roster of emerging stars who are primed to make waves in R&B music this year. 
CoCo Jones
Working in TV and film since she was a tween, and most recently starring as Hilary Banks in Bel-Air, Coco has moved into the R&B spotlight with a soulful sound and honest, powerful storytelling. In 2022, she made her major label debut with her EP, What I Didn't Tell You, and was featured on Babyface's "Simple."
FLO
This British girl group took the world by storm in 2022 with their breakthrough single "Cardboard Box." They closed out the year winning the 2023 Rising Star Award and BBC's Sound of 2023 poll. 
Alex Vaughn
Alex first disrupted the industry in early 2022 with the release of Voice Notes, an honest and raw EP constructed entirely by using the voice notes app on her phone. She followed up the project with her debut album The Hurtbook. 
DESTIN CONRAD
A native of Florida, Destin first found internet fame on the social media app Vine thanks to his lush, intimate earworms. That same sound, infused with a gentle touch, can be heard on his latest EP, Satin. 
Fana Hues
Known for her vulnerable voice and woozy vocals, she's featured on Tyler, The Creator's Call Me if You Get Lost and released her latest album, flora + fana, in 2022.
LAYA
This dynamic NYC native has made waves by taking '90s R&B and giving it a current, authentic spin, like she did with her breakout hit "Sailor Moon."
Q
With a powerful falsetto and a stripped-back, emotionally complex sound, this alternative R&B artist went viral with his track "Take Me Where Your Heart Is" and has continued to win fans with his most recent release, "Today." 
RAAHiiM
The Toronto artist first hit the R&B scene in 2020 with his EP ii Knew Better. Known for his multidimensional vocals and sultry production, he has since collaborated with Shantel May and Rory. 
JVCK JAMES
After initially gaining recognition for his viral internet videos, this East London artist's star has continued to grow thanks to his '90s R&B-inspired tunes and 2021 standout single "No Drama."
Dylan Sinclair
This Candian singer-songwriter earned immediate acclaim for his debut album Proverb, which was nominated for Traditional R&B/Soul Recording of the Year at the 2021 Juno Awards.
Looking to discover more of the hottest emerging artists who are ready to step into the spotlight? Stream our RADAR US playlist now.