BIG ENERGY
Our Listeners' Top Moods of 2023
This year will be filled with good vibes and self-affirming trends—just ask Spotify listeners. Although it's still early in the year, we're already seeing positive moods and the power of manifestation trending in the songs and artists listeners are streaming. "Spotify is both a mirror to what's going on in culture as well as the place where many trends begin—the way people are feeling, the way they're spending their time—all this shows up in the music we listen to," explained Sulinna Ong, Global Head of Editorial at Spotify. "So, in 2023 we wanted to take a little pulse check and see how the world is doing." Curious to know more? Read on for the trends that are setting the vibe for the year ahead.
Good moods
We are noticing that 2023 is a mood. And a good one at that. Based on listening trends and user-generated playlists, three "moods" are setting the tone for the start of the year: confidence, motivation, and productivity. "These playlists are setting a really optimistic tone and intention for 2023. Coming after last year—when Goblin mode was Oxford's Word of the Year—it's a contrast to see such feel-good, positive moods trending on Spotify," said Sulinna.
User-generated confidence-themed playlists are filled with top tracks like "Flowers" by Miley Cyrus, "Confident" by Demi Lovato, "Boss Bitch" by Doja Cat, "Applause" by Lady Gaga, and "NO" by Meghan Trainor.
And Monday motivation is seeping into every day of the week with "Unstoppable" by Sia, "Believer" by Imagine Dragons, "I'm Good (Blue)" by Bebe Rexha and David Guetta, "Stronger (What Doesn't Kill You)" by Kelly Clarkson, and "Can't Hold Us (feat. Ray Dalton)" by Macklemore & Ryan Lewis making the list on user-generated playlists.
If you're getting your mind set on productivity, check out these tracks fans can't stop adding to their user-generated playlists: "Good Days" by SZA, "successful" by Ariana Grande, "We Can't Stop" by Miley Cyrus, "Mastermind" by Taylor Swift, and "Space Song" by Beach House.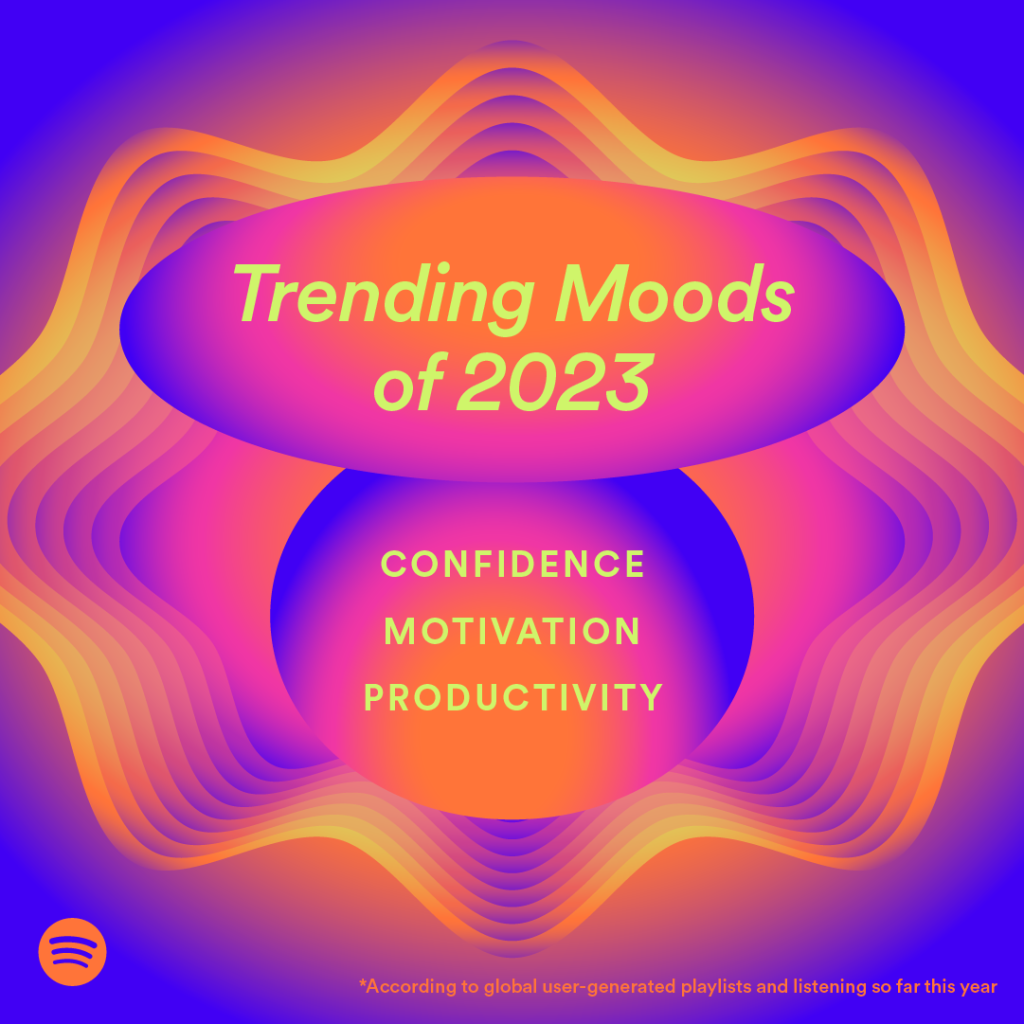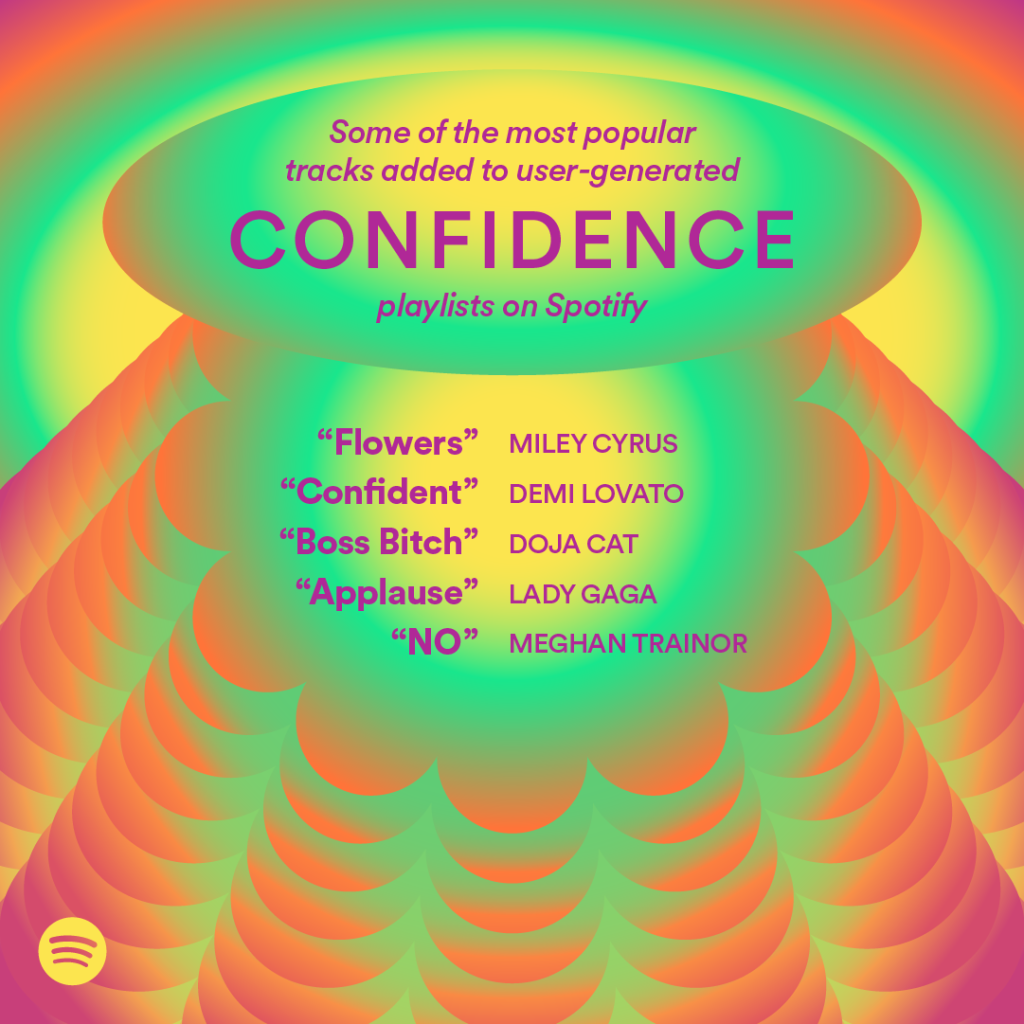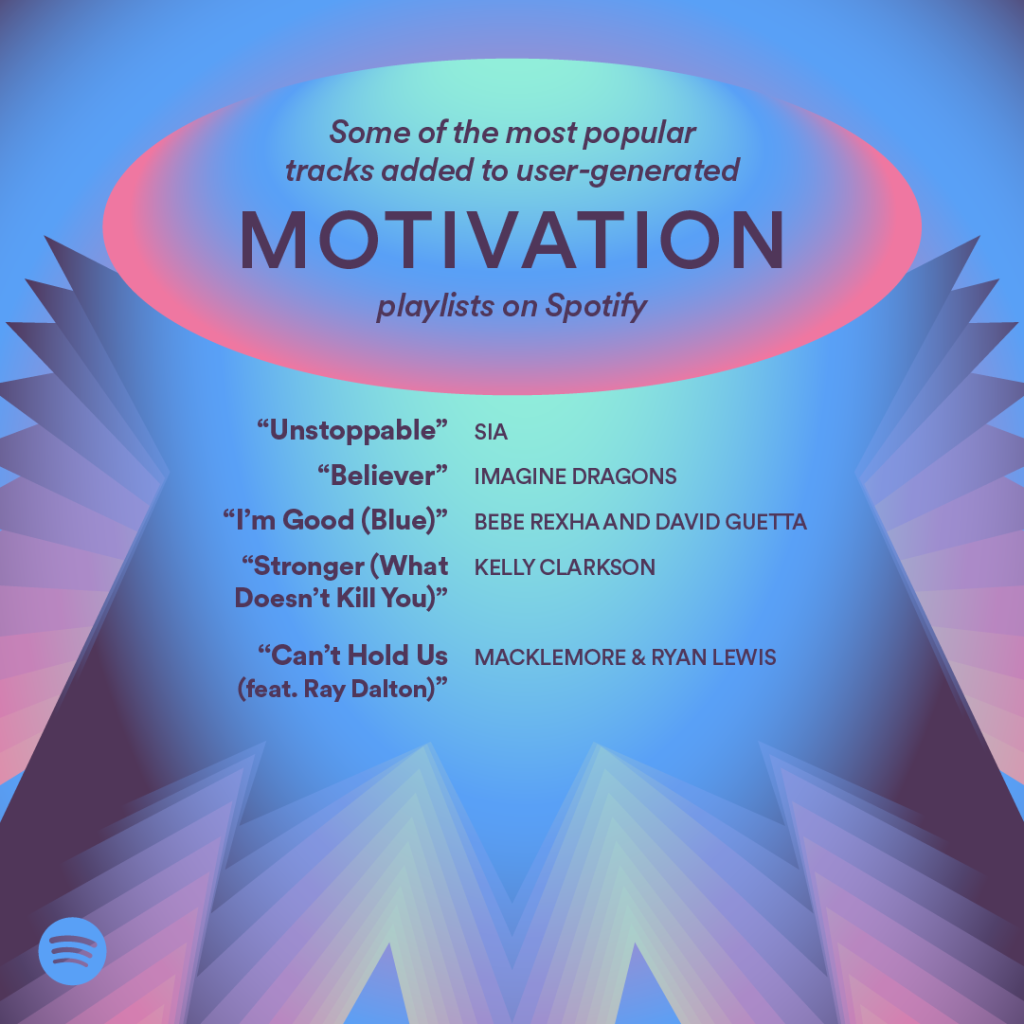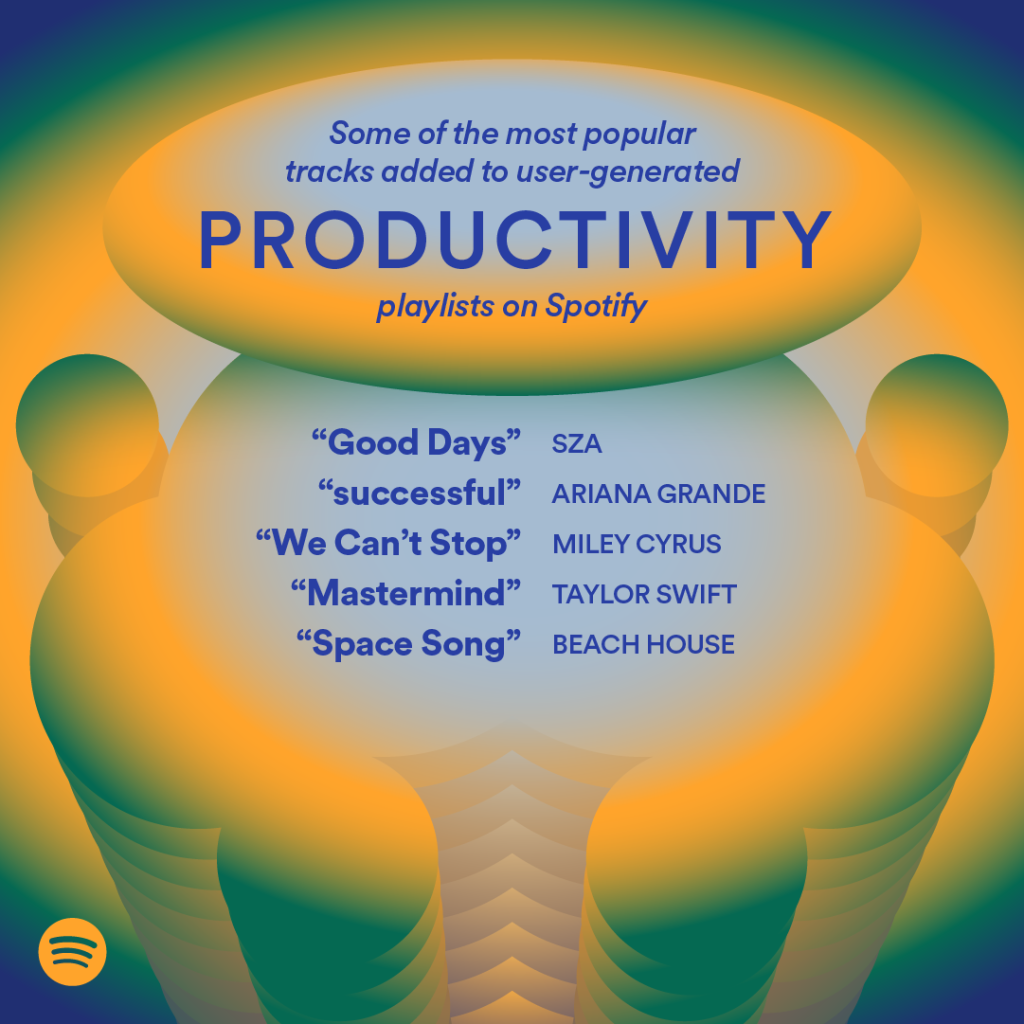 If you believe it, you can achieve it
According to the latest "Lucky Girl" social media trend, anyone can manifest their own prosperity. All you need to do is affirm to yourself that you are lucky, and the luck will follow. On Spotify, global searches for "lucky girl" were up over 20,000% in January compared to December, and lucky girl–themed user-generated playlists have been on the rise recently. Some of the top tracks added to Lucky Girl playlists include "successful" by Ariana Grande, "Karma" by Taylor Swift, "Good Days" by SZA, "I Am (feat. Flo Milli)" by Baby Tate and Flo Milli, "Unwritten" by Natasha Bedingfield, "Lucky" by Britney Spears, "2 Be Loved (I am Ready)" by Lizzo, and "Rich Girl" by Gwen Stefani and Eve.
Trend roundup
Moods and manifestations aren't the only topics that are spilling into listeners' consumption habits. Here are a few other trends we're seeing on Spotify:
Miley's moment:

On January 26, Miley Cyrus broke her own record as "Flowers" became the most-streamed song in a single week in Spotify history for a second week in a row.

Old Drake:

Following his recent performance at the Apollo in New York, songs from

Drake

's 2011

Take Care

album saw spikes across the U.S.—including "

Over My Dead Body

," "

We'll Be Fine

," "

Under Ground Kings

," and "

Buried Alive Interlude

."  

That's hot: Paris Hilton

is back, baby—and on a global scale—with a more than 120% increase in streams around the world in the new year.

Niche no longer:

Once-niche genres like hardwave, Palestinian hip-hop, Bronx drill, and Toronto indie are seeing global spikes.

Indie music:

Classic indie hits are trending all over the world, with increases in streams for artists like

The Shins

,

Arctic Monkeys

, and

The Smiths

.
Continue 2023 in the right mindset with our Best year yet playlist: