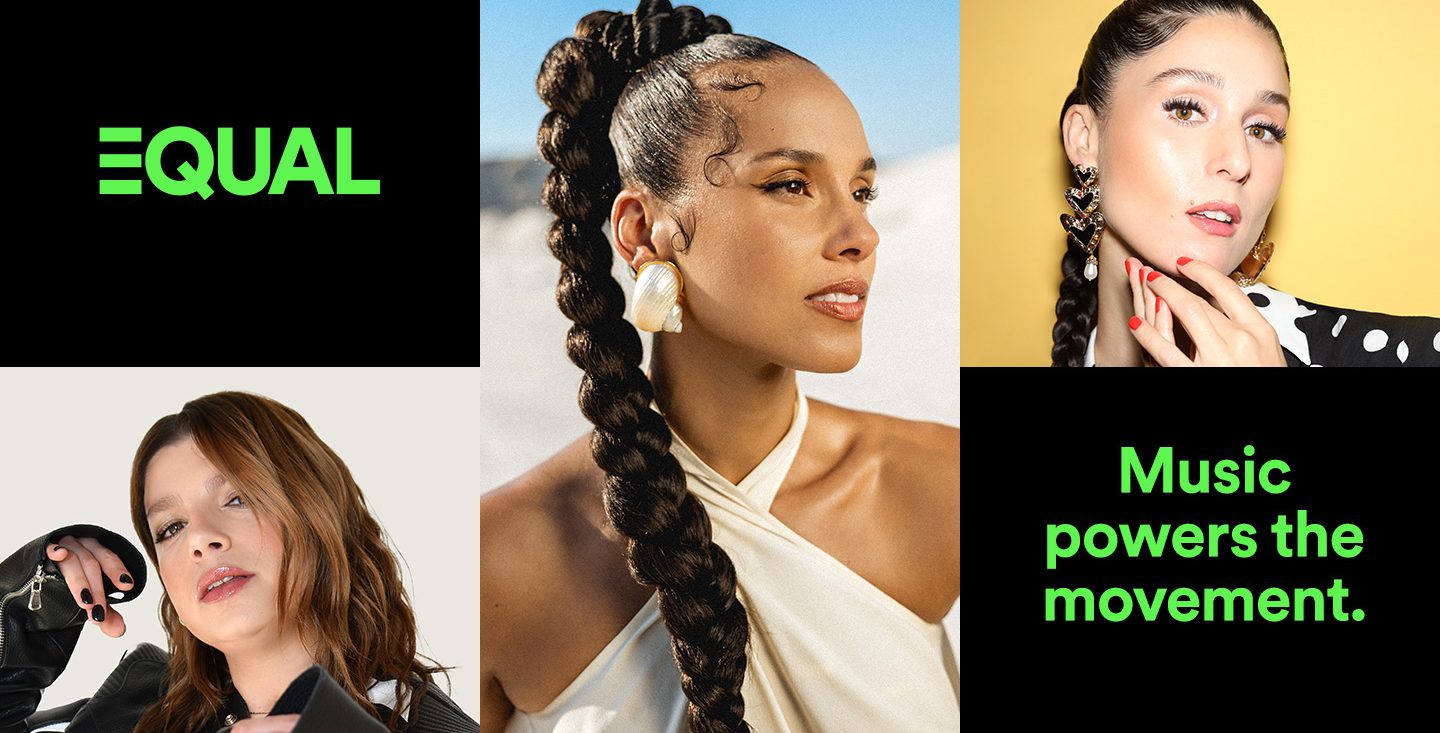 WOMEN AT FULL VOLUME
Spotify Celebrates International Women's Day With the Music that Powers Movements on EQUAL
Music has often stood at the forefront of social change, especially when it comes to the fight for gender equality. For women's rights in particular, music has been a decades-long source of power and inspiration. 
"Women are leading the way forward on the biggest challenges in our world today. Their voices must be heard at full volume," shared Lorraine Ní Annracháin, Global Lead of Social Impact at Spotify. "Too often, women are confronted with harmful gender stereotypes, discrimination, and threats of violence, especially when they raise their voices and demand change. Women-led movements around the world are a powerful driver of change, and we're excited by the opportunity to amplify and support the work they do, every day, and to explore the role that music can play in driving social change." 
Spotify recognizes the power of our platform to amplify the voices of women everywhere. In 2021, we launched the EQUAL Global Music Program to ensure we were amplifying the work of women artists year-round—whether the music comes from an emerging artist in Germany or a Canadian country crossover legend. 
Since EQUAL's inception, we've added more than 5,000 artists to EQUAL playlists and supported over 700 ambassadors in their home countries and beyond. Collectively, these artists received nearly half a billion streams within their first month of joining the program. And the amplification goes beyond the work we've done with EQUAL—these artists have also been added to more than 4,000 Spotify playlists.
Now, for International Women's Day, Spotify is working with women artists, movement leaders, and partners around the world to share stories about the songs and messages in women's music and how they have inspired social change. 
"We are committed to uplifting the voices of women artists year-round, and for International Women's Day, we're reflecting on the power of music in the movement for gender equity, amplifying and supporting the voices of women creators, and celebrating the acts of courage and determination of women across the globe who have played an extraordinary role in uplifting their voices," said Bel Aztiria, Global Lead of Social Equity Music Programs at Spotify.
A destination for music and inspiration—on- and off-platform
On Spotify's EQUAL hub, listeners can browse and discover new artists through playlist takeovers. They'll hear inspiring stories through music with the Playlist clips recorded by the artist. From Janelle Monáe in the U.S. to Lola Indigo in Spain, EQUAL artists are celebrating International Women's Day by taking the reins and creating special playlists to celebrate women across the globe. 
This month, we are also proud to announce the launch of our EQUAL program in Ukraine by spotlighting singer-songwriter Jamala. The 2016 Eurovision Song Contest winner now graces the cover of our EQUAL Global playlist, which features her song "Take Me To A Place." 
We're also amplifying the voices of activists, movements, leaders, and the issues they care most passionately about. Tarana Burke, the founder of me too., Shar Jossell, an award-winning journalist, and Favianna Rodriguez, an artist, organizer, and social justice advocate, are all telling "Behind the Movement" stories on Spotify's social media platforms. 
We're partnering with UN Women and Calling All Crows, organizations that champion gender equality, and continuing to support women creators. 
Each month For the Record highlights EQUAL ambassadors from around the globe. For International Women's Day, we caught up with two EQUAL ambassadors—Italian artist Emma and Chilean artist Francisca Valenzuela—who explained why music has the power to drive change.
Is there a song that makes you feel like you can change the world?
Emma: This got me thinking of one song that really has an impact on me: "Imagine" by John Lennon. A true masterpiece, and a manifesto that prompts you to imagine a better, fairer world where people can be respectful of others and of the environment we live in. That song gives you a boost to make the difference.
Francisca Valenzuela: "Arriba Quemando el Sol" by Violeta Parra. This song shows us what is right in front of us, but what we sometimes don't see. In this case, it's the quiet desperation, rage, and pain of perpetual social injustice. There is a collective pain and heartbreak that makes me feel activated, moved, and alive through Violeta's beautiful, evocative, unnerving melody and precise, witty, confessional lyrics. She describes a specific and particular mundane reality of Chile, yet it is also an (unfortunate) universal day-to-day sentiment and situation of the world. There is such power and rebellion in writing and singing in a raw, true, and personal way—the personal can become political, and songs can become a vehicle for change or shedding light on a certain reality or story.
When did you realize that music has the power to drive real change?
Emma: The first time I "showed up" for myself in a song, I felt exposed and seen. That also made me rather vulnerable and easy to be targeted with criticism that was not always constructive. Then and there I realized how powerful music can be, how it can drastically move the needle in any conversation and influence the way you're being perceived from the outside world. 
Francisca: I think music and art have an impact on us individually, and through that power of connection, identification, and activation, we are mobilized, and even transformed. That inner change can affect outer change. It can also be a space to be free and alive, to connect, to feel truth, something that I think is a big part of the reason why I need to create and why I'm drawn to creativity and am a believer in music and art.
How have you used your own music to engage others in the fight for gender equality?
Emma: The music I make is the reflection of my beliefs; it's like a mirror where I pour my heart and soul. What I fight for, the daily struggles to be recognized as worthy of respect, the power and the breakthrough. It's all in there, always on the front line.
Francisca: I think I have engaged and promoted gender equality through my music in three ways. First, I write from a very personal, confessional place. There is radical emotional transparency and authenticity in my songs. A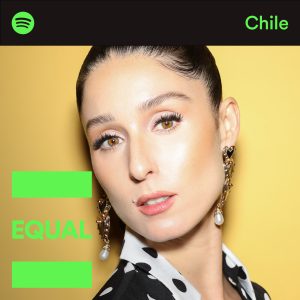 nd the mere fact of showing parts of myself—and the reality of a woman in the world—feels powerful, rebellious, and illuminates certain realities and sides of ourselves that many times are hidden or inappropriate. 
Second, I also make certain songs and creative pieces (videos, performances, etc.) with a specific fe
minist and/or message or emotion or objective in mind. These are more collective, conscious, and explicit songs or pieces—from my song "Por Que Me Lo Hiciste" about femicide to "Dulce" about the objectification of women. 
And third, I've used my musical platform and visibility in Latin America to create an intersectional trans feminist initiative called Ruidosa (which means "women who make noise! Women who rumble!"), which is a Latinx music festival, community, and platform. Ruidosa was born because I wanted to be a part of the change but I also felt, at many times, alone and confused in our music industry and I wanted to learn from women I admire. How do they make their own paths, their own way? I wanted to create a community and celebrate that, too.
Where do you see real breakthroughs in the fight for women's equality?
Emma: I won't stand here saying it has all been solved and women won't have to face other challenges in order to be seen as equal—that would be a lie. At the same time, it is difficult to list what's causing us issues as there are so many topics still to be uncovered. Nevertheless here I stand, ready to fight the good fight for my team.
Francisca: I am a fan of women, and women in the creative worlds have always inspired me. Women in music have always been—and are—still pioneers, yesterday and today. Tremendous forces that lead creative disruption, that have incredible discipline. We all work so hard, we create community, we open new spaces. We see this in certain areas of the music industry and I can't wait to see it in all areas—not just in creative or performative endeavors—from management to press to tech. 
This will help us really change the paradigm and create new leadership and structures. Change the old-school patriarchal gatekeeper ways and systems. I am excited for a Latin American music industry that is truly diverse and free, and not promoting one narrative or one way of success or one way of being a woman.
Celebrate women with us year-round by visiting the EQUAL hub.