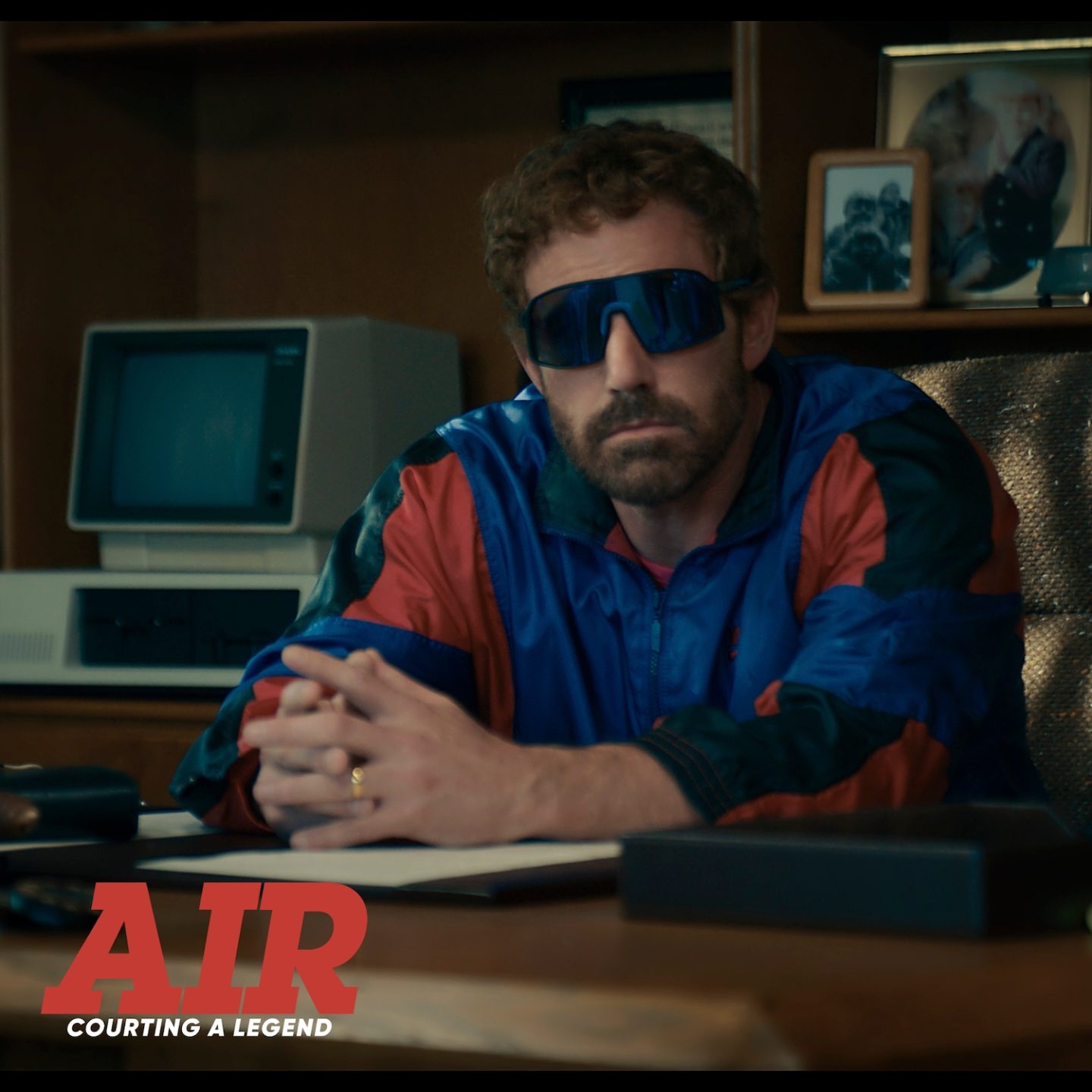 SOUNDTRACKING GREATNESS
Ben Affleck Reveals the '80s Classics That Inspired His New Movie, 'AIR'
For all that Michael Jordan accomplished on a basketball court, his signature sneakers are an equally important part of his legacy. And in the new movie AIR—which Ben Affleck directs and stars in alongside Matt Damon, Viola Davis, and Jason Bateman—fans can discover how one of the world's most legendary shoes came to be. 
But more than just exploring the mythology of Air Jordan and his game-changing kicks, the movie also stands out for its soundtrack. Featuring the likes of Bruce Springsteen, Run-D.M.C., REO Speedwagon, and Chaka Khan, the AIR soundtrack is a non-stop parade of iconic '80s hits.  
To celebrate AIR's release, Ben took the nostalgia a step further and created a playlist of the '80s classics that inspired him during filming. Jumping from pop to rock to hip-hop (and everything in-between), 1984 includes tracks from Prince, Dolly Parton, Daryl Hall and John Oates, Grandmaster Flash & the Furious Five, Van Halen, Sheila E., and more.
For the Record had the opportunity to speak with AIR's music supervisor, Andrea von Foerster, who gave us the inside scoop on how she and Ben helped bring the movie to life through its music. 
Were there ways you used the soundtrack to enhance the narrative? 
Ben directed an amazing film that feels authentically '80s, visually and musically. There was so much good music from that time, and we used many of the songs from a narrative point of view. Using lyrics that matched what was happening in certain scenes was a great way to add energy and comedy. For example, Run-D.M.C.'s "My Adidas" plays as Michael Jordan meets with Adidas, and REO Speedwagon's "Can't Fight This Feeling" helps set the tone as Nike CEO Phil Knight goes on a run and decides whether or not to make an offer to Michael. 
Were there any songs that became a must-include for the soundtrack?  
Right at the start of the process, Ben sent me a 1984 playlist as a jumping off point. As we got closer to the final edit, the song choices evolved. Sometimes we decided we could beat what we originally had in mind, and other times we needed to pivot due to budgetary restrictions. "My Adidas" and "Born In The U.S.A." are discussed in the film, so we definitely wanted to keep those. 
We also didn't have a composer on this film, so we licensed existing scores from other '80s films. Seven of those were from the electronic group Tangerine Dream. But then we needed to find the right music for two spots in the film, so we commissioned Paul Haslinger, a former member of Tangerine Dream, to compose music for those moments.
Are there any songs on the soundtrack that you consider deep cuts or forgotten gems?
I think it depends on how old you are. I'm not that far behind Matt and Ben in age, so we have the same consciousness of music. But if you're younger, you might not know all the songs. So I think most people will know "Born in the U.S.A.," but they may not know the Violent Femmes' "Prove My Love." Rufus and Chaka Khan's "Ain't Nobody" is also an amazing song that some people might discover for the first time. There was a moment when it played during the premiere and everyone in the theater started singing it. It's such a good song.
If you had to guess, what would Michael Jordan have had in his Walkman in 1984?
I think it's safe to say he was listening to Prince, like any self-respecting human alive at that time. 
And then I'd guess Grandmaster Flash and the Furious Five, Van Halen, Run-D.M.C., Chaka Khan, Michael Jackson, David Bowie, Whodini, Kool & The Gang, Fleetwood Mac, and The Sugarhill Gang.
Check out all the sights and sounds of 1984 in AIR, playing in theaters now. And to discover more classics of the era, check out our playlist '80s Hits.