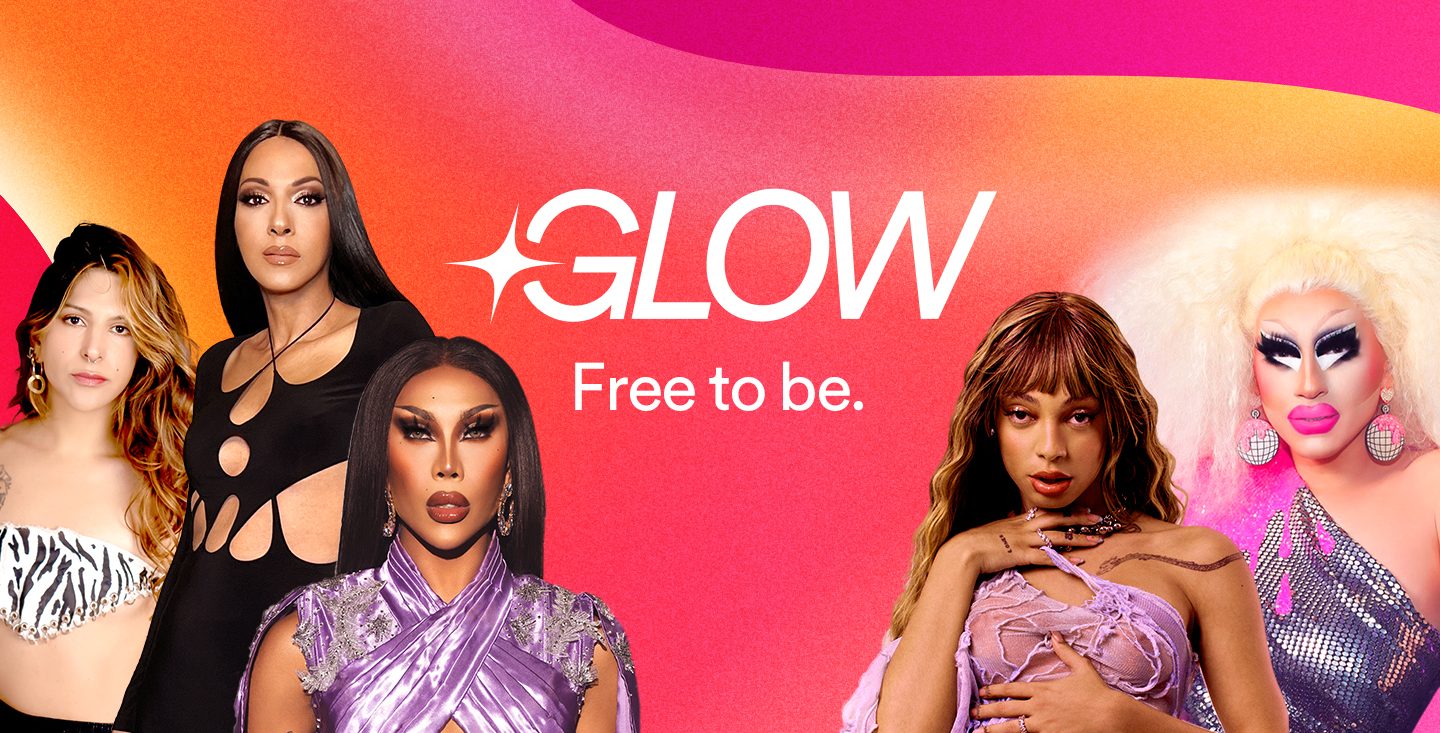 FREE TO BE
Celebrate Pride on Spotify, Where Everyone is 'Free To Be'
From punk to ballroom, EDM to drag, music and culture from LGBTQIA+ creators have helped shape and inspired our world. 
At Spotify, we're creating a platform where everyone is Free To Be, no matter who they are, where they live, or what communities they belong to. 
In January when we launched GLOW, a global music program celebrating and amplifying LGBTQIA+ artists and creators, we did so to ensure that queer creators and their contributions are heard and honored year-round. That includes during Pride Month, the annual worldwide celebration that makes time to commemorate the LGBTQIA+ community's culture and achievements, raise awareness of issues and injustices, and advocate for LGBTQIA+ rights. 
This Pride Month, LGBTQIA+ listeners and allies in 26 markets can come to Spotify to discover a world where communities and freedom of expression are celebrated. Through our GLOW platform spotlight, and themed podcast playlists, we're highlighting a place where queer stories and voices from around the world shine. 
GLOW support and spotlights for Pride
To kick off Pride, we're turning up the volume on the talented LGBTQIA+ artists in our GLOW hub. This month, in addition to our flagship GLOW playlist, we're making local GLOW playlists available in Thailand, Israel, Spain, Italy, Poland, the Nordics, the U.K. and Ireland, and North America. 
We'll also highlight Trixie Mattel from the U.S., Urias from Brazil, and Dana International from Israel as our GLOW spotlight artists. We'll support them with features on the GLOW hub, a billboard in Times Square in New York City, interviews here on For the Record, and more.
Fans can also find recorded playlist stories in our GLOW flagship playlist from Victoria Monet, TAAHLIAH, Marina Summers, Zemmoa, Angie Oeh, Isak Danielson, and G Flip. Each creator spoke about the need to protect and celebrate LGBTQIA+ communities and subcultures. We asked queer U.S. band The Aces and British DJ and producer TAAHLIAH to reflect on what Pride and GLOW mean to them. 
There've been many advances in LGBTQIA+ rights and representation during the last decade. Why is it still important to celebrate Pride?
TAAHLIAH: We still have a long way to go collectively, as a consciousness. Whilst acceptance is rife amongst the few, the majority still see queerness as some kind of imposing negative force. It's important to showcase a varied way of existing, beyond the binary, overlooking the constraints that a white-cis-hetero patriarchy has placed upon us.
GLOW is Spotify's always-on campaign dedicated to the LGBTQIA+ music community. Why is it important to uplift queer artists year-round and not just during Pride Month?
The Aces: Because queer visibility saves lives, and it's important to both celebrate it and make it accessible to those who may need to see it all year round.
LGBTQIA+-themed podcasts for Pride
The GLOW hub is also getting a glow-up with the addition of podcasts and podcast playlists so listeners can sink into the stories, experiences, and knowledge of LGBTQIA+ hosts and guests. Catch new episodes telling stories of underground LGBTQIA+ subcultures on the BBC Club, Camp Counselors, Two Dykes and a Mic, Aware and Aggravated, and the Ty French Podcast. 
Here are a few must-listen-to LGBTQIA+-led podcasts for Pride Month and beyond. 
We Said What We Said, featuring hosts Rickey Thompson and Denzel Dion
With bold advice, hot takes, and risqué storytelling, longtime besties Rickey and Denzel dish on everything that matters, from pop culture, sex, and struggle to love, music, and friendship. Tune in for new video podcast episodes on Tuesdays, only on Spotify.
Getting Curious with Jonathan Van Ness
Come on a journey with Queer Eye co-host Jonathan and guest experts as they explore anything and everything under the sun.
You're Wrong About, "We Need to Talk About the New York Times with Tuck Woodstock" 
In the episode of the show that gets you to rethink topics that have been miscast in the public eye, Gender Reveal host Tuck Woodstock takes listeners on a journey through the New York Times' coverage of trans issues, and in the end, he points the way toward a better future.
Stories with Sapphire with host Sapphire Sandalo 
Join host Sapphire Sandalo, a queer Filipino (Cebuano/Ilonggo) American occultist on a mission to add more empathy and diversity to the paranormal, supernatural, and horror communities through stories and interviews from the Philippines and around the world. 
Each week, The Laverne Cox Show features intimate conversations with a wide range of guests. These perspectives aim to inspire new behaviors in each of us, which in turn get us closer to becoming the very best versions of ourselves.
Girlish with Gage Adkins and Olivia Noel
As trans women of color in their 20s, Gage and Olivia strive to create a podcast that speaks volumes by discussing issues like transphobia, coming out in college, body dysphoria, and what it's like being trans in the 21st century.
Kick off Pride by streaming our flagship GLOW playlist.