MONDAY MOTIVATION
Nearly 2 Billion Music Discoveries Happen on Spotify Every Day—Here's What Listeners Are Finding
From personalized Niche Mixes to our AI-powered DJ, Spotify is constantly helping listeners discover new music to add to their queues. In fact, what fans love most about Spotify is our array of features that are specifically curated for each person's audio taste.
We took a journey of our own to understand how Spotify listeners explore new music. What we found spanned listeners across generations, and music across decades. 
"As humans, we are wired to explore, to seek the new and the unexpected, and to learn and expand and deepen our understanding of the world," said Dr. Dacher Keltner, professor of psychology at the University of California, Berkeley, and director of the Greater Good Science Center. "This quest for discovery is one of our greatest species-defining strengths."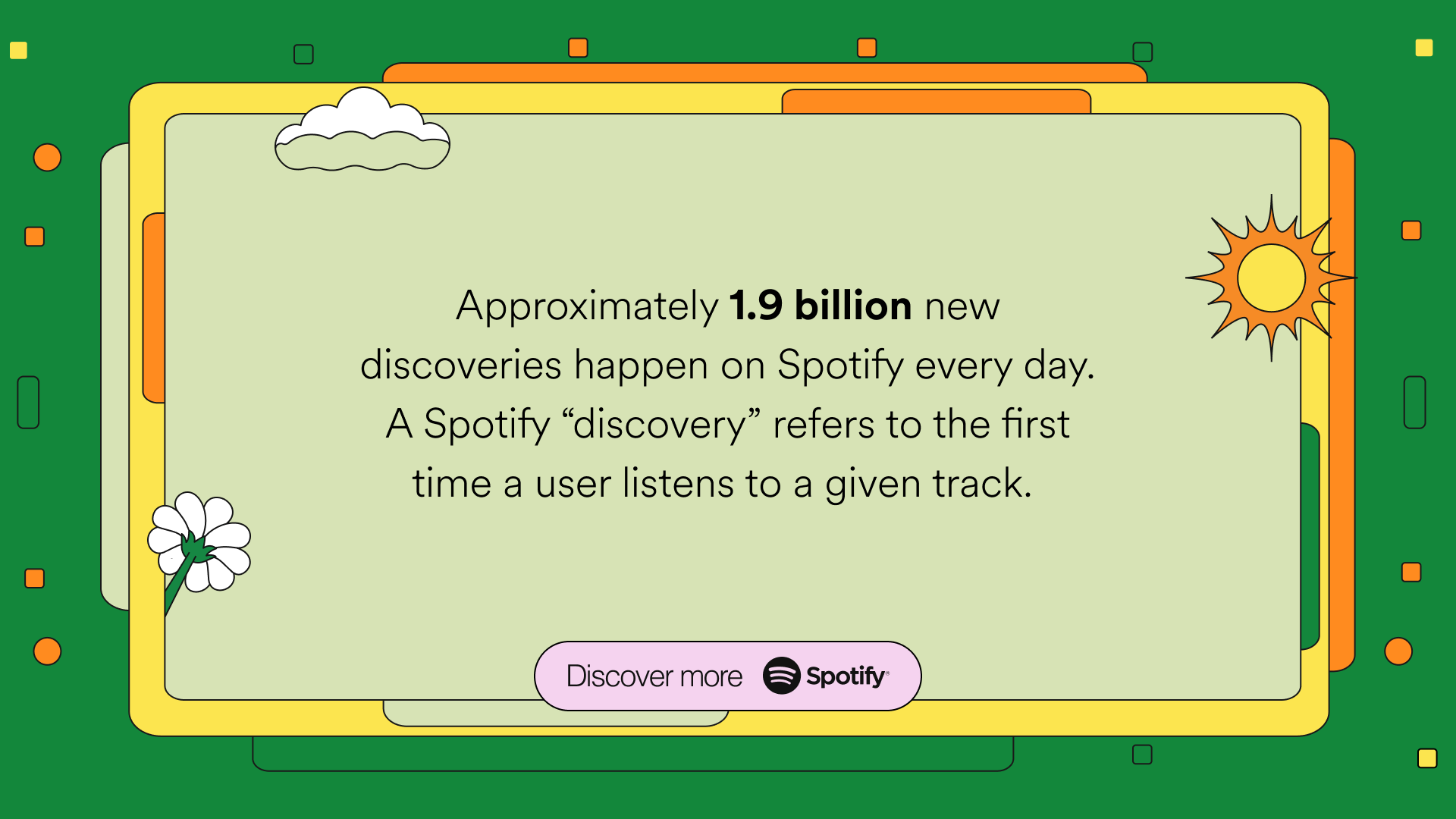 When we looked into new discoveries across generations, our data found that Gen Z and Gen Alpha are discovering music at different rates than baby boomers. While baby boomers actually discover music more often than Gen Z in the U.S., globally, Gen Z and Gen Alpha take the lead. 
"It doesn't surprise me that Gen Z leads music discovery in the rest of the world since younger people are actively seeking new musical forms to change society and the status quo," explained Dr. Keltner.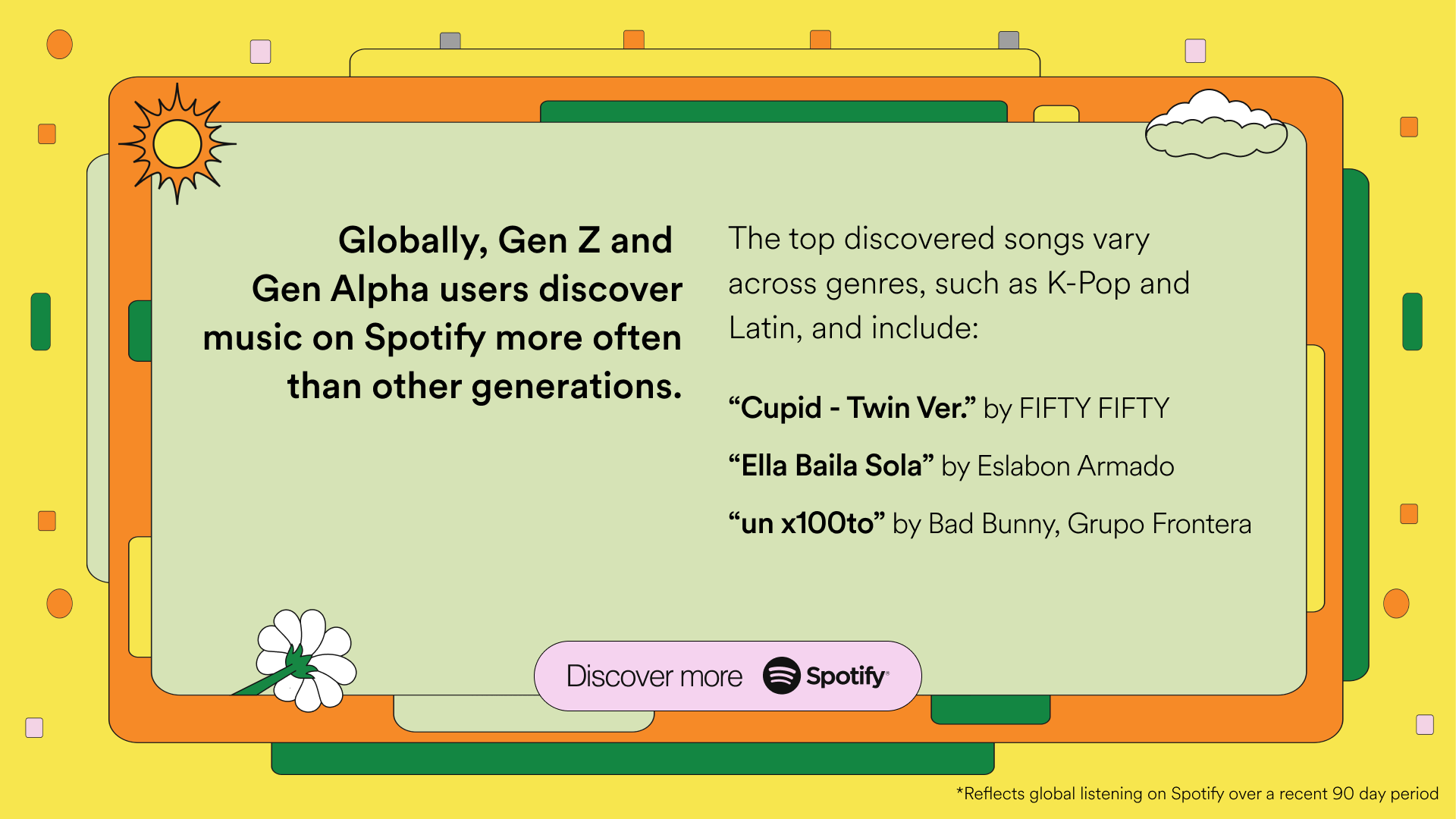 We were curious what Dr. Keltner thought of discoveries among Gen Z listeners. "Today young people face many challenges," he said. "The science of music speaks to how deeply listening and discovering music can counter this for young people. There's the awe of finding something new; how music can lead young people to feel calmer, both in mind and body; and how music surfaces what we most care about in life."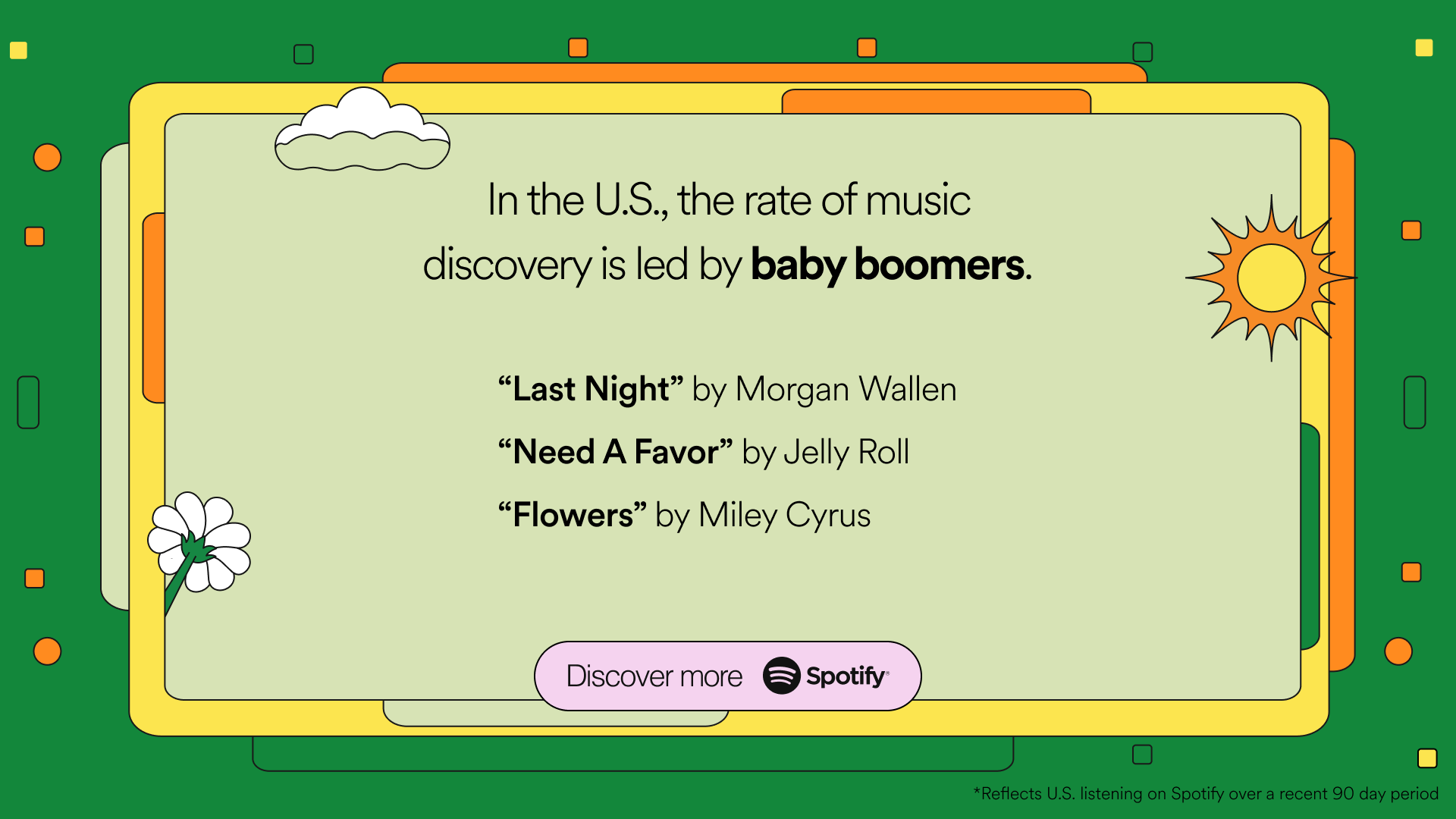 Baby boomers are still interested in discovering new songs. Dr. Keltner thinks this could be a product of their feeling more lonely, stressed, connected, and curious. "But discovering new music can bring us a sense of connection and contentment rather than stress, a sense of identity within a community, and awe and curiosity."
And some generations are offering the music of their youth to younger listeners. Well, the music of Gen X's youth, specifically. Gen Z is dipping their toes into more nostalgic songs.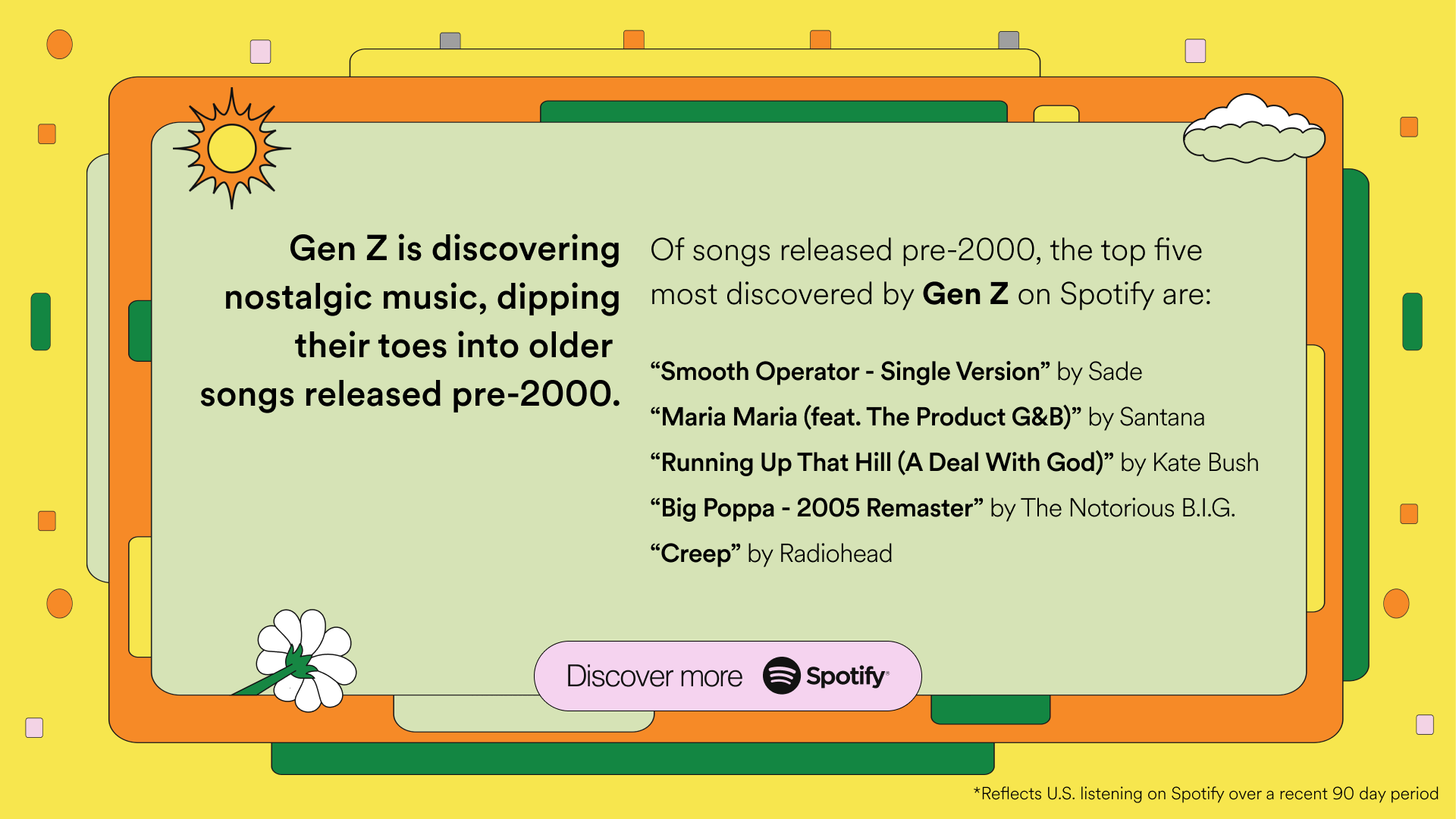 Music fans looking to discover more nostalgic tracks or feel connected to past generations can check out some of our Niche Mixes like Old School Rap Mix, Throwback R&B Mix, and 70s Disco Mix.
"In many parts of the world we lack intergenerational contact. It is increasingly hard to understand and share in the emotions and thoughts of people in different groups than our own," reasoned Dr. Keltner. "The kinds of music discoveries you found—of boomers discovering new music and Gen Z and Gen Alpha exploring music more from the past—suggests that music can be a powerful way to enhance intergenerational understanding and, more generally, foster empathy across differences." 
We also know that other factors drive music discovery on Spotify, including, of course, cultural moments like television shows, movies, video game competitions, and much more.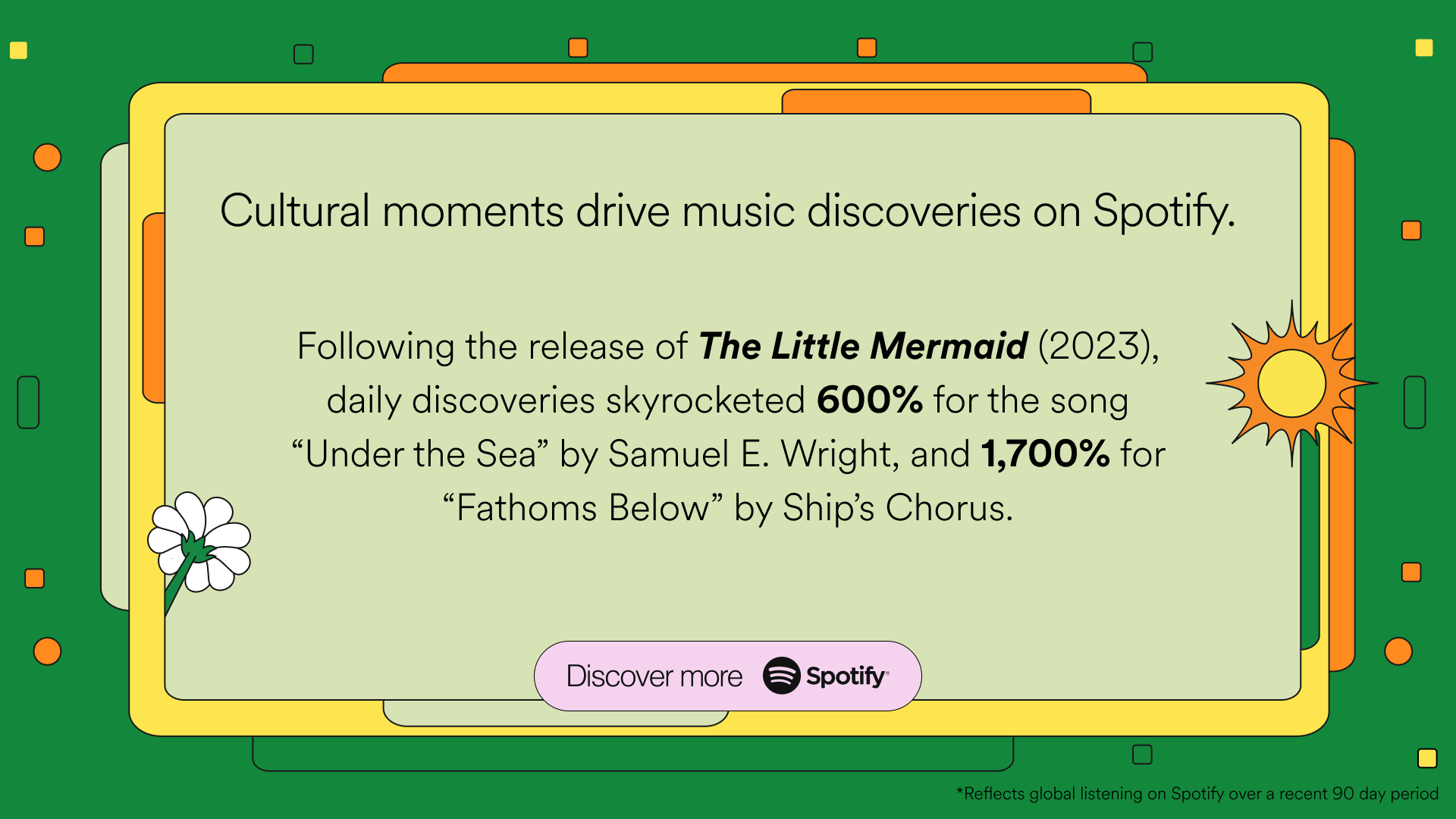 But discovery is also driven by less-obvious moments. In our research, we found that people tend to stream happier music (measured by the average valence of music streamed, which describes the musical "positiveness" conveyed by a track) more on Mondays than on the rest of the week. Dr. Keltner had an explanation for this, too.
"We listen to music for many reasons: to find peace and contentment, insights into the struggles of life, inspiration, and a sense of identity. Mondays often present challenges as we move from the weekend to the work week: stress, questions about what will inspire us that week, and why we are doing the work we are doing. Music on Mondays provides windows into answers to these aspects of shifting to Monday.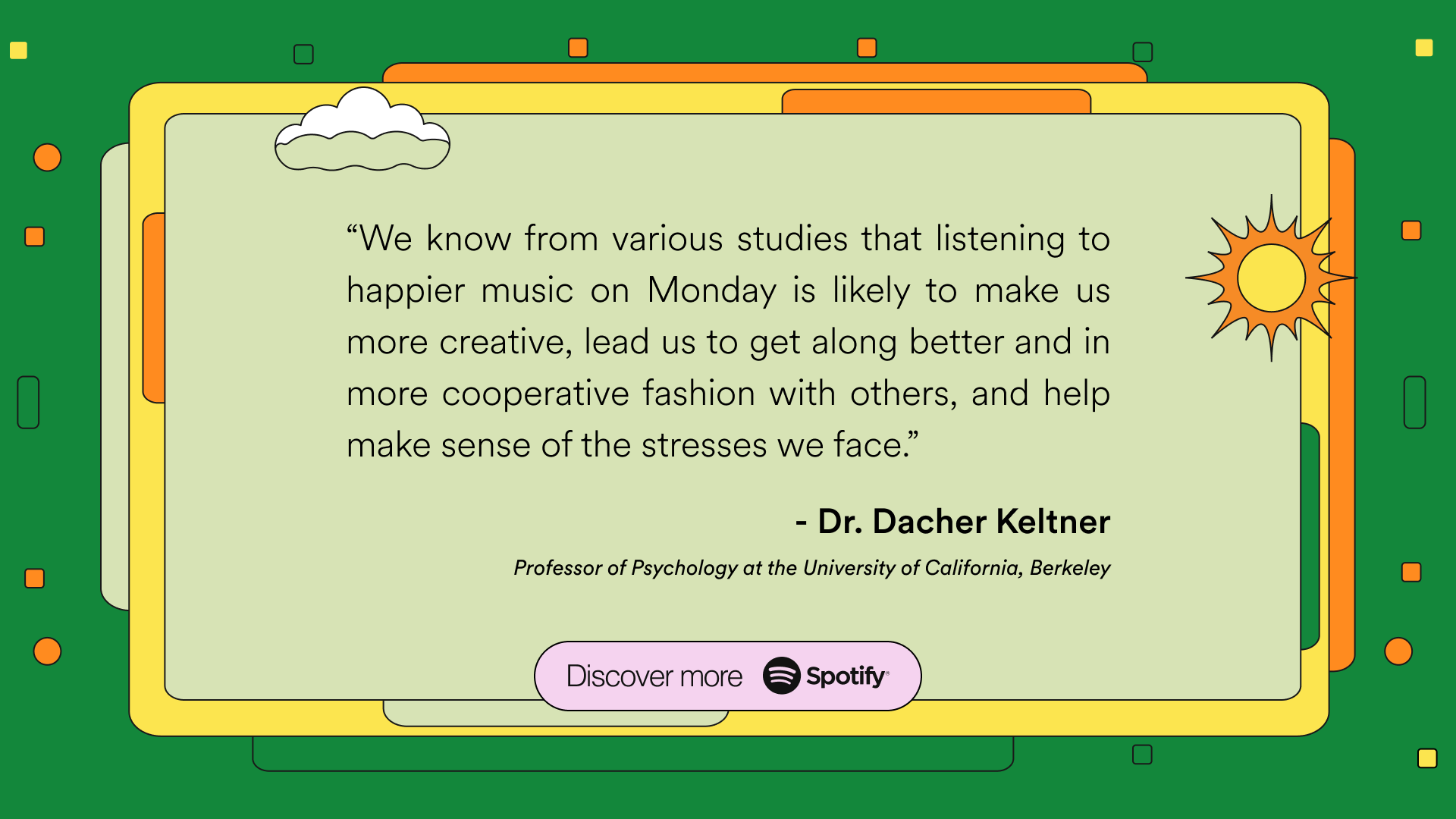 Mondays are also when Spotify's Discover Weekly playlist, a weekly dose of recommended songs from Spotify, is refreshed. Though the playlist is personalized to each listener, songs most frequently discovered on Discover Weekly include "Glass Jaw" by chokecherry and "Heart of Gold (with Bon Iver)" by Ilsey.
Many podcasts have also become favorites to start the week. The meditation-focused The Sleep Zone Podcast is one of the most popular podcasts streamed first thing Monday mornings, giving Spotify fans some zen as they face the week ahead.
Artists like KAROL G, Shakira, and Miley Cyrus are distinctive to Mondays, when we may need an energy boost, but we found different artists and playlists trending on Sundays. Lana Del Rey, Billie Eilish, and SZA help us get into our feels, while "Sad Country Mix" is the most streamed Niche Mix on Sunday nights. And it's all about that good night's sleep before the rush of a new week kicks off: "Twinkle, Twinkle, Little Star" by Adelmar Borrego is the most distinctive track streamed on Sunday evenings globally. 
From activating Smart Shuffle in your playlists to going on a ride with your personalized AI DJ, there are countless ways for Spotify to lead you to new music. Give them a try on your next listen.