CELEBRATING SOUTH ASIAN HERITAGE
Broadcasting Desi Music to New Homes Around the World
Bollywood dance music, chill Sufi songs, hot Punjabi hits—all of these sounds make up the diverse and varied world of Desi music. They also represent artists and genres coming out of India, Pakistan, Bangladesh, Sri Lanka, Nepal, Bhutan, and the Maldives. Listeners across the region flock to Spotify to celebrate their culture and its music. And no matter where they go, their heritage moves with them. 
This South Asian Heritage Month, Spotify is celebrating the music of the region locally and across the South Asian diaspora. Listeners in the U.S., UK, and Canada remain the leading countries that stream Desi music, followed by Australia and Germany. Desi music is growing rapidly in the UAE, Australia, and Canada—and shows the largest increase in streams of the South Asian music genre—recording year-on-year growth of 72%, 54%, and 50% respectively. 
In Pakistan, too, 2023 has seen a phenomenal rise in the production and appreciation of Punjabi music. Compared to 2021, the total number of Punjabi track releases has nearly doubled, showcasing the industry's vibrant growth and creative evolution. Punjabi pop, with its catchy tunes, has witnessed a remarkable 99% year-on-year increase in listener consumption in the market. Meanwhile, Punjabi Hip Hop has seen an astounding 106% growth in its listenership in Pakistan. This surge in popularity reflects the genre's universal appeal, which then transcends borders and cultures.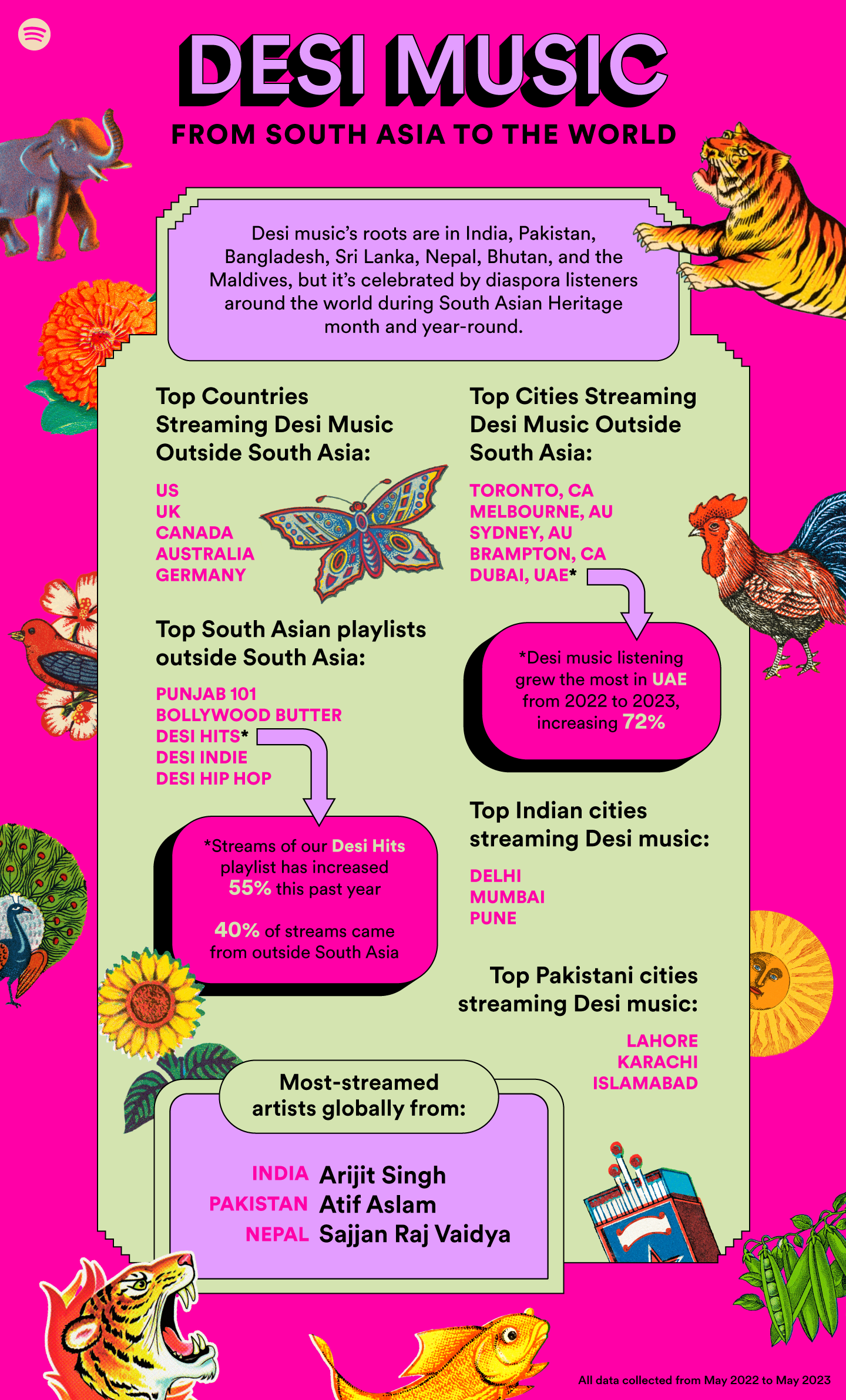 "With Spotify significantly strengthening its position in South Asian markets, we are able to connect artists to their fans and communities across the globe, and have witnessed a growing love for South Asian artists and Desi music that reflects in the exponential growth of streams of our Desi playlists," says Rutaba Yaqub, Spotify Senior Editor in Pakistan, Sri Lanka, and Bangladesh. 
"Millions in the South Asian diaspora long for a connection to home. Music keeps them in touch and Spotify wants to celebrate and enable that connection. So we're celebrating South Asian Heritage Month this year by building a strong cultural connection between Desi music and its listeners through our South Asian Music Hub, where listeners can find and enjoy popular Desi playlists and more," she added. 
That connection was felt especially this year with Ali Sethi and Shae Gill's track "Pasoori." After its release, "Pasoori" became a phenomenon that took its place on the global Viral 50 chart, the first Pakistani song to achieve this feat. It continues to be the most-streamed Pakistani track globally. This month, we also spotlight Ali Sethi and the influential Irfan Junejo in a Spotlight series on our platform.
Indian music preferences are a little more varied. The most-streamed songs from India in a majority of the largest diaspora markets, including the U.S., UK, UAE, and Australia, feature Bollywood hits like "Kesariya (from 'Brahmastra')," followed by "Besharam Rang," and "Jhoome Jo Pathaan" (both from Pathaan). In Canada, however, the top 10-streamed Desi songs from the past year prominently feature Punjabi pop and hip-hop. "52 Bars" by Karan Aujla and Ikky was the most listened-to track. 
"South Asian music is undoubtedly here to stay, and India is one of the largest contributors to the export of artists from this region," says Rahul Balyan, Head of Music, Spotify India. "With Spotify, sounds from across the world have become easier to discover and share, and for the Indian diaspora, which happens to be the largest in the world, music is an integral part of how they stay connected to their roots. All our data indicates that film, as well as pop music, appeals the most to those listeners, and Indian artists performing at international music festivals is testament to the impact that they are making even beyond the diaspora." 
For the best of South Asian music, stream Desi Hits.