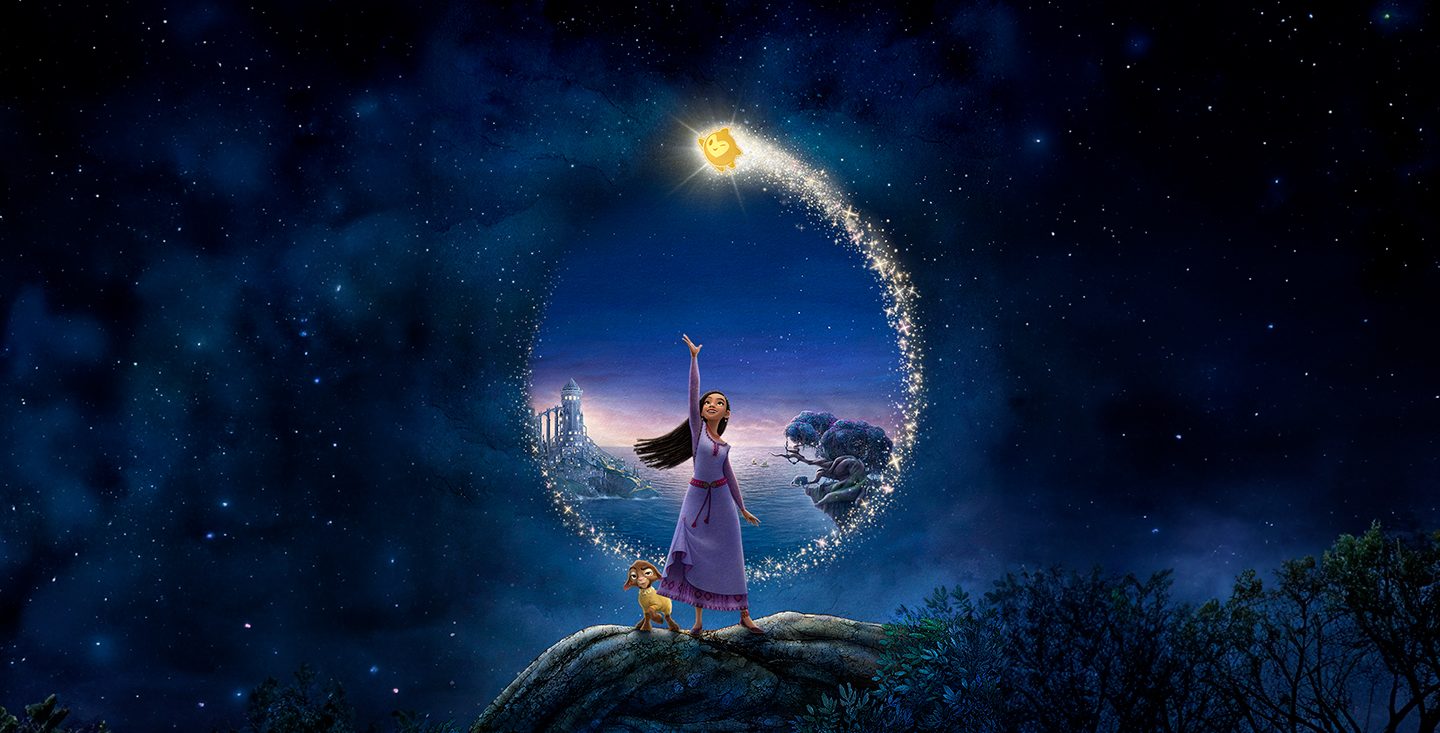 BE OUR GUEST
Spotify Invites You To Celebrate 100 Years of Disney
October 16, 1923, is a magical day for generations of people around the world, as it marks the start of The Walt Disney Company. And as the beloved entertainment company gets ready to celebrate its 100th birthday, we've teamed up with Walt Disney Animation Studios—also celebrating 100 years—to make the day even more special for listeners.
Whether you're belting out Mulan's "I'll Make a Man Out Of You" with friends or cleaning your apartment while singing Frozen's "Let it Go," Disney soundtracks have always held a special place in the hearts of fans, no matter what age they are.   
The stats don't lie. To date, Spotify listeners around the world have created more than 8.5 million Disney-related playlists. Disney Animation's Moana takes the top spot for the most-streamed Disney album of all time, followed closely by Encanto and Frozen in second and third, respectively. Meanwhile, fans who can't settle on just one film soundtrack have enjoyed the Disney Hits playlist to the tune of 2.3 billion streams. 
Which Disney Princess Do You Blend With Best?
Have you ever wondered which Disney princess you'd be musical BFFs with? You can now Blend with some of your favorites to see how your music taste stacks up with princesses who have inspired generations. 
Blend with Cinderella, Belle, Tiana, Moana, and Ariel to find out if you listen to those "all the feels" deep cuts like Cinderella, high-energy foot-stomping bops that Moana loves, or the more fluid styling of Ariel.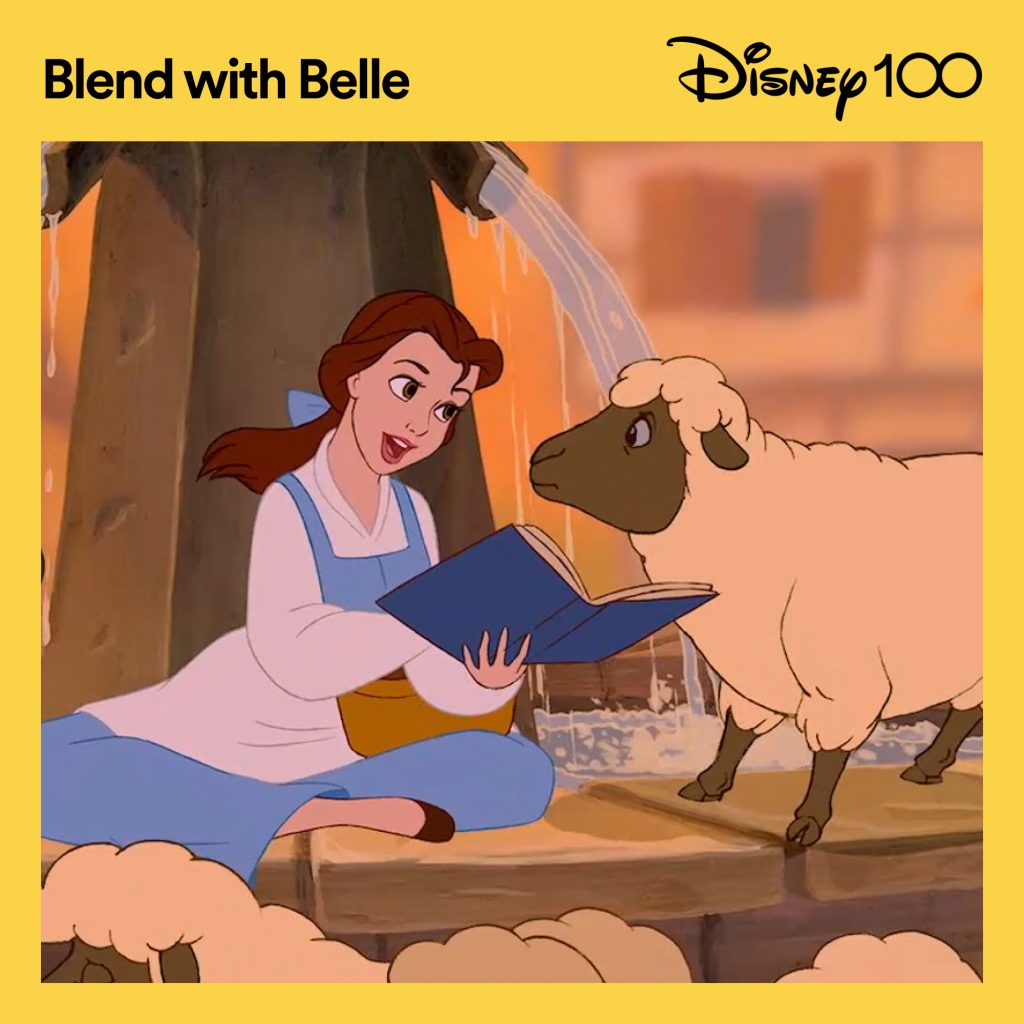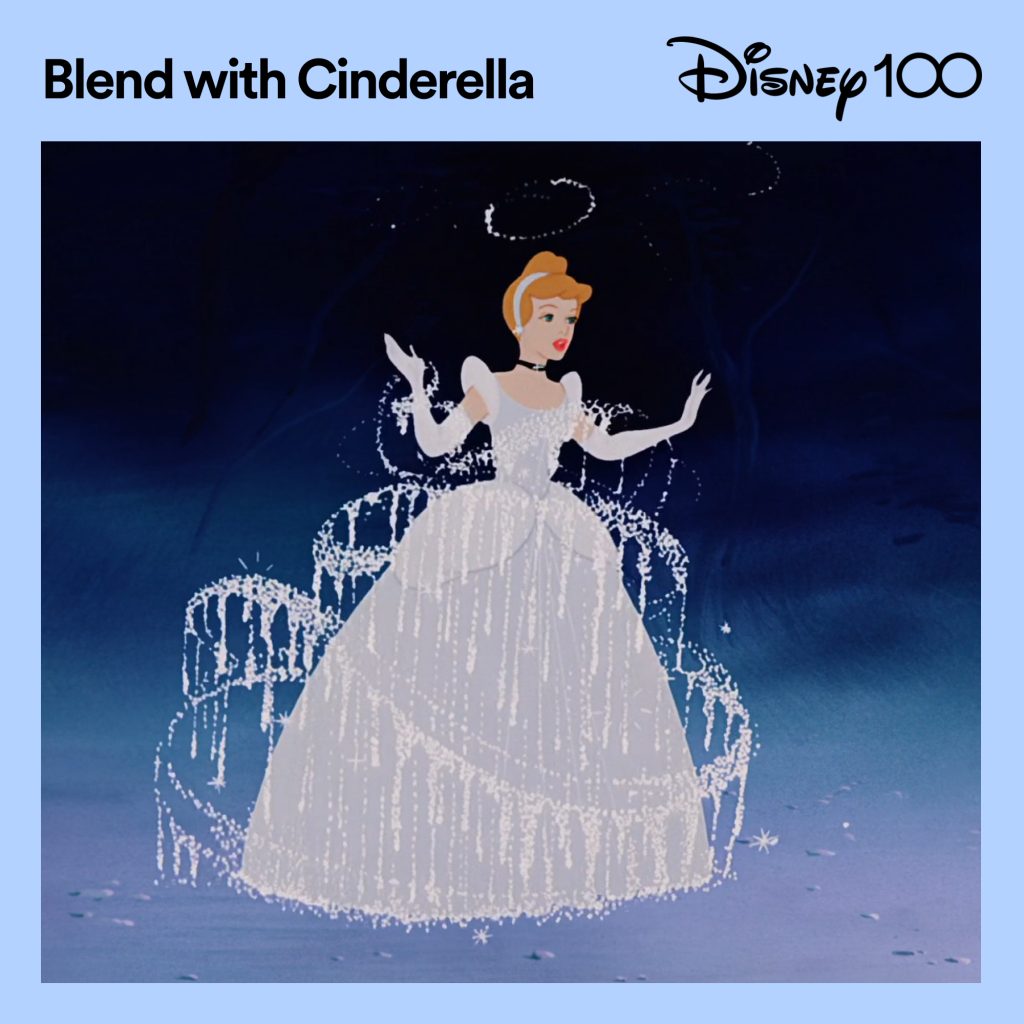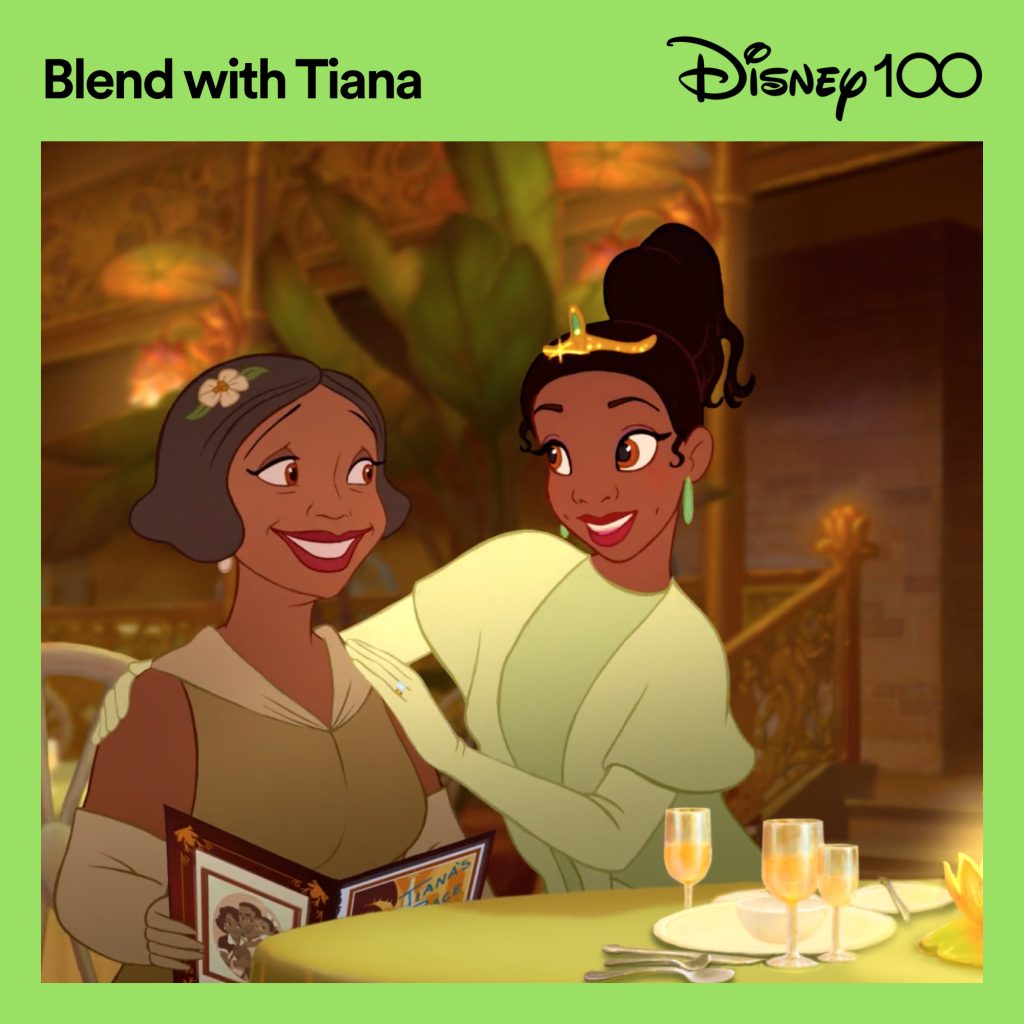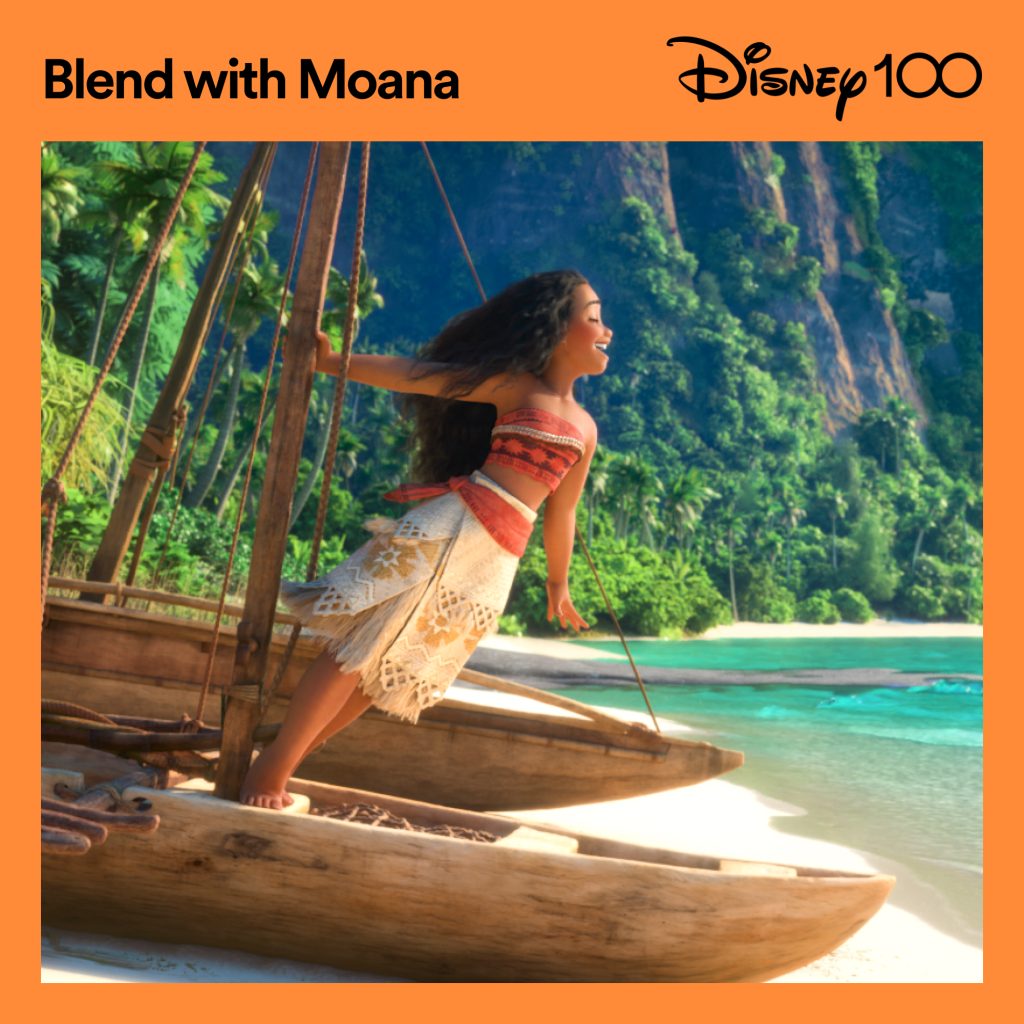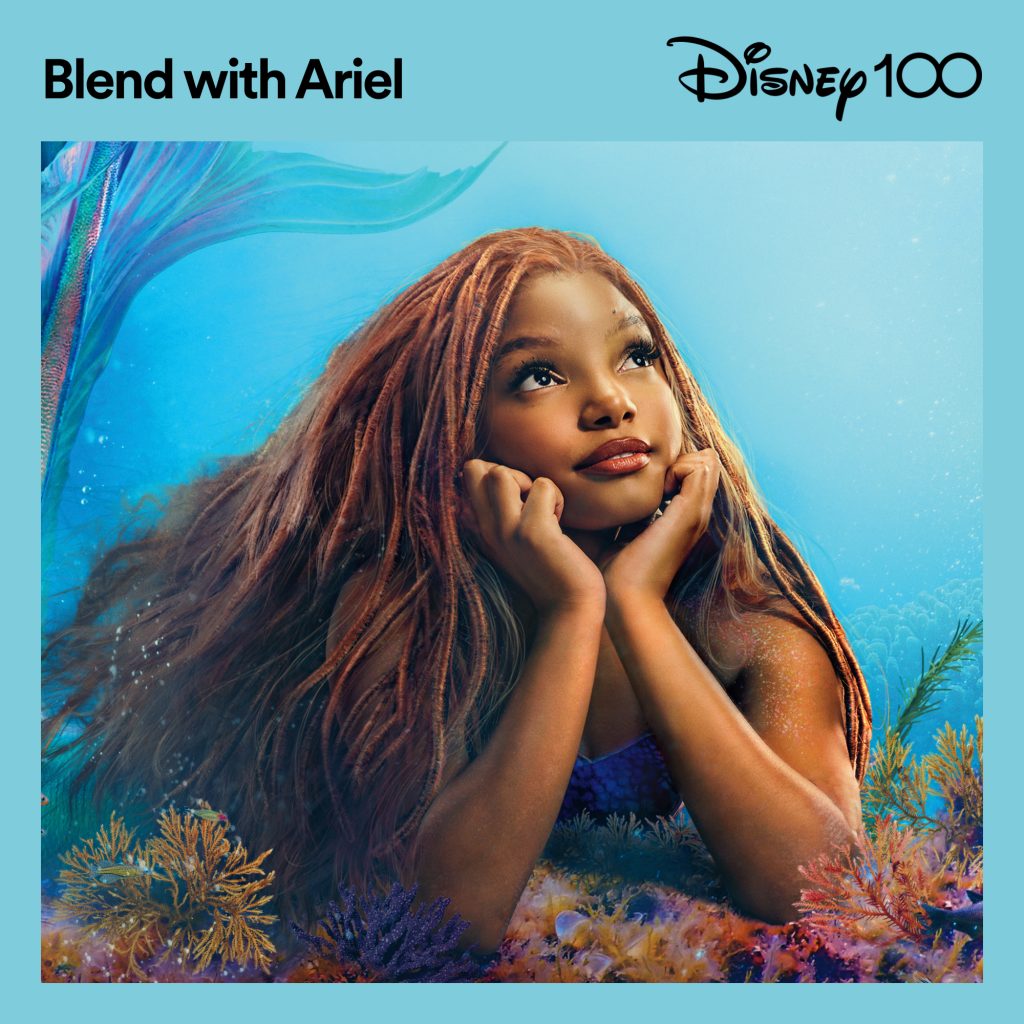 Getting the Party Started With Disney100
While it's safe to say that a lot of listeners will be joining in on the Disney100 anniversary, it just wouldn't be a celebration without music. While there's plenty to find at the Disney Hub, the Disney100 Official Playlist will be kicking things off with songs and Canvas video clips from Disney's century-long film catalog. From classics like "Steamboat Willie," "Oo-De-Lally," and "When You Wish Upon a Star" to more contemporary offerings such as "We Don't Talk About Bruno" and "You're Welcome," there's a little something for everyone at every age.
A Film 100 Years in the Making
Disney Animation is set to release their 100th-anniversary film, Wish, in theaters November 22, so in tandem with the celebrations, we've debuted the Wish Official Playlist on Spotify. Dive in to hear Spotify Stories featuring songwriter Julia Michaels as she shares the songwriting inspiration behind Wish.
Directed by Chris Buck (Tarzan, Frozen) and Fawn Veerasunthorn (Zootopia, Raya and the Last Dragon), and featuring the musical talents of arranger and composer David Metzger (Frozen, Wreck-It-Ralph), Wish follows a young girl named Asha who wishes on a star and gets more than she was expecting in the form of an actual star named, well, Star, falling from the sky.
For the Record sat down with composer David Metzger to talk about his work on Wish, his career, and what it's like being a part of the Disney magic.
What was your initial reaction to being a part of Wish?
Complete and utter shock and disbelief! I just couldn't believe that at this point in my career, after mostly being known as an arranger and orchestrator, that I'd be given the opportunity to score Disney Animation's biggest film of the year, and one that celebrates the 100th anniversary of the studio.
It's truly the perfect example of one's dream coming true.
What musical themes were you interested in exploring with the Wish score?
There were two main drivers for me when I began to explore thematic ideas for the film. 
The first was how to delineate the place and time that the film takes place in. Seeing as the film is set in the Mediterranean, I began listening to a lot of Spanish and North African music, inundating myself with music from those regions to try and develop a deeper understanding of what musical tendencies those regional styles possess. I also played around with different musical periods as well, which required listening to everything from Renaissance-era music to modern Flamenco styles.
The second consideration was to make the music sound timeless and unmistakably Disney. By that, I mean I went back and studied the scores of classic Disney films like Snow White and the Seven Dwarfs, Pinocchio, Peter Pan and such. One of the coolest things about Wish was to try and work in nods to the legacy of Disney Animation.
Does your approach to songwriting change based on the type of Disney characters you're writing for?
I've been incredibly fortunate to work on a ton of Disney films over my career. I've always looked for ways to make the voice of each character unique. Oftentimes that's dictated by the region that the film takes place, or the specific quirks of the character.
In the case of Asha in Wish, she was a ton of fun to write for. She's a very energetic, strong character, so I tried to capture that. I also tried to capture her backstory with her father, so I (hopefully!) wrote a very emotional "memory" theme for them.
Three wishes: What's a song you wish you'd written? Who's someone you wish you could write for? Who's someone you wish to collaborate with?
There are so many songs I wish I wrote, but if I had to pick just one, I'd choose "Tonight" from West Side Story. To me, it's a perfectly created piece of music; the shape of the melody, the interesting harmony twists and turns, and the promise and excitement of new love. It all works for me.
As for who I'd wish to write for and collaborate with, to be honest, that wish has already been granted, as I've been given the chance to write for and with so many incredible singers, performers, and orchestras already. 
What was your favorite Disney movie growing up?
It'd have to be The Jungle Book, with Baloo being my favorite character. I was 7-years-old when it came out and I remember running around the house constantly singing "The Bare Necessities" for months after seeing the movie.
What's the most magical part of Disney turning 100?
I've been around long enough to witness one half of the magic that Disney has created, and I've been able to participate in over a quarter of it. 
Firstly, I love the fact that Disney films tend to be passed down generationally. Hopefully, people many decades from now will still be listening to my music and garnering joy from them.
Secondly, I love the fact that most of these films are positive productions that ultimately make the world a better, happier, and more joyful place. That's actually quite important to me.
Start your celebration of 100 years of Disney with the official Disney100 and Wish playlists.
Updated as of November 17,2023: This article was amended to include a Q&A from composer David Metzger and a Wish header image.