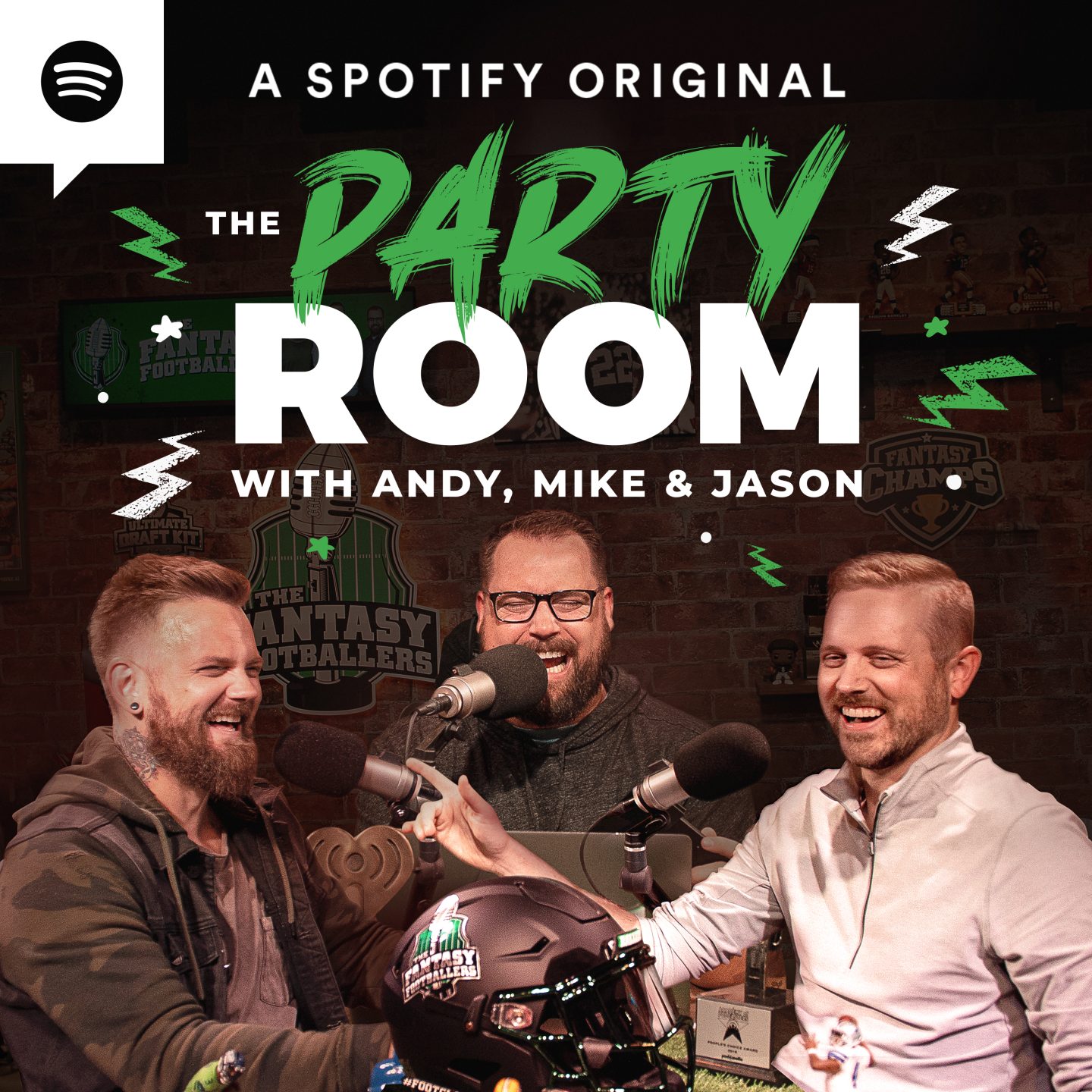 YOU MAY BE RIGHT
'The Fantasy Footballers' Scores Touchdown After Touchdown as a Spotify Live Show
What's the game plan behind the perfect sports podcast? Andy Holloway, Jason Moore, and Mike Wright, hosts of The Fantasy Footballers, have perfected it. Each day of the NFL season, the trio breaks down the world of fantasy football with astute analysis, strong opinions, and matchup-winning advice you can't get anywhere else. The production quality is unparalleled and the comedic banter truly entertaining. Their formula works—and it's turned them into bona fide champions with the number-one sports podcast on Spotify. 
After years of producing an increasingly popular podcast, the team took to Spotify Live to bring their show to a new space. The first season was an overwhelming success, with Rooms that are consistently filled to max capacity. Their newest season of Live content kicks off on Spotify Wednesday, August 24, with The Party Room.  
If you're looking for expert fantasy football advice and a pretty strong dose of comedy, look no further than these three friends, who took some time to tell For the Record about the show, their friendship, and the allure of fantasy football. 
How did you each first get into fantasy football—and why did you stay? 
Andy: My history goes all the way back to playing fantasy basketball in high school. It just intrigued me, being a stats type of person. There was always something new to check, and it got you interested in everybody in the entire league. That interest migrated into football. It changed everything about what Sunday was like because you had interest in the worst teams and the best teams and it didn't matter what your hometown loyalties were. 
It also became a shared language among those that play beyond your own league as well. So you can run into people in other walks of life, and if someone drops some comment about fantasy football, all of a sudden you have that shared common language where you start talking about this player, this game, this thing that happened. 
Jason: Ironically, Andy doesn't remember that we actually met in high school while starting to play fantasy basketball. That was what brought us together. We were in a fantasy basketball league in high school. And then years later I started a league in college with my theater buddies, and that has developed into the main league that we're all in now, 25, 30 years later. There's a camaraderie that just allows this long-term, cool friendship based on a game that never kind of goes away.
Mike: I've kind of "sport hopped." I love all sports really, but I often home in on one. So I had a time period where it was basketball. I became a diehard basketball fan and then I ended up jumping into fantasy basketball, learning the ins and outs of "how does a fantasy sport work?" It was also just a real cool way to be in connection with my high school buddies who moved away to Tucson for college. 
Fantasy football is the ultimate "I told you so" sport. When you're competitive, one of the things you love most about life is being right about something, telling people you are right, and then it actually happening and rubbing their face in your correctness. And even though I have no control on the field, Fantasy just gives you that sense of pride. That sense of "That's my guy. I told you this team was good. You should've listened to me." 
You put the show together several years ago, and it's now the number-one sports podcast on Spotify. How did you know the show had taken off?
Jason: It was really a numbers game, and we came from entrepreneurship and business. So when we came here, what we found was that when someone found our show, they stuck around. We were extremely sticky. And that was really the secret sauce to our growth. So week after week after week after week, at the beginning, we were almost doubling. Right off the bat, we felt like this is going to be something that we can do, like that we can support our families doing. 
Andy: We realized we hit a chord with people in a way that maybe other shows weren't doing. Maybe it was a reflection of Fantasy growing at the same time as the NFL at the same time as podcasting.
You also have a Live show, The Party Room, returning for its second season on Spotify. What are the opportunities that Live gives you as hosts that make the format stand out/differ from the podcast?
Mike: When we're doing the recorded version of the podcast, it's us three and a team of producers. You know that hundreds of thousands of people are listening, but you don't feel it. You are very isolated in this room. 
But when you're Live on Spotify and someone hits an awesome statistic or a really funny zinger and the chat just explodes and there's all these gif reactions coming through—it's really hard to quantify what that energy is. You feel it inside, like it really changes how you're talking to each other. And because you get that instant gratification, the instant feedback from the people, it's extremely fun, extremely organic. It's all about community, and with Live, the community is actually together. 
What's the biggest, dumbest fantasy mistake you've ever made? 
Jason: Our show is very well known as a "Late-Round Quarterback" strategy—we don't put too much stock in the quarterback position. But back in the day, I put a lot of stock in the quarterback position. I went all in on Tom Brady after his 50-touchdown season, thinking, "I'm going to just dominate." And then the first game, he got injured and was gone the whole season and my season was over.

Andy: As fun as it is to win in Fantasy, the pain of losing is worse. It's more extreme somehow because we are just a community of rehashes—of 20/20 hindsight. Last year I lost the championship because I started one guy over another guy. You live with it for the rest of your life.

Mike: I would say my mistakes usually come from just overall stubbornness. You know, you want to be right. And you want to be right that a player is going to be good. So you draft them, you get them on your fantasy squad . . . and then they're bad. You're like, okay, well, that's one week. Another week and they're bad. And they just keep being bad over and over. But the stubborness in your heart won't allow you to admit that you were wrong on that player so you just keep using them over and over.  
You're all from Phoenix, home of the championship coming up in February 2023. What are your way-too-early predictions for who we'll see in the game and who will win?
Andy: I have Buffalo coming out of the AFC. As for the NFC—the Los Angeles Rams get back there again. But I think Buffalo ends up winning it. I think I'll take Buffalo over the Rams. 
Jason: I want to not go second. That is exactly what I have. I have the Bills beating the Rams. 
Mike: I will take the Denver Broncos coming out of the AFC. And I'll be boring on the other side, I'll say Tom Brady will make it back again. But I'll take the Denver Broncos to win. They'd be very happy, those Broncos fans. 
Take a listen to the newest season of Fantasy Footballers Live on Spotify below.