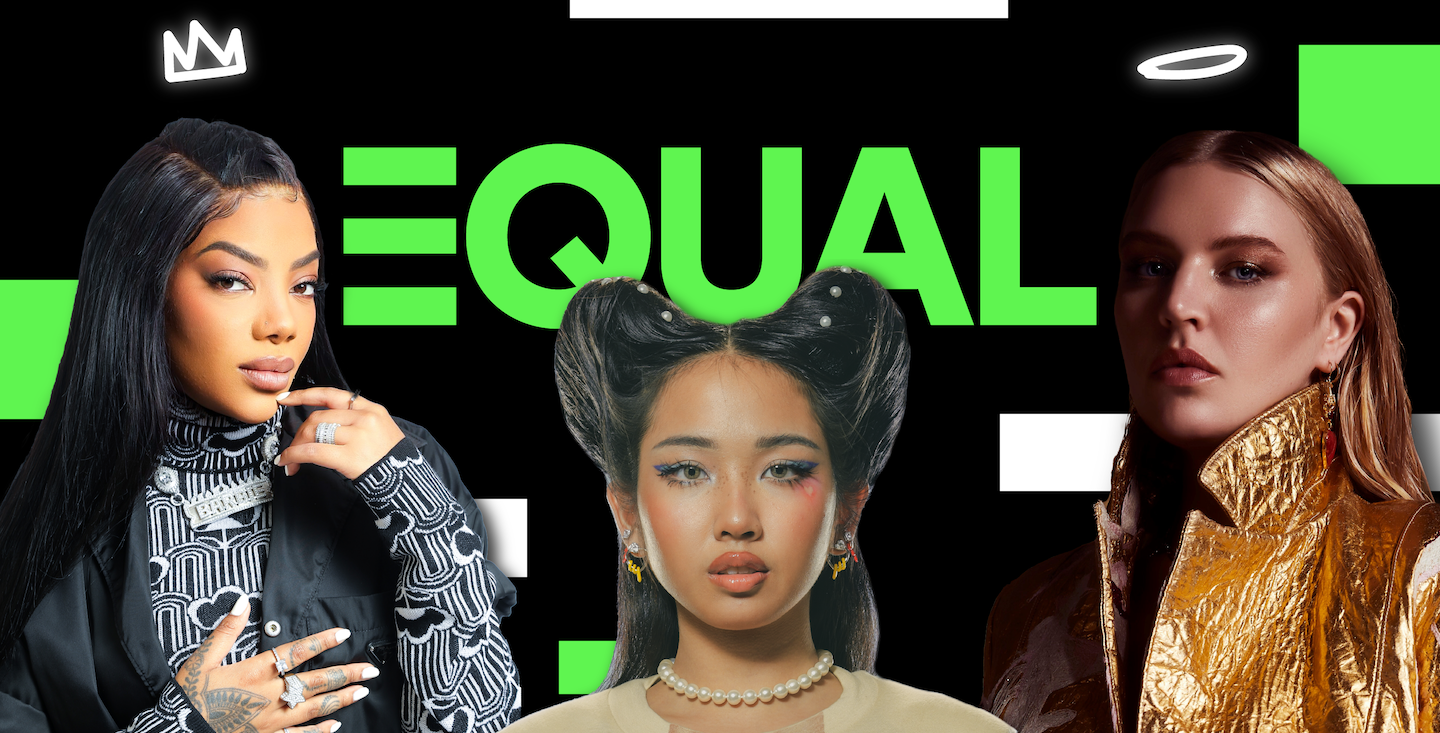 TURN UP THE VOLUME
EQUAL Marks Two Years of Celebrating Women Artists And Spotify Announces the Next EQUAL FEST
From Japan to Argentina, Malaysia to the U.K., women artists, engineers, and producers continue to be vastly underrepresented in the music industry. But there's incredible talent worldwide that must be highlighted and celebrated. So in 2020 Spotify launched EQUAL, an always-on global program to drive equity for women in music. EQUAL represents our commitment to amplifying the voices of women musicians and creators locally, regionally, and internationally. 
The more fans listen to women, the more opportunities that are created so that women can enter the industry. Through our suite of EQUAL playlists and marketing tools, we provide women with more space on and off our platform to share their work; at the same time, we're giving fans the chance to remember that by listening, they too are taking action.
"EQUAL is about the power of raising voices together to drive equity in music and standing together to fight for a common goal that has no borders—it's about acknowledging the difficulties and celebrating each other all year round," says Bel Aztiria, Equity Global Music Programs Lead at Spotify. "It is much more than a program: EQUAL represents a mission and a community that stands together." 
Celebrating two years of EQUAL
Two years later, the work is far from done, but we have a lot to be proud of as we continue on this journey. Our EQUAL artists have collectively wracked up millions of streams and advanced other women creators in the process. 
"On platform, in the studio, onstage, and on billboards, more women are having their voices heard, no matter where they come from and no matter at what stage of their career they are," says Bel. "Beyond global support, EQUAL honors this as its mission with the deepest respect for each local culture. Since our inception, we have launched 40 local EQUAL programs. Thanks to these programs, we've been able to host the first-ever EQUAL Festival with an all-women lineup in Colombia, offer studio residencies in the U.S., and invite women to our offices in France to participate in mentorship opportunities; and we've seen sorority and artistry prevail every time we come together."
Catch some of EQUAL's notable stats.


EQUAL Fest resumes this September in Spain
Last April, we held the first-ever EQUAL Fest in Bogotá, Colombia. Thirteen outstanding women musicians, each representing a variety of genres, took to the stage at El Teatro throughout the month. The headliners—Goyo, Paola Jara, Lido Pimienta, Andrea Echeverri, Farina, Elsa y Elmar, Ventino, Karen Lizarazo, Juliana Velásquez, Nidia Góngora, María Cristina Plata, Bad Milk, and Las Villa—collectively represented over 3.4 million monthly listeners as made a statement for gender equality in music on stage. 
"Being a part of the first EQUAL Fest was really an honor," Elsa y Elmar, a singer-songwriter who creates synth-pop music with a folk flair, wrote to For the Record. "I am a woman musician from Colombia, but most of my music is done in Mexico City. So being considered as one of the first Colombian women to inaugurate this festival made me feel proud of my journey and actually very thankful for the support that Spotify has given me." 
"As women, it can be a bit harder—if not much harder," she noted. "So, it's really a space for empowerment, it's a space for acknowledging our place in the music industry, and it just feels really special. Sometimes music made from a woman's perspective is different: It's sentimental, it's special, it has a different value than other music. So creating a space for that, where people know what they're going to get, is just a very, very valuable thing." 
On September 22, we'll bring EQUAL back for a full-volume, all-women set of performances at EQUAL FEST held at the Wizink Center in Madrid, Spain. We're excited to share that Argentinian Spanish singer, songwriter, and dancer Nathy Peluso will headline alongside several other established and developing Spanish and Latin women artists. 
"There are so many women artists, and we are claiming our space and visibility," says Nathy. "That's why I'm happy to be a part of EQUAL and to continue to build fairer spaces. It's an honor to perform at EQUAL FEST with so many incredible women."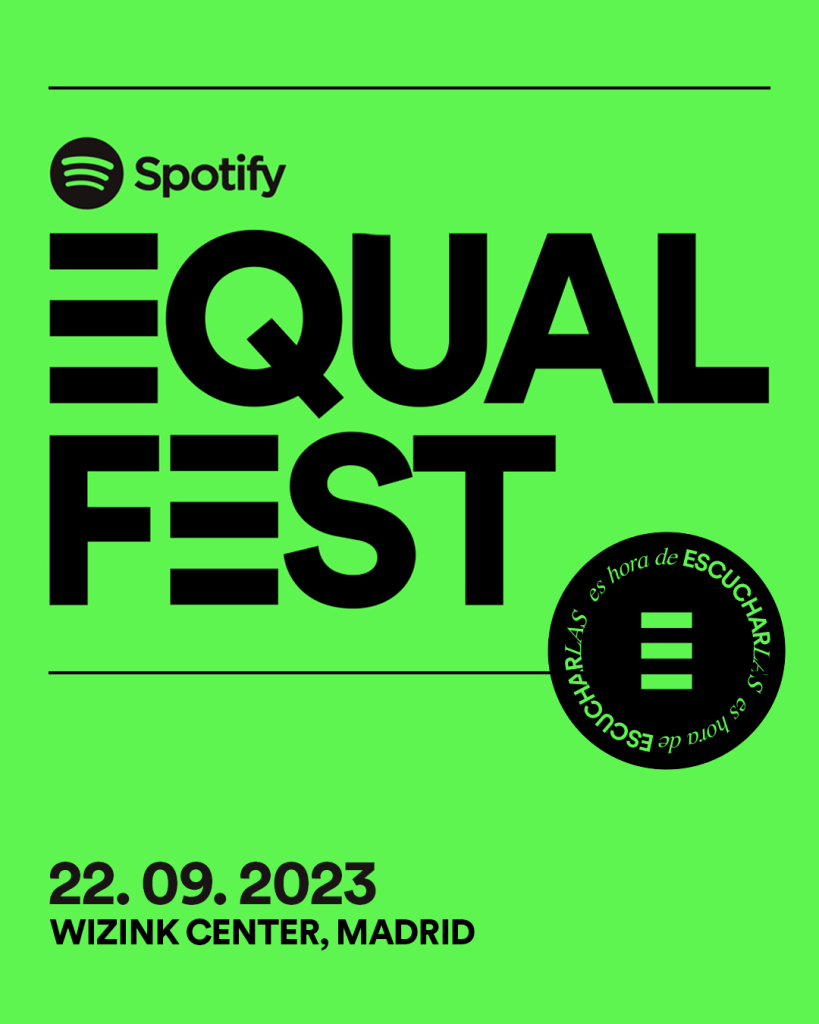 More must be done to put women artists front and center, and with Spotify EQUAL Fest in Madrid we're turning up the volume on women and reminding everyone that they can be part of a more equal world. 
Tickets will be available soon—so stay tuned for more details. 
"We're so proud of what EQUAL has achieved in its first two years: through our editorial, marketing, and partnership capabilities, we have celebrated and uplifted the voices of thousands of women artists on and off the platform, and our ambassador program has celebrated almost 800 women artists from over 50 countries," Bel noted. 
And there's much more to come. 
Stream our flagship EQUAL playlist below.