SPIRITUAL SOUNDS
'CAN You Hear Me' Spotlights Northern Cree, a Legendary Canadian Powwow Act Preserving Indigenous Culture Through Music
In celebration of Canadian artistry, For the Record recently launched CAN You Hear Me, a series championing the music, unique talent, and diverse cultures found in the Great White North—from the jazz bars in Québec to the dance clubs in Ontario, all the way to the powwows in the west.
Next up in our series is Northern Cree, a powwow and round dance act based in Maskwacis, Alberta. Widely regarded as one of the best acts in powwow music, the group was formed in 1982 by the Wood brothers—Steve, Randy, Charlie, and Earl of the Saddle Lake Cree Nation. Today, most of its 15 members originate from all across the Treaty 6 territory and are members of the Cree Nation.
Forty years in, the legendary act has recorded dozens of albums—and their influence has reached far and wide. The DJ Shub track "Indomitable" featuring the band was selected by Sacha Baron Cohen as the theme song to his Showtime series, Who Is America?, while M.I.A. and Santigold sampled Northern Cree for their 2008 song "Get It Up."
Since 2002, Northern Cree has been nominated for nine Grammy Awards and three Juno Awards. In 2017, the collective made history when it became the first powwow group to perform at the Grammy Awards ceremony in Los Angeles. Most recently, they played at the 2023 Juno Awards ceremony alongside Aysanabee in Edmonton, Alberta. 
For the Record spoke with Steve Wood and his son Joel Wood to discuss powwow traditions, their greatest inspirations, and the importance of preserving Indigenous history and culture through music.
What are some of the traditional elements of powwow music and dance? How do these come through in your music?
The instruments are created from things that are natural and land-based. The music's vocals and lyrics are connected spiritually to our history and ancestors. The drum is referred to as "the heartbeat of Mother Earth," and that is what connects all human beings to one another, everything living on the planet, and the earth itself. The outfits—or regalia—reflect our history, spirituality, and cultural teachings. These are also created from objects that are land-based, such as plant and animal life.
This type of music is so different when you're able to hear it in a live setting, because you can really feel the energy. We often hear from people who are standing around the drum or near the drum or in the area that you can feel the energy that's being made there—it's doing something to them. If we're doing that, if we're making people feel good, then we're doing our job.
How has Spotify helped you expand your music to a broader audience or connect with other artists?
Spotify has helped us reach audiences, within the borders of Turtle Island [North America] and all over the world, that have never heard our type of music before. It helps connect our group to various First Nations communities, as well as other communities in Canada and the U.S. 
Spotify has also played a part in enabling mainstream artists to sample our music, which has led to collaborations that create a new, unique sound.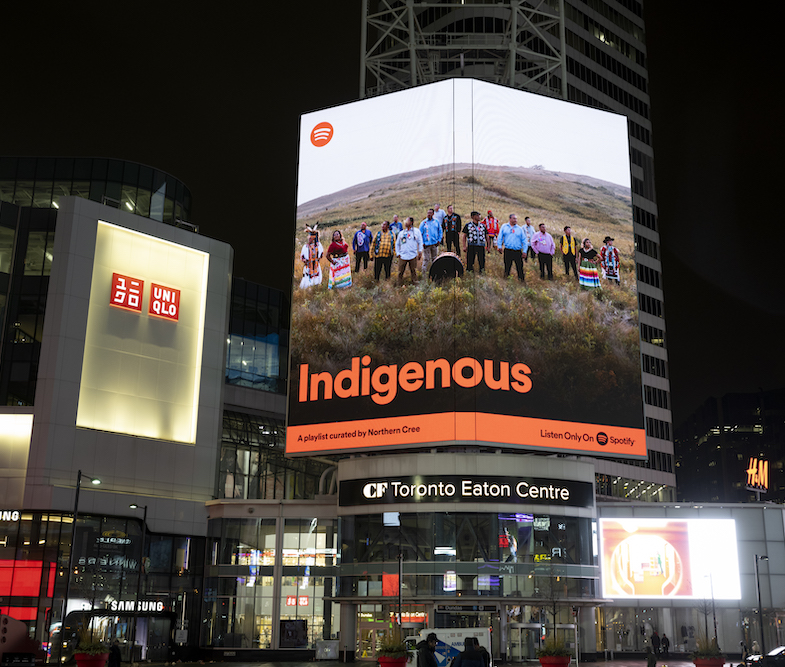 Who are some fellow Canadian artists that have inspired you? How about Indigenous artists from areas around the world?
Our biggest influences are our grandfathers and fathers, who used to play or create this type of music in our homes when we were children. Another one of our biggest influences is Ms. Buffy Sainte-Marie. Whenever we cross paths, we affectionately refer to her as "Mom," and she refers to us as her "boys." 
There's also the late great Gord Downie of The Tragically Hip, whom we had the pleasure of opening for on Canada Day in Trafalgar Square in London. He was one awesome musician, not to mention an extraordinary human being. Other spectacular musicians that have influenced Northern Cree are Robbie Robertson, as well as Pat Vegas and his First Nations band Redbone.
Can you speak to why it's so important to preserve Indigenous cultures and traditions and pass those down to future generations?
Passing down our culture helps us in maintaining our language, which is something that we're really striving to hold on to as First Nations peoples. Everything is rooted in language for us—our identity, culture, histories, ceremonies, and where we come from.
One of the ways that our young people, and even other people, are picking up our language is through music. Having our music out there sends a message to our young people. They can aspire to pick up a guitar or a fiddle, or play the piano. So, if we can spread our language amongst our people—or even further—that's a good thing for our people in general.
When they see what we're doing—performing at the Grammys, at the Junos, at powwows in various parts of the country—it sends a message that they can believe in who they are, where they come from, their culture, their identity, and most importantly, their language. They can be who they are, they don't have to emulate anyone else, and they can still aspire to great things. 
That's one of the biggest messages that we hope to send not only to our young people, but people in general.
Check out Northern Cree's latest album, Ôskimacîtahowin: A New Beginning, to experience the power of powwow.