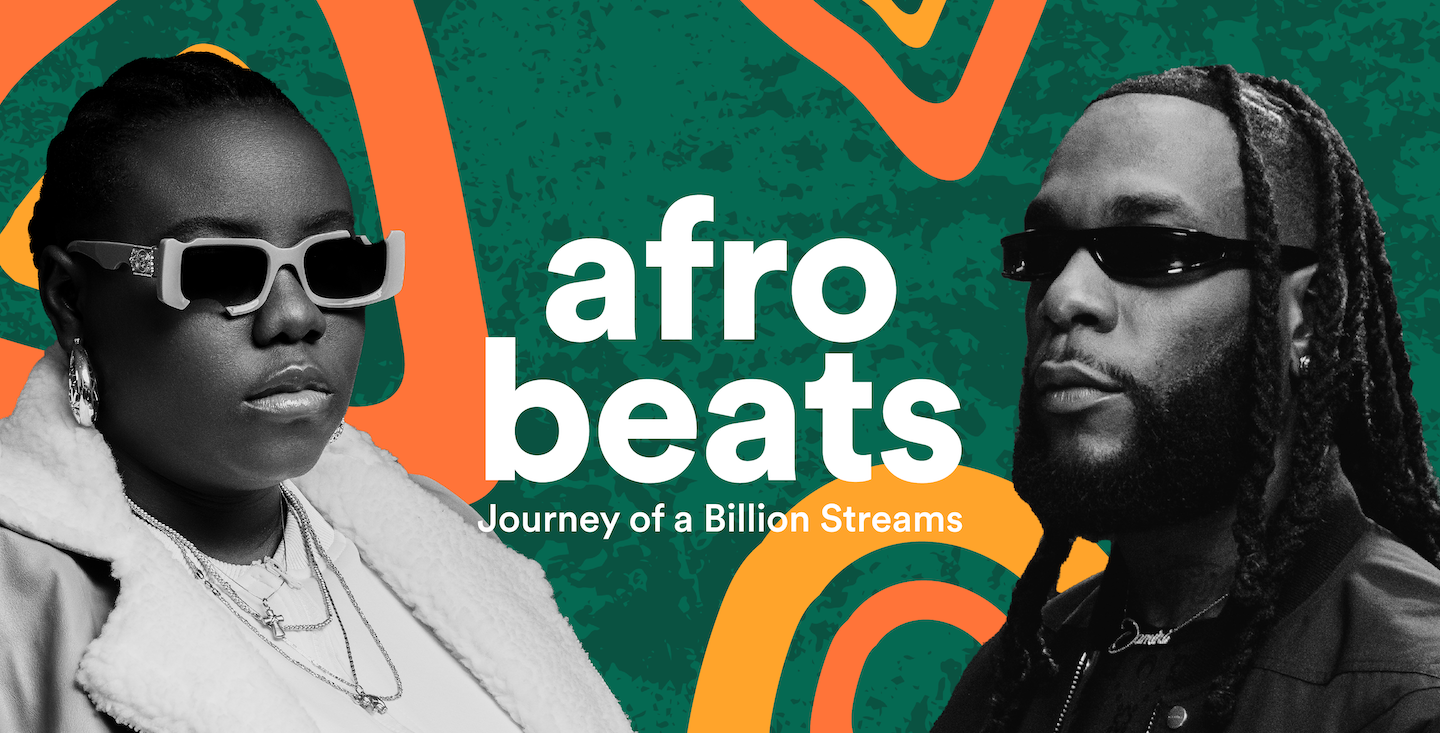 FEEL THE HEAT
Discover the Latest Afrobeats News, Interviews, and Trends on Our Dedicated Site
With over 13 billion streams on Spotify in 2022, Afrobeats remains one of the globe's hottest sounds. While countries like the U.S., U.K., and Nigeria remain the biggest consumers of Afrobeats, the genre's popularity has grown rapidly in countries like France, the Netherlands, and Mexico as fans can't get enough of artists like Rema, Ayra Starr, and Burna Boy. 
That's why we're launching Afrobeats: Journey of a Billion Streams, a dedicated website that will act as a repository of the latest news and developments in Afrobeats.  
Whether looking at the genre's origins in Ghana, its rise and evolution in Nigeria, or its fusion with other genres, we're spotlighting how Afrobeats became one of Africa's biggest cultural exports and are tracking its underreported narratives.
Afrobeats: Journey of a Billion Streams will consist of five key pillars:
Origins

explores the genres that acted as precursors of Afrobeats as we know it. 

Evolution

dives deeper into which industry players contributed to the current Afrobeats sound that the whole world can't seem to get enough of.  

Fusion

looks at how Afrobeats has

emerged by melding itself with other genres

, such as

reggaeton

,

amapiano

, and other hybrids. 

Cultural exportation

documents the influence of Afrobeats in music, food, language, and fashion lenses, especially in countries outside Africa.

The Women of Afrobeats

sheds light on some of the

key women in the industry

whose contributions propelled the genre to its current status as a global sensation.
The site features regular interviews with leading experts, videos, quizzes, and the latest Spotify data and trends around Afrobeats listening.
"There is no doubt that Afrobeats as a genre is here to stay and will only continue to shatter more ceilings," says Jocelyne Muhutu-Remy, Managing Director for Spotify in sub-Saharan Africa. "In 2023 alone, the genre has been played for more than 223 million hours, with streams exceeding 7.1 billion on Spotify. We created this site for both new and longtime fans of the genre who want to better understand how and where this explosive sound came to be."
Over the next eight weeks, the site will be updated regularly and will continue to remain active with the latest happenings from the global Afrobeats community.
Once you've caught up with the latest Afrobeats news, check out the hottest hits on our playlist, African Heat.