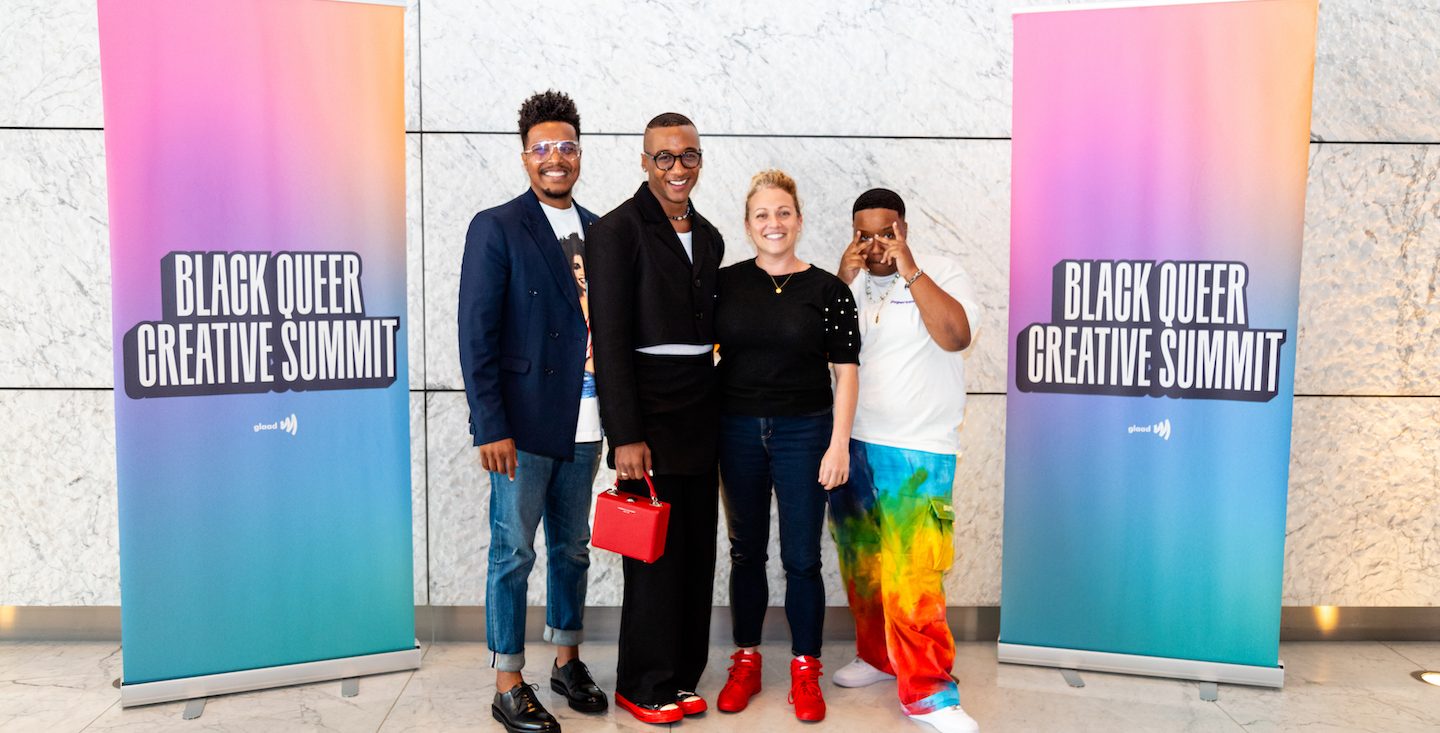 OUT + PROUD
How Music Helps Black Queer Artists and Industry Creatives Tell Their Stories
Photo credit: Jonathan Parham
In the vibrant tapestry of human expression and experience, music has always been a powerful medium for storytelling, and one with historical significance in Black communities. Music's ability to evoke emotions, paint vivid imagery, and convey deep narratives has made it a vital tool for sharing experiences. At GLAAD's inaugural Black Queer Creative Summit, powered by Gilead Sciences and sponsored by Spotify, attendees had the opportunity to learn from and connect with artists and music industry professionals who've long navigated their identities through their work. 
The summit was geared towards empowering, educating, and training emerging Black LGBTQ+ creatives across five sectors of the entertainment industry. The summit's Music Supervision Track featured panels that shed light on the profound impact of music in telling the stories of Black LGBTQ+ artists, and how music resonates with audiences of various backgrounds. 
One panel on music supervision, "Music Can Tell Your Story, Too," was moderated by Victor Jackson, artist and founder of Glam Rock Soul Entertainment Group, and featured Jess Furman, Sr. Executive Creative Director of Sound Revolver; Ryan Butler, Vice President of Diversity, Equity & Inclusion of The Recording Academy; and Alaysia Sierra, Head of R&B at Spotify. For the Record got a sneak preview of the conversation between Victor, Jess, Alaysia, and Ryan. 
What does working within the world of music mean to you in terms of your identity? Do you have personal experiences where music has become a powerful medium for expressing your Black queer identity?
Victor: I fully consider it. I move through the world as a Black queer man, so in approving my music, the writing of it, the creating the performances of it, it's very important to me to take up space in my authenticity. To take up space in my Blackness, in my queerness, and in the divinity of both. So, it has a large impact on how I show up in the world and how I show up in the studio and on stage.
I'm actually on tour right now with an artist named CANDIACE; she's popular from The Real Housewives of Potomac, but I've been touring with her at City Wineries this summer, and it's really been awesome to see how the audience responds to the music, to the performance. People are singing along to the pronouns that also relate to who I love and who I share my love with. People always come up to me after and say, "I didn't know I needed to hear these songs about Black queer love until I heard your songs." 
Jess: For me, as a queer woman, it's about maintaining a sense of visibility in all the different areas and holding the door open. We do a lot with "Women in the Mix," showing that there are women producers, writers, and engineers. We held "Out Sessions" a couple of years ago with my non-profit, Motion Creative, which were three days of a writing camp for LGBTQ+ creators, and everything there, including the food and wine vendors, were queer. 
It's a big goal for me to bring visibility to my community, to hold the door open, and make sure that if I get tapped for an initiative because of my identity, I hold them accountable to not just checking that box, but to bringing on other LGBTQ+ participants and vendors. 
Alaysia: Being a Black, queer, nonbinary person in music means a lot to me, because I know how important it is for that visibility. When I was looking at the industry growing up, I actually never really saw anyone who shared my identities and so I know for people who aspire to work in music to look in and see someone who looks like them will reassure them that it's possible. I think on the other side, the internal work that I'm able to do by having a seat here is to advocate for inclusion. And providing space and access to queer artists, creatives and future execs is equally as important as anything else I do.
Ryan: Throughout my career, I've strived to uplift marginalized voices and break down harmful stereotypes, whether in the Black community or queer community. As a Black queer man, I understand firsthand how narratives shape perceptions and that representation matters. At the Recording Academy, I've worked closely with our leaders across all verticals to ensure we are proactively inclusive and are fostering a sense of belonging. We've taken concrete steps like establishing scholarships for aspiring Black music creators and professionals, advocating for more diverse GRAMMY voters, and launching the Black Music Collective and LGBTQ+ Task Force.
On a personal level, I try to highlight the intersectionality and indivisibility of identity whenever possible. I firmly believe that showing people's humanity is key to fostering empathy and understanding. I've produced events that center queer artists of color and given talks on embracing authentic self-expression. My hope is that my advocacy helps dispel limiting assumptions about what it means to be Black and queer, or any identity. I think narrative change starts with individual connections. If I can help just one person feel seen or rethink bias through my own story, it's progress.
There is still much work to be done, but I'm dedicated to uplifting marginalized voices, promoting diverse talent, and inspiring people to approach social issues with nuance, compassion, and an open mind. Authentic representation in media and culture can be incredibly powerful in creating change. I'm grateful to do my part in steering the industry toward greater inclusivity and equity.
The artist's perspective 
Several of the artists in attendance, including Atlanta-based HALÉS, 23-year-old techno-R&B creator SHAH, singer-songwriter-producer-motivational speaker-advocate Nathan Townsend, Berlin-based creative Sedric Perry, and self-made artist Damez, also shared some thoughts on how the music industry can become more inclusive and supportive of emerging Black queer artists. They also gave advice to emerging creators who are navigating their identities—and amplifying their communities—through their work. 
HALÉS: "I'm a storyteller at heart, an educator by trade—I'm a professor at Kennesaw State University—so I take all of those things and bring it into my artistry and into my music, in order to navigate what this world is and what this industry is. In looking at the narrative power of music, one thing I hold so hard, that I try to do in poetry, in my songwriting, in writing for others, is bringing in the real stories of real people that I know, especially real Black queer people, to make sure that their stories are being told. I also try to bring a lot of poetry into my music—not just looking at what we're producing on the beats or whatever, but how we are literally taking our voice into this music. And so I like to include a lot of poetry and storytelling in between the songs, in an intermission or an interlude, or even actually on the track to be able to tell that story so people can hear what it sounds like from a real Black person. And again, it allows us to say, 'we're here.' This is what it's like to have narrative power. This is who we are and how we navigate the world, through first-hand stories." 
SHAH: "My advice to upcoming artists—not to be cliché—is to remain authentic. What I have run into and struggled with over the last eight years is feeling like I have to fit into a certain box, whether I'm a Black artist or a queer artist; to fit into specific niches to be sellable. As I made progress within the industry, I would meet people who would reinforce those things and those fears around success within my own authenticity. As a young Black queer person, it took me a little bit to find my voice and my specific story. Even though we all share a specific type of experience, they're not always going to be the same. And you have to own your authenticity and your truth. We're the ones pushing this forward, we've been behind the scenes making this all happen. Stand strong with who you are and know it's the way you've got to be." 
Nathan Townsend: "I have to lead with the fact that I'm 69 years old, and it's taken me this long in my professional development to come to a space and a place of authenticity. Because of the generational barriers and the intersectionality of who I had to evolve from—I was born "colored," grew up "negro," then became "African American," then became "Black"—I had all these different layers on my identity that I had to navigate through. Then there's being gay and the whole list of issues around that which we didn't address in my generation. And so all my stories are love songs and all of my stories are about same-gender love. That narrative has not been amplified because of the level of denial that we had to experience and because it just wasn't appropriate or acceptable. 
I think the first step for all of us, no matter what generation or what life conditions we come from, is to understand and develop and create, first, our own sense of authenticity because there's so much in the way to get to that. And so if you're presenting music that's not based [on] or doesn't support your authenticity, then it's not truly representative of who you are. And don't put yourself where you should be. Put yourself where you are and then allow that to manifest as the divine who you are. In these late years, I am the most liberated that I can be. My only regret is that I wasn't able to be this self much earlier. Realize who you are, appreciate who you are, present who you are, and promote who you are." 
Sedric Perry: "What I'm seeing now is a kind of restructuring or a reframing of the way we're thinking about the fight and making it more of a marathon and less of a sprint. Less of trying to infiltrate spaces that aren't really welcoming to us, and instead building our own resources and community, because we have enough. We have a lot more visibility now, in tech, audio, marketing, musicians, directors, writers. We'll continue to build our own and then when we are in those less welcoming spaces, continue to put each other forward so we can lift each other up and speak each other's names in rooms that many of us aren't in yet. We're already doing a fantastic job, and if we keep doing it, it will get better. The most important thing is to maintain credibility. When you're Black and queer, eyes are going to be on you in some way, shape, or form, and people are going to try to find something to say or figure out some way to speak about you, whether it's positive or negative. But if you're credible, when someone else comes to you, they'll take your word for it and that's how we get each other in the door." 
Damez: "Authenticity, being yourself, that's been my strongest approach since I started my music career in 2014. I think one of the big things that I've learned is to be intentional with everything that I do regarding my music. That's garnered some positive results. Even when I'm writing a song, constantly asking myself, 'What do I want to leave people with?' Having that intention going into it makes for a better creative environment. It reduces writer's block and allows me to write what I want to write. The thing I like most about my musicality is how eclectic it is. Outside of my party songs, which are a big part of my brand, I also have so many other songs about love and heartbreak and family, mental health, friendships, and everyday life. So don't be afraid to tell your stories, no matter how dark or dramatic or tumultuous or happy, whatever they are, because people can relate to them. And just study and study and study and hone your craft and never stop being a student." 
Dive into more music from other Black, Queer, & Proud artists on Spotify.