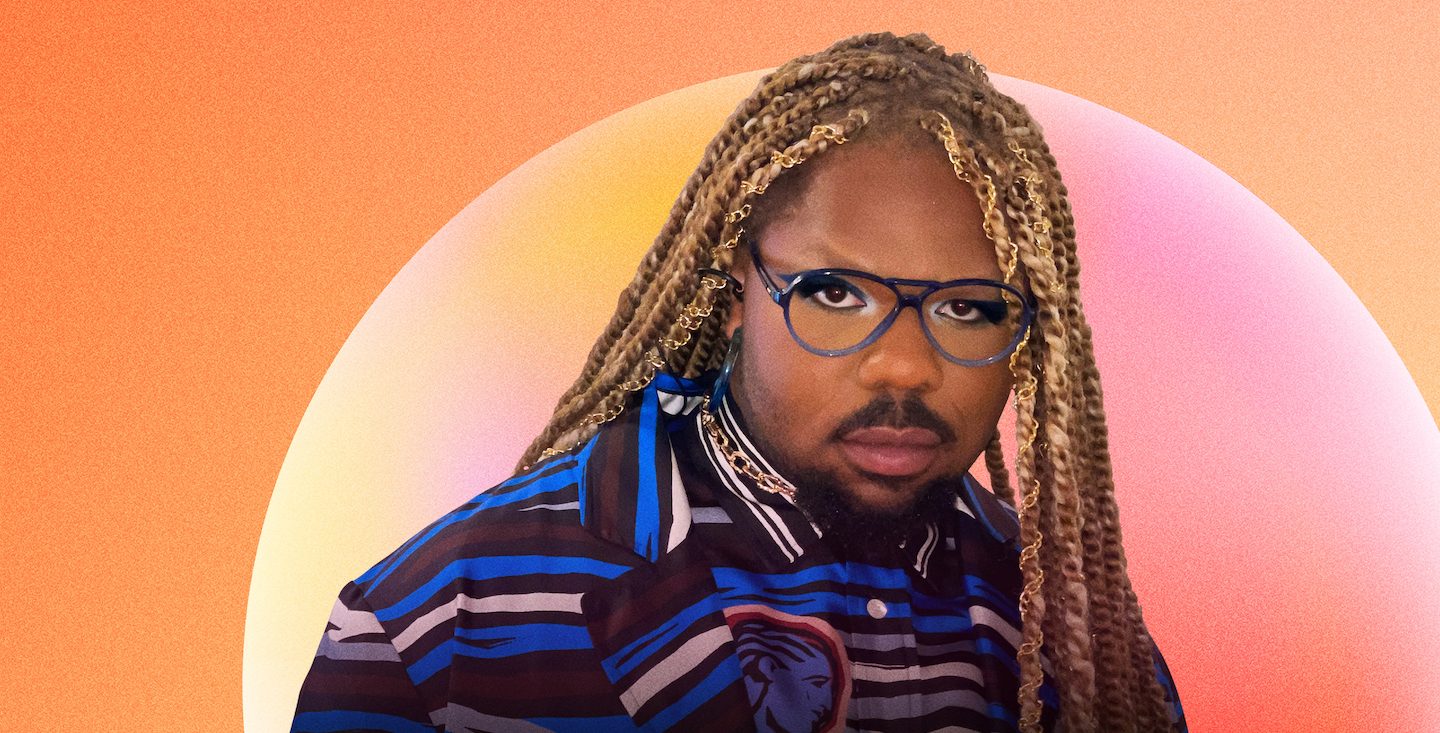 HOW HE GLOWS
British Pop LGBTQIA+ Icon MNEK Helps Rising Artists GLOW
Artist-writer-producer MNEK credits Timbaland, Pharrell Williams, Jermaine Dupri, Darkchild, and Jam & Lewis—the masterminds he grew up playing on repeat—as the inspirations behind his personal style. But in the 14 years since he came onto the scene, MNEK has inspired countless artists in his own right, amassing over 4 billion streams on songs he's written, produced, or appeared in. 
The Grammy award–winning and BRIT- and Ivor Novello–nominated artist has collaborated with British pop luminaries Zara Larsson, Stormzy, Gorgon City, Years & Years, and Craig David, as well as international stars Beyoncé, Little Mix, Dua Lipa, Christina Aguilera, BTS, Mabel, Anne Marie, Madonna, Kelly Rowland, Selena Gomez, Jax Jones, and Clean Bandit. 
MNEK is also an icon in the U.K. and global LGBTQIA+ communities, having performed at New York World Pride and U.K. Black Pride, and having appeared in roles such as coach and guest judge on RuPaul's Drag Race UK. This month, he's also Spotify's GLOW spotlight artist and is a part of the year-round campaign. We'll support MNEK in our flagship GLOW playlist, as well as through billboards and other out-of-home efforts. 
MNEK himself knows the importance of visibility and amplification. He set up Proud Sound in 2019, a writing camp dedicated to supporting LGBTQIA+ singer-songwriters, and has since worked hard to bring more inclusivity to the industry as a contributor to the Guardian UK diversity panel and his own "MNEK's Inter-Section" YouTube panel. 
"There's an affirmation that people feel when things like this exist and center them," he said. "It shouldn't just be Pride Month when this is happening. Opportunities like Proud Sound should happen throughout the year. People have flocked to this in such a beautiful way. They didn't realize they needed it, but now that they've found it, they want more—more spaces with queer people where they feel safe, comfortable, and relaxed to make their best art."
For the Record spoke to MNEK on the last day of his 2023 "Proud Sound songwriting camp presented by MNEK & Warner Chappell Music; powered by GLOW."
What was the beginning of your journey into music?
I started out as a '90s kid who was always watching MTV and was very fascinated in how music was made. It inspired me to really want to make music. I'm very blessed to have grown up in the time that I grew up in. It was really the beginning of young producers' being self-sufficient with bedroom studios. There was a time when studio equipment was so far removed and you really had to be an adult with funds to have access to that kind of stuff.
So, that was my gateway to making music, and I just started getting myself out there by putting stuff on MySpace. And then I got discovered and feel like I really came up within the music industry. The first half of my life was me figuring it out, and then this half has been being in my job and enjoying it, but also growing up and into it. 
How would you say your identity has played into the way you work? 
I grew up in a house full of boys. So, it was me, my two brothers, my dad, and my mother. And I think I do yearn for female connection in certain aspects. I love writing with women. I love writing music [sung] by women. I love listening to music by women as well. And so it's kind of always gone hand in hand that way, as far my own approach to femininity.
And I think there's something to be said about me being a listener. I like listening to people, and I think that I get a lot of things from my feminine side and from my mother and her being a listener and her being an empath. I know that's absolutely helped as far as what I'm able to bring to a session, or what I'm able to bring to someone's life when I'm working with them.
As far as my own solo records and my identity, it's definitely helped me be more real and more honest. Of course, there will always be moments where I'm like, "Should I be saying that? Will someone really want to hear me say that?" But the answer should be yes. If there's something I'm feeling, I can have conviction that someone else will relate to it. So let it be; let it come out into the world.
Can you tell us more about the songwriting camps you host?
I started a writing camp with Warner Chappell in their studios in 2019. It was a select few writers between two studios. They connected, shared stories, and wrote songs. But the main objective was to empower them, to make them feel valued, and to have them in the room with other queer people.
Even today, people who were part of that come back to me and say, "I've never been in rooms where it's all queer people. And the safety that I feel, and the peace that I can feel being around these people when I'm doing something I love, is just priceless." And they're thanking me for doing that. And that's exactly what I wanted to achieve. The root of it, for me, is building connections, building who could possibly make the bangers of tomorrow. I think that queer people are the center of so much creativity and art, and this is no different. 
What has this week's camp been like?
It's been beautiful. I have been hovering across the rooms and kind of giving advice or pointers as opposed to necessarily setting up shop and writing a song. It's been great to have Black and queer writers and producers, trans producers, lesbians, bi, everyone has been here sharing their stories, having jokes, and having really good food. We've been here at Three Six Zero Studios and they've been so accommodating. It's been so great to use this space for the past couple of days. It's been really cool to see the music that's been coming out. It has been really fun and great to hear how different people's vibes can intertwine and influence each other. 
How does music empower queer communities and creators? 
Music absolutely saved my life, in so many ways. It gave me a place to be able to express myself and to be able to communicate what I wanted to share with the world, my gift to the world. For a lot of queer people, the arts in general have always been a vehicle for us to evoke everything we keep in the little closet. 
As far as music goes, it follows us everywhere. Music has been the soundtrack to mine and my friends' lives, whether that be through spending time at home or going to the club. Music just shapes so many areas of our lives and so many moments. I know that with all the people who have been here, I can hear how it has changed their lives as well. 
My best self right now is making the music I love and bringing in other people to make music that they love, whether it be through starting my label and developing people or even this camp. And that's my life's work; that's the best thing I want to be able to do.
Stream MNEK and other LGBTQIA+ artists on our flagship GLOW playlist.