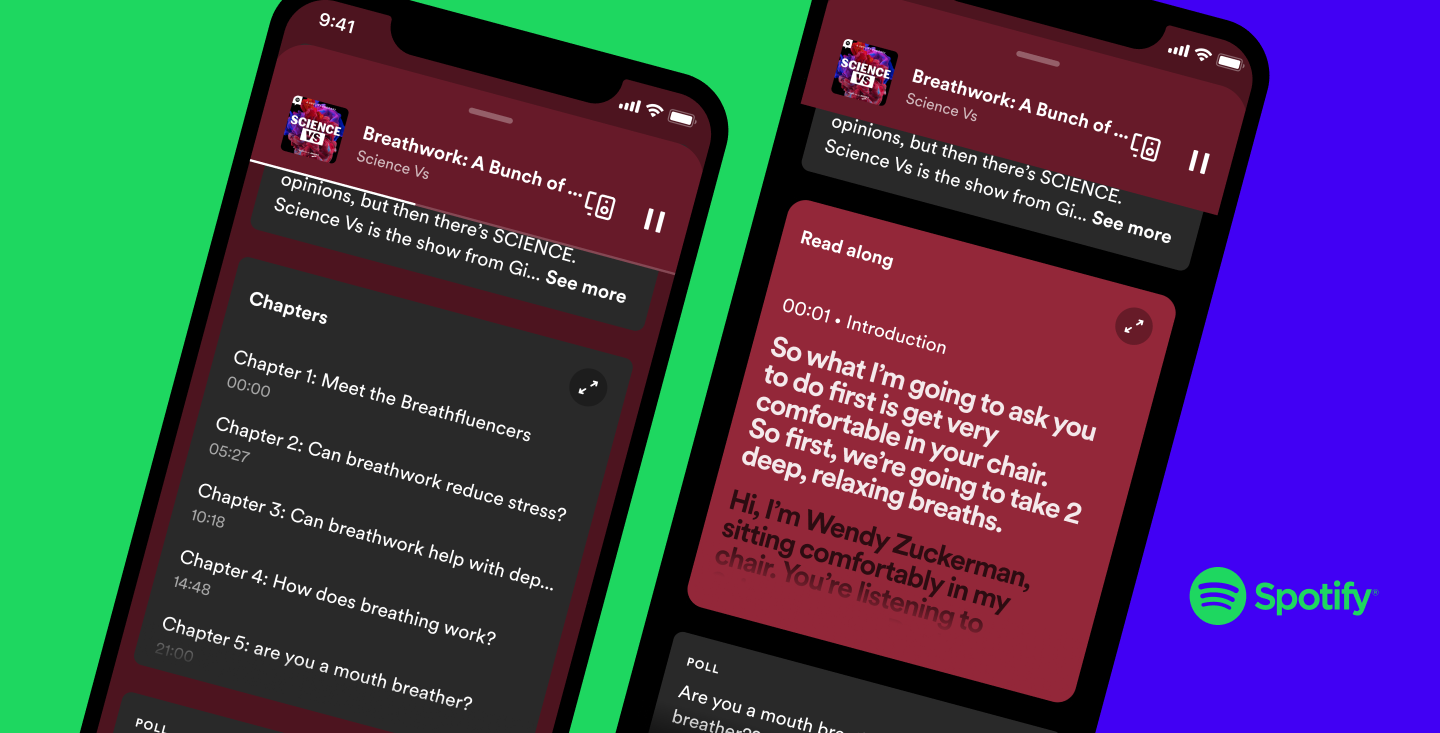 NOT JUST TALK
Everything In Store for Podcast Listeners and Creators This International Podcast Day
At Spotify, you could say we think about podcasts 24/7. Spotify is now the most-used audio podcast platform in many key markets around the world and the number one podcast publisher in the US. We count over 100 million regular podcast listeners, a ten-fold increase since 2019, and over half a billion people who have listened to at least one podcast on Spotify since 2019. There are now over 5 million shows, with podcasts available in more than 170 markets.
So in the lead-up to International Podcast Day on September 30, we're taking a moment to celebrate the medium and its creators globally. From Original and exclusive content to programs that empower and amplify new creators, there's always something fresh to listen to or share, as well as ways to discover new shows or engage with the ones you love more deeply.  
At the BLK Pod Festival happening in Atlanta on International Podcast Day, Spotify for Podcasters' Creative Director Gavin Guidry will speak onstage to emphasize the power of podcasts in marginalized communities. The festival, sponsored by Spotify's Creator Equity Fund, aims to showcase Black audio creatives while educating attendees and cultivating relationships and experiences. 
"I'm excited to represent Spotify at the BLK Pod Festival, to have the opportunity to experience a community of Black podcasters in Atlanta, my hometown, and to hear some of the stories that they're telling through the medium," says Gavin. "We have a unique way of seeing the world, and it's always inspiring to see how other creators are putting their stamp on podcasting."
Gavin, who cohosts the Tools for Time Traveling podcast, will share his thoughts on breaking into podcasting, podcast monetization, trends among creators in the industry, and how creators can develop a sustainable brand.
"Spotify's tools are primed for all of these opportunities," he explained to For the Record. "From features like podcast polls and Q&As to opportunities to upload video, we're always working to give creators more of what they need to reach the biggest, most engaged audience." 
New Podcast Tools To Love
There's plenty in store on our platform, too. We're always creating new ways to make it even easier to listen, discover, and engage with your favorite podcasts, with the following new features starting to roll out to Free and Premium users globally: 
Making transcripts richer and easier to follow:

We're launching auto-generated and time-synced transcripts to more creators and shows so you can read along with an episode, making the transcripts more visually and textually accessible. While listening to an episode, scroll down the Now Playing View to find the transcript, then tap the card to follow along on full screen as you listen to the episode. We'll be rolling out transcripts to millions of episodes in the coming weeks, and we'll innovate more on this feature in the future, including ways to add media to transcripts. This is all part of our goal to bring more depth to the podcasts you're listening to.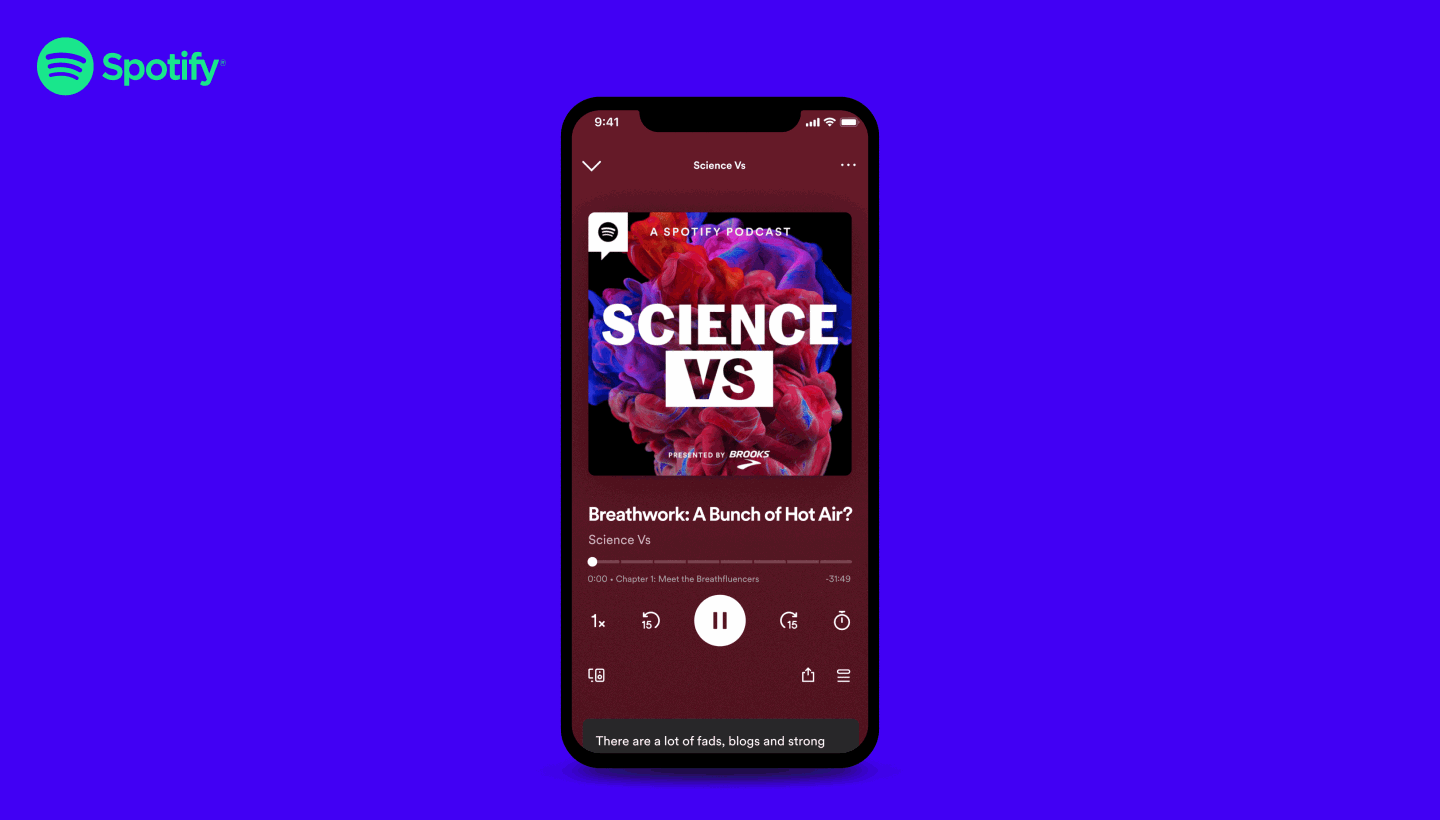 Expanding Podcast Chapters:

Earlier this year at

Stream On

, we announced

Podcast Chapters

, making it easier for you to jump into episodes at a specific topic or section. Mobile users globally can now find the full list of chapters by scrolling down the Now Playing View, giving them more control over their listening sessions and more info about every episode as they dive in.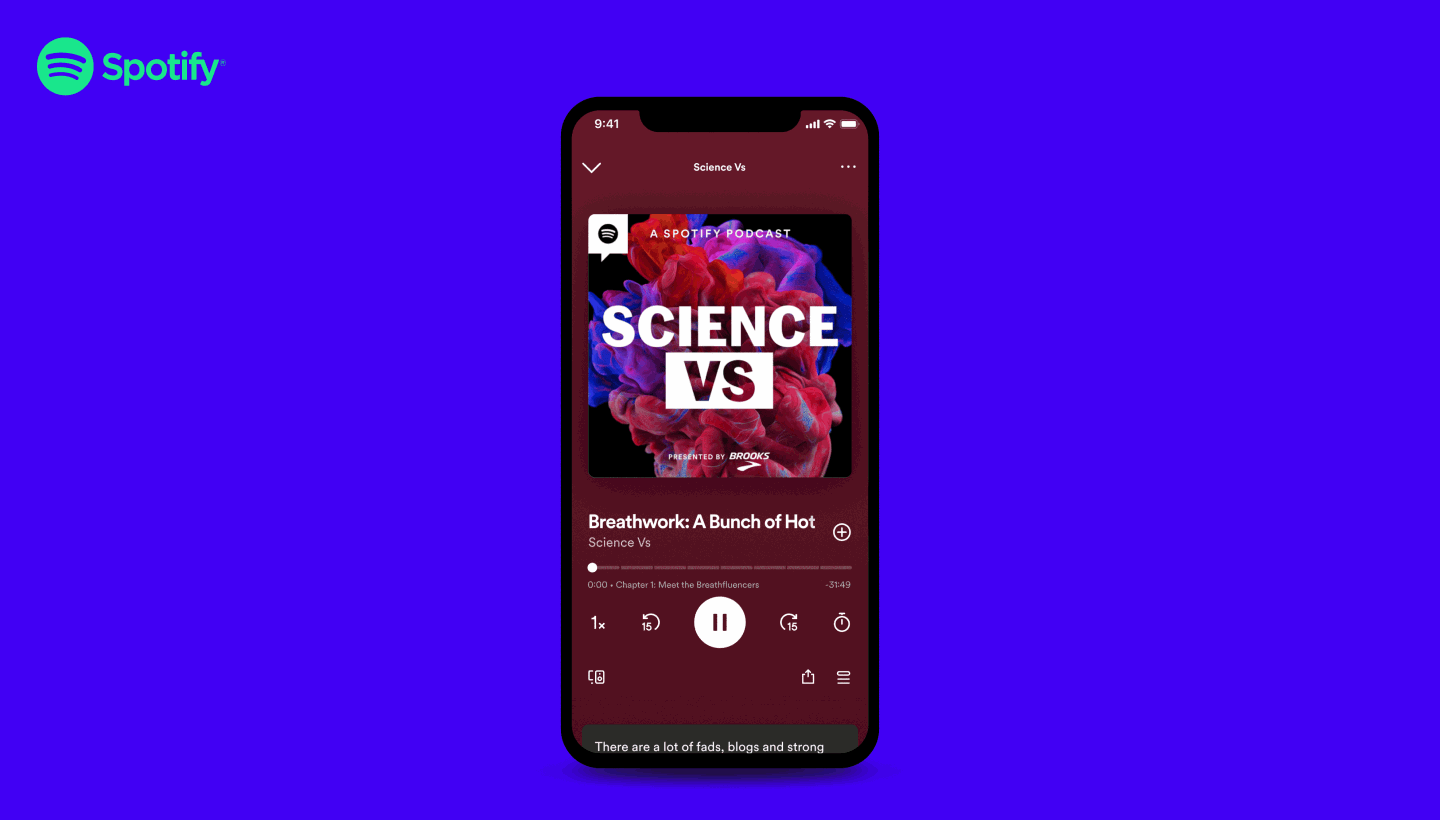 Updating the Podcast Show pages:

Learn more about a podcast before you listen to the episode in full, with additional content available before you jump in, on an improved Show Place. As it rolls out in the coming weeks, you'll be able to click the "About" tab to find descriptions, images, and episode recommendations from creators. Plus, you'll get recommendations for other shows in the "More Like This" tab.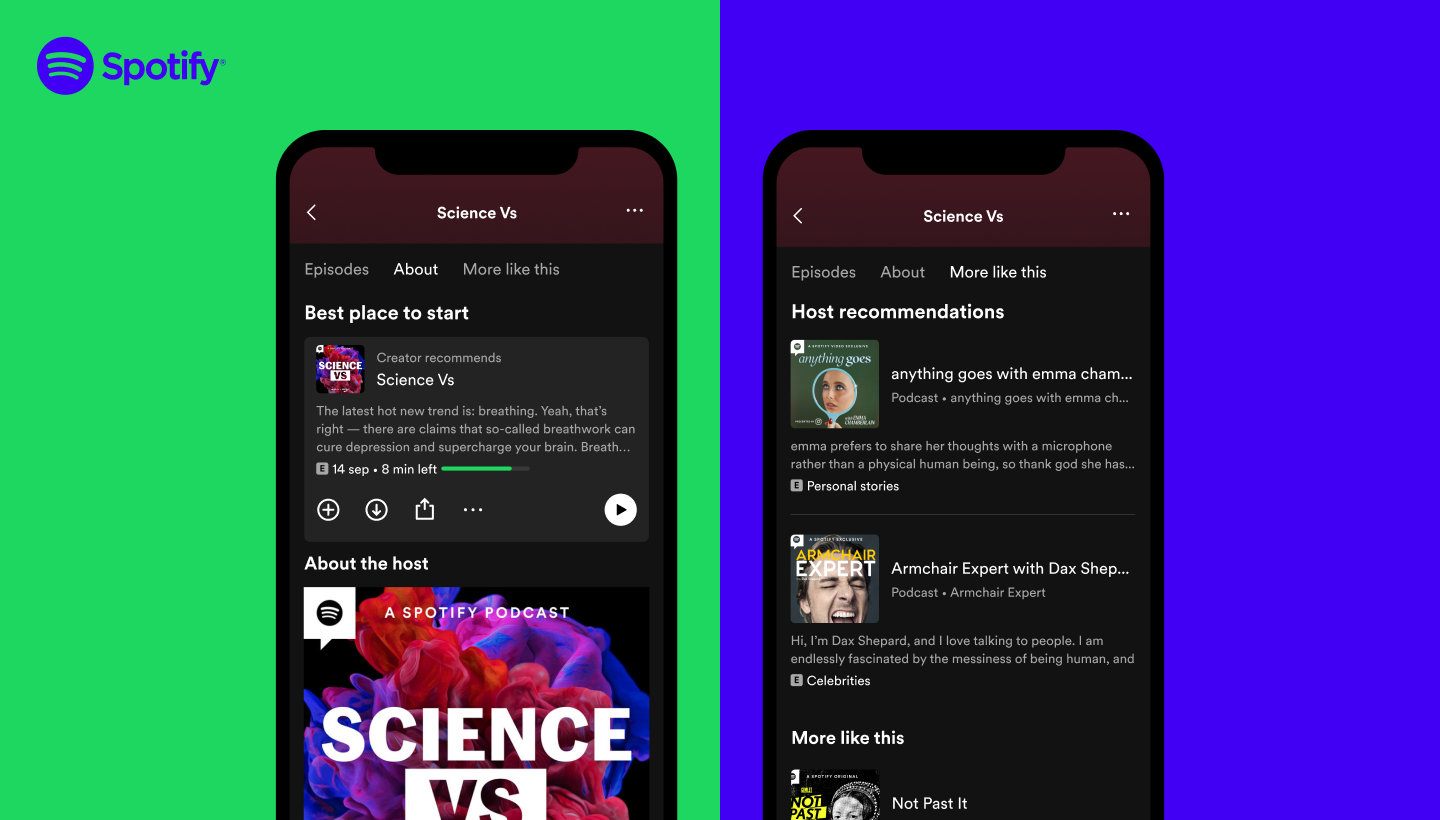 A Global Roundup
Worldwide, podcasts continue to educate and inspire—whether that's on the part of the podcasters or the listeners. From Latin America to Europe to Africa, the Pacific and back, we took a look at notable podcasting moments happening across Spotify.
Brazil
In Brazil, one of the fastest-growing podcast markets, we've recently demonstrated our ongoing commitment to supporting the creator community through a number of initiatives, including:
Spotify Podcast Festival

: A first-of-its-kind initiative that connects fans and creators through live sessions in Brazil that are set to take place in November.

Making Space studio

: The first free podcast studio for creators in Brazil that provides podcasters with an equipped environment for recording audio content.

Spotify Labs program

: A new live and online initiative aimed at teaching budding podcasters about strategies for developing and successfully launching a podcast on Spotify.
Nigeria
Podcasts are rising in popularity in Nigeria, increasing by 222% in listenership between 2021 and 2022. Gen Z listeners aged 18-24 account for 50% of total streams over three months. The top local podcasts among Nigerian listeners include The HonestBunch Podcast, I Said What I Said, Menisms, So Nigerian, and Tea with Tay, with listeners tuning in the most between 7 a.m. and 9 a.m., possibly while commuting to work, sitting in traffic, or getting ready for the day. 
India

In India, another fast-growing podcast market, we took Spotify Podcasters' Day to Delhi on September 23, bringing together existing and aspiring creators and storytellers for an evening of conversations and networking. We also took this opportunity to talk about our continued creator focus going forward, announcing the return of two creator programs: 
The

Spotify Managed Partner Program

: This initiative supports existing podcasters on our platform by offering them education, partner management support, and editorial promotion to further grow their listeners.

Pod-Start

: This two-phase approach

focuses on creators who are beginning their podcasting journeys. The first phase focuses on onboarding existing creators to Spotify, and the second empowers individuals with expertise in their respective fields to create podcasts on Spotify.
Japan
The numbers of podcasters and podcast listeners on Spotify have been steadily increasing in Japan. Since our global podcast focus began in 2019, the number of Japanese Spotify users who enjoy podcasts at least once a month has increased by more than 42 times. By summer 2023, monthly podcast consumption had increased by more than 168x from January 2019. Plus, the number of domestic creators in Japan using Spotify for Podcasters to create and distribute podcasts increased more than 34% since we started the local Creator Support Program in January 2022. Hear more from three Japanese creators on why they love podcasting.
Australia
Australia remains in the top 10 countries in the world for podcast listening by hours, with comedy, health & fitness, and society & culture topping the list of most popular genres. The second-fastest-growing Australian podcast in the country is Aussie podcaster Jemma Sbeg from the psychology of your 20s. She started out recording on her bedroom floor and is now a well-known force in the medium. Her top tips for aspiring podcasters:
You don't need a fancy studio or equipment

: Jemma started out recording on her phone in her room, and "while the audio quality wasn't great, my ideas were!"

You don't need to be famous or have a marketing budget to build a following

: Jemma's podcast built an audience purely through word of mouth. "Put yourself out there and your audience will find you." 

Be unique and stay consistent

: "If you are authentic and true to yourself, the listeners will come and they will stay!"
Sweden
Our Swedish-owned and -exclusive podcasts have recently gained traction, receiving 11 nominations in the prestigious award show Guldörat, which celebrates the most impactful podcasts, radio shows, and hosts of the year. Among the nominees is Spotify Dok, our flagship podcast for documentaries. With new episodes each week, the original show is growing rapidly as a trailblazer in the booming genre.
Middle East and North Africa
Across the Middle East and North Africa, podcast streaming on Spotify increased more than 190% year-over-year from 2022 to 2023. Long-form interviews and conversations are increasing in popularity in particular, with listeners tuning into shows like Finjan, #ABTalks, and The Mo Show for extended periods of time. This interest in longer-form content coincides with the rise of niche podcasts, catering to specific audiences with topics like mental health, business, and self-improvement. Self-improvement is popular in the UAE and Saudi Arabia, with podcasts like Think with Hessa, Abajorra, and Sawalef Business. Comedy podcasts are popular in Egypt, with shows like Kefaya ba2a and Eshtry Meny attracting a dedicated following.
U.S.
Spotify is the most-used audio podcast platform in many key markets around the world and is also the number one podcast publisher in the U.S, according to the most recent Edison Research data. Top categories include comedy, health & fitness, true crime, society & culture, and news. See more about how U.S. listeners are tuning in.