WHAT A PAGE-TURNER
200,000+ Audiobooks Are Now Available to Spotify Premium Listeners in the U.S.
Audiobook lovers across the U.S., rejoice! As of today, Spotify Premium users in the U.S. join those in the U.K. and Australia as we make over 200,000 audiobooks available as part of Spotify Premium subscriptions. How's that for a sequel? 
To start, we're offering each Premium individual, as well as plan managers for Family and Duo accounts, 15 hours of listening per month. There's no need for you to do anything: Starting today, you'll simply start seeing audiobooks marked as "Included in Premium" that you can hit play on right away. Fifteen hours should get you around two average audiobooks per month, but if you do hit the limit, you can purchase a 10-hour top-up.
Our Spotify Premium audiobook catalog has something for everyone, including over 70% of bestselling titles: from of-the-moment sensations like Britney Spears' The Woman in Me and Jesmyn Ward's Let Us Descend, to beloved classics like Paulo Coelho's The Alchemist and Emily Brontë's Wuthering Heights. Listeners will love exploring the depths of our 200,000-strong catalog, unearthing genres from "cozy mystery" to "historical romance."
Audiobooks are an entertaining way to finally get around to all the books you've always meant to read, a new way to experience the stories you already love, and a great way to discover your next favorite book. In fact, we ran a consumer survey of over 1,000 Americans that showed that the younger generations are really taking to audiobook listening: Gen Z and millennials lead in audiobook listening, with 72% of 18-to-34-year-olds reporting that they listen to audiobooks.
But why are so many people listening to audiobooks these days? We also found that people are turning to "comfort listening." Relaxation (63%) and comfort (51%) are the top emotions associated with audiobook listening. Plus, 41% of audiobook listeners prefer audiobooks because of cognitive benefits—like improving their memory or keeping their minds active.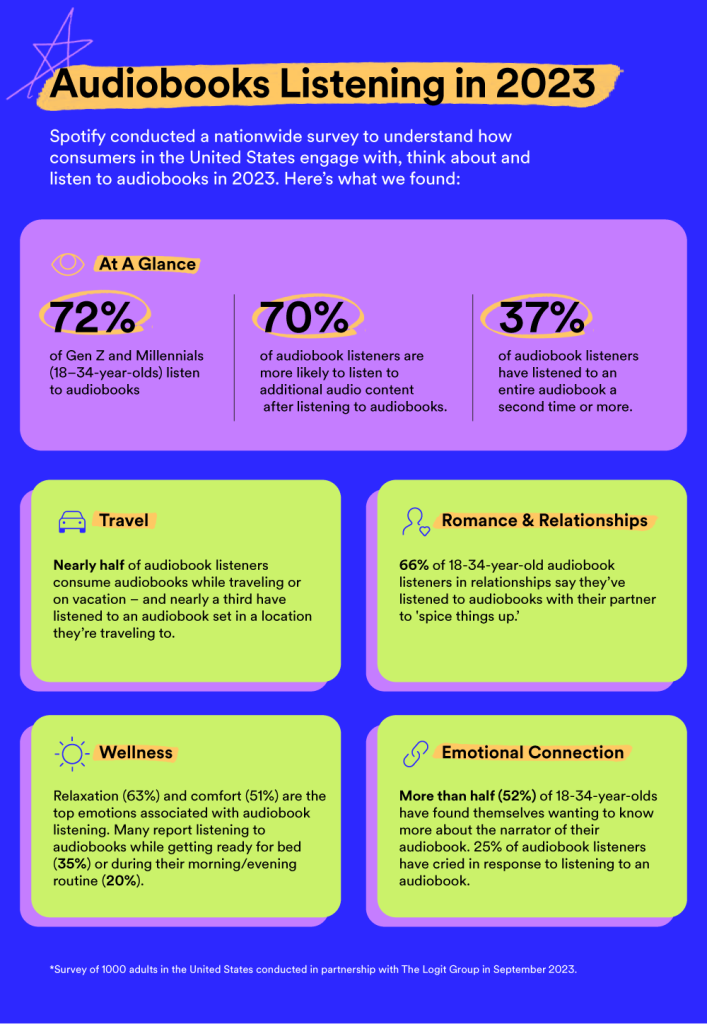 We believe that offering personalized music and podcasts, and the best audiobooks on a single platform, gives you a superior way enjoy more than 100 million tracks, 5 million podcasts, and 200,000 audiobooks—and to connect with your favorite artists, podcasters, creators, and authors—all in one spot.
There are several ways to find and listen to Audiobooks on Spotify and plenty of reasons to listen. But if you're not sure what to start with, fear not, dear reader. We've got plenty of recommendations to keep you covered.