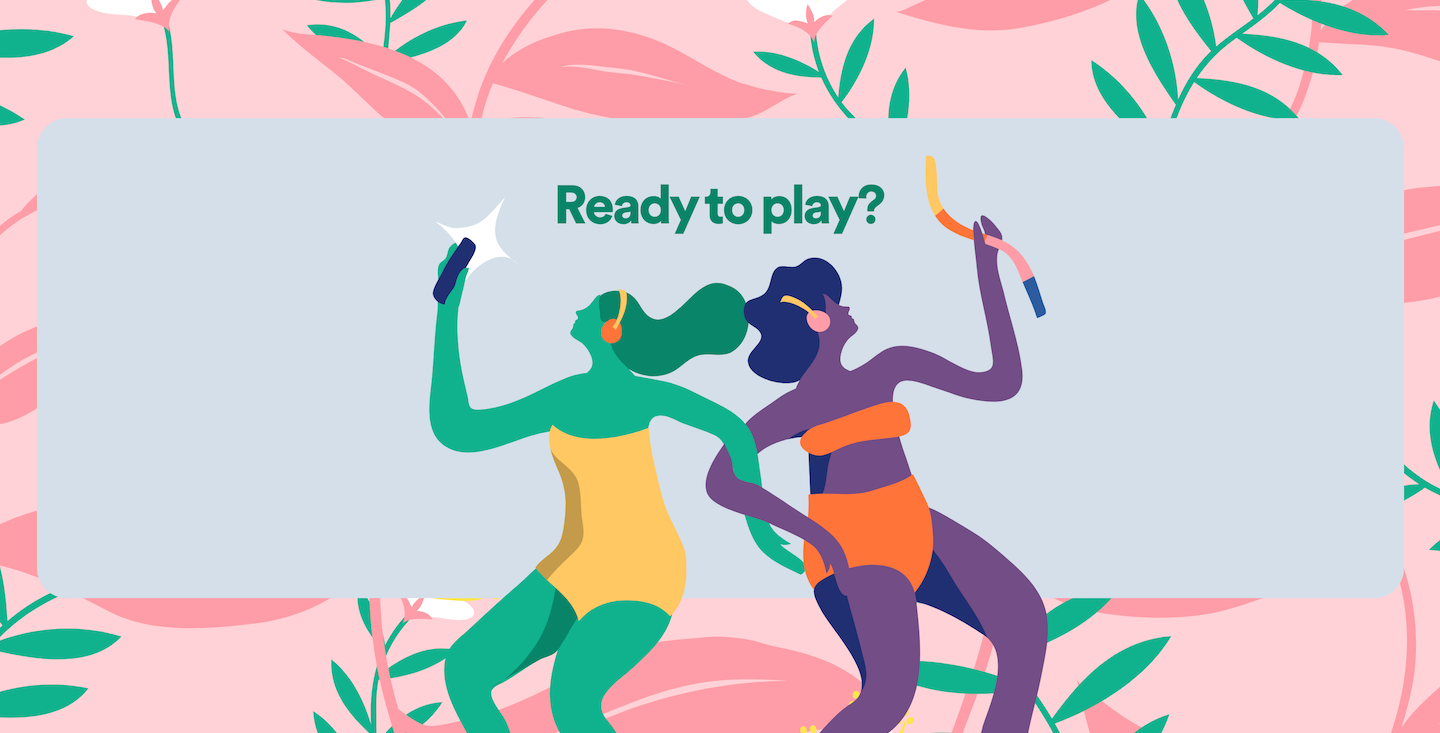 A NEW WAY TO PLAY
Foo Fighters, Florence + The Machine, A$AP Rocky, Jack Harlow, Trevor Noah, Alex Cooper, Issa Rae, Emma Chamberlain, and More To Join Spotify Beach at Cannes Lions
Next week, Spotify is returning to the South of France for the Cannes Lions Festival of Creativity, where we'll transform Spotify Beach into a hub of activity dawn 'til dusk as we celebrate a new way to play. And we're bringing along some big-name friends to join in the fun.
Our special opening-night soiree will feature an intimate performance by Grammy Award-winning artist H.E.R., as well as a DJ set from the unparalleled Collyer Twins. 
We'll be hosting daytime masterclasses and nighttime events beginning Monday, June 19, and continuing through Thursday, June 22, emphasizing our focus on creativity, connection, and innovation. Attendees can look forward to sessions featuring Spotify leaders and guests including Alex Cooper, Issa Rae, Emma Chamberlain, and world-renowned football player Cesc Fàbregas. Author and comedian Trevor Noah will join Spotify CEO and Cofounder Daniel Ek for a conversation on the future of storytelling. Throughout the day, catch DJ Toyin spinning sets.
Then, as night falls on Tuesday, Florence + The Machine and Jack Harlow will take to the stage accompanied by DJs will.i.am and Uncle Waffles. Wednesday is primed for world-class performances from Foo Fighters and A$AP Rocky, and a DJ set from Disclosure. And our house DJ Taylah Elaine will brighten the beach with music throughout it all.  
Spotify Beach itself will feature several interactive experiences, like daily sound bath meditations, an immersive Songs of Summer soundscape, an FC Barcelona play zone, a "Sonic Sips" coffee-and-juice bar, a custom sunglasses gifting station, and much more.  
Read on for a full list of the sessions on the ground, then check back next week here on For the Record for the full takeaway from our novel masterclasses. 
Monday, June 19
Building a brand is more than meets the eye…and ear 
Owning your craft takes dedication, consistency, and commitment—something Spotify's Taj Alavi, VP, Global Head of Marketing; Loewe's CMO Charlie Smith; and Anything Goes creator Emma Chamberlain all know well. The trio will share their approaches to what they create; their style around partnerships and projects, brand building, and brand positioning; and how to engage the next generation of streamers.
Top hits and goal-scoring kicks: fandom, football, and media 
We're hosting a conversation between football legend Cesc Fàbregas, award-winning football Freestyler Pola Gomez, Samsung Europe CMO Benjamin Braun, and Bradford Ross, Coca-Cola's VP Global Sports and Entertainment Marketing and Partnerships. They'll dive into the obsessive fan culture surrounding sports and how brands tap into fandoms of all kinds. 
Tuesday, June 20
The cutting edge of creativity and storytelling 
Join Daniel Ek and Trevor Noah at Spotify Beach as they discuss the future of storytelling and the art of navigating different mediums to forge a deeper connection with worldwide audiences. They'll offer insights on how creators can tell stories in more meaningful ways and effectively leverage new technologies in the ever-evolving media landscape.
The art of the interview 
You don't need to be an investigative reporter by trade to benefit from learning how to conduct a masterful interview. Things get meta as Spotify's Chief Public Affairs Officer, Dustee Jenkins, sits down with Alex Cooper, Creator, Host, and Executive Producer of Call Her Daddy, to discuss the art of the interview. Learn how to craft the right questions, disarm your subject, and get straight to the heart of the matter.
Wednesday, June 21
Connecting to the sound of culture 
Spotify's Global Head of Artist Partnerships, Joe Hadley; Tye Comer, Creative Development and Founder of Spotify's Outside Voice program; and Erin Styles, Global Head of Ads Business Communications & PR, will spotlight producer-actress-writer Issa Rae; SVP of Marketing at Frito-Lay North America, Tina Mahal; and WACL President Rania Robinson. They'll discuss the importance of culture-shaping programs that support and amplify diverse voices. This comes as part of Spotfiy's continued commitment to empowering creators and inspiring our audience to elevate underrepresented communities in their own work.
DJ Mixer
Turn it up with Spotify's very own Xavier "X" Jernigan, Head of Cultural Partnerships and the voice of AI DJ. We're rolling up the carpet for an afternoon mixer complete with games, cocktails, mingling, and—maybe—a surprise or two. 
So bookmark For the Record, follow @SpotifyNews and @SpotifyAds on social media, and stay tuned for much more as we discover a new way to play.