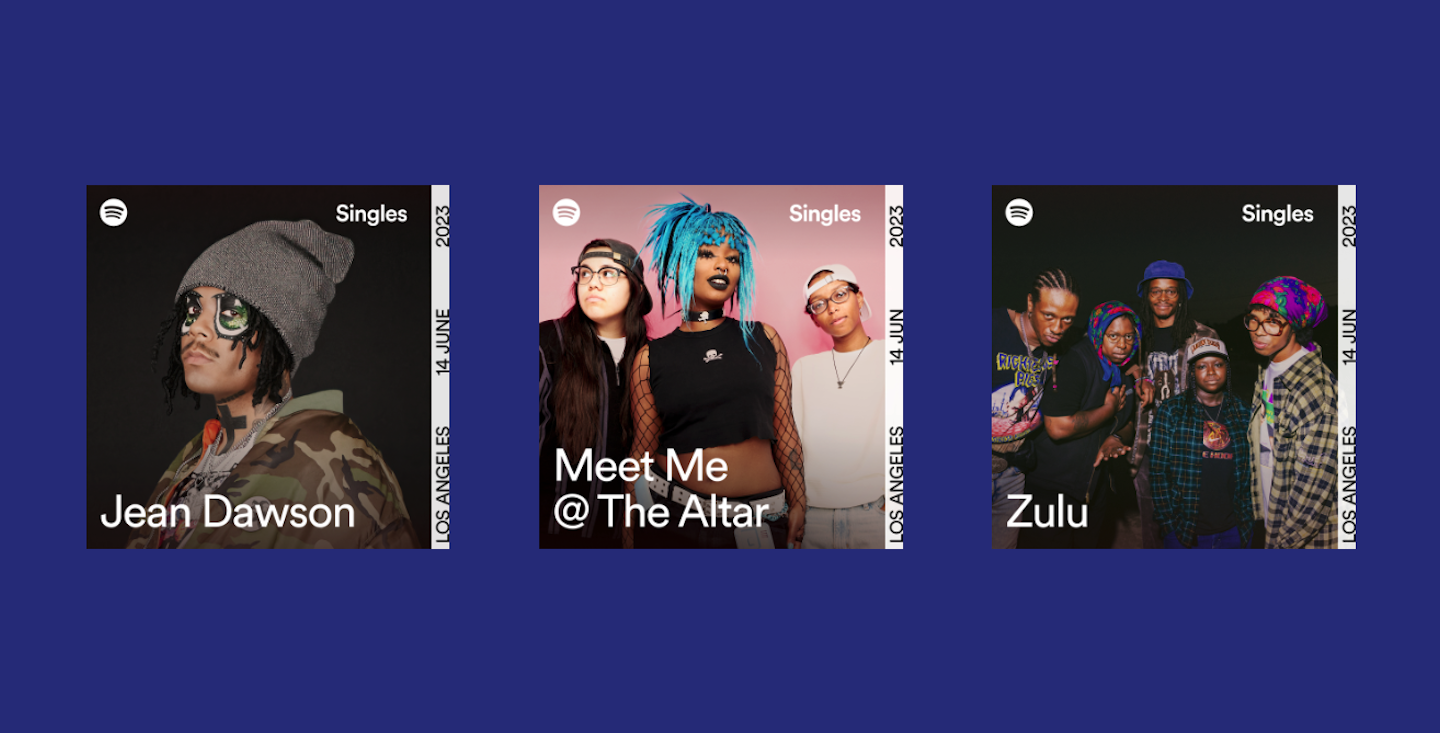 PLAY IT LOUD
Rock On During Black Music Month With These Frequency x Spotify Singles Tracks
This June, in honor of Black Music Month, a group of talented Black rockers recorded new tracks as part of a Frequency x Spotify Singles collaboration. Pop-punk darlings Meet Me @ The Altar, hardcore/metal band Zulu, and alternative artist Jean Dawson each showcase their distinct music stylings on a reimagining of one of their original songs and a cover of another artist's single that they love.
Frequency's year-round program celebrates Black art, entertainment, creativity, culture, and community both on- and off-platform.
"Frequency was launched in 2021 out of the desire to create a space where listeners and creators can come together to celebrate Black expression in music. Since its inception, we've fostered community within diverse subgenres through marketing, editorial, and shared experiences," explained Kimmy Summers, Lead for Artist Partnerships at Spotify.  "We take pride in our responsibility to partner and invest in artists that redefine what Black artistry looks and sounds like, and are thrilled to support the next generation of rising stars."
These particular Spotify Singles reflect the diversity and talent within the Black music community and help expand perceptions of the range of genres in which Black artists excel.
"For this iteration of Spotify Singles, we chose to highlight Black artists making waves in Rock— whose contributions, despite the expansiveness of the genre, are not traditionally amplified," shared Chissy Nkemere, Lead for Rock & Alternative Artist Partnerships at Spotify. "Each artist comes from a different subgenre within rock, and their distinct styles are reflected through the songs they chose and the recordings themselves."
Get to know these musicians and check out their new Spotify Singles.
Meet Me @ The Altar is a critically acclaimed trio currently on tour for their debut album, Past // Present // Future. They put a new spin on their second single, "Kool," and covered Kelly Clarkson's 2003 hit "Miss Independent." 
How did you choose and add your personal stamp to the song you're covering?
Kelly Clarkson is an artist that we have looked up to all of our lives. Our favorite Kelly Clarkson era is the early 2000s pop rock she was serving. I mean . . . everyone loves "Since U Been Gone"! We are giving this song [Miss Independent] our personal spin by making it an even more rock 'n' roll–leaning listen.
How does your music reflect your identity?
The music we make is the manifestation of many forces and influences throughout our lives, but primarily we would say that it's exactly what we would've wanted to hear from the stage when we were kids and started experiencing live music, or playing on the radio on the way to school. It's reaffirming for us to be able to say it's fully authentic to what we want our sound to be. Nobody tells Meet Me @ The Altar what we have to sound like or be other than the three of us.
What advice do you have for other Black rockers?

Take up space and be yourself. Be proud of your identity, but don't let it be the only thing people talk about. At the end of the day, your music is the most important thing. You being Black should be an afterthought, not the first thought. 
Zulu, whose sound blends hard-core and power-violence with elements of jazz, hip-hop, funk, and soul, recently released their first full-length album, A New Tomorrow. Their Spotify Singles are a reworking of "Shine Eternally" and a cover of  Slipknot's "Wait and Bleed."
How did you choose and add your personal stamp to the song you're covering?
Honestly, some of us kind of naturally thought of either Slipknot or System Of A Down for some reason, and we ended up going with Slipknot. It's funny how we all naturally shared that same thought. 
How does your music reflect your identity?
It's a musical representation of my identity—it is who I am, and no matter what I make, it's represented. Different styles of music are just different aspects of my identity. 
What advice do you have for other Black rockers?
Don't let anyone tell you this music isn't for you, or that you're playing white-people music. Our ancestors made it possible for this music to exist, and we can't let people take that away from us.
Jean Dawson is a Black and Mexican musician and visual artist whose most recent album CHAOS NOW* debuted in 2022. He reimagined his track "PORN ACTING*" and covered "Window Shopper" by 50 Cent for his Spotify Singles. 
How did you choose and add your personal stamp to the song you're covering?
"I've always looked at this song as a rock song, so I decided I would take it there and add my twist to it. People fail to realize that 50 Cent was an innovator in being hyper melodic while doing a format of music that was known for being more rhythmic. I have always seen him as being very punk rock.