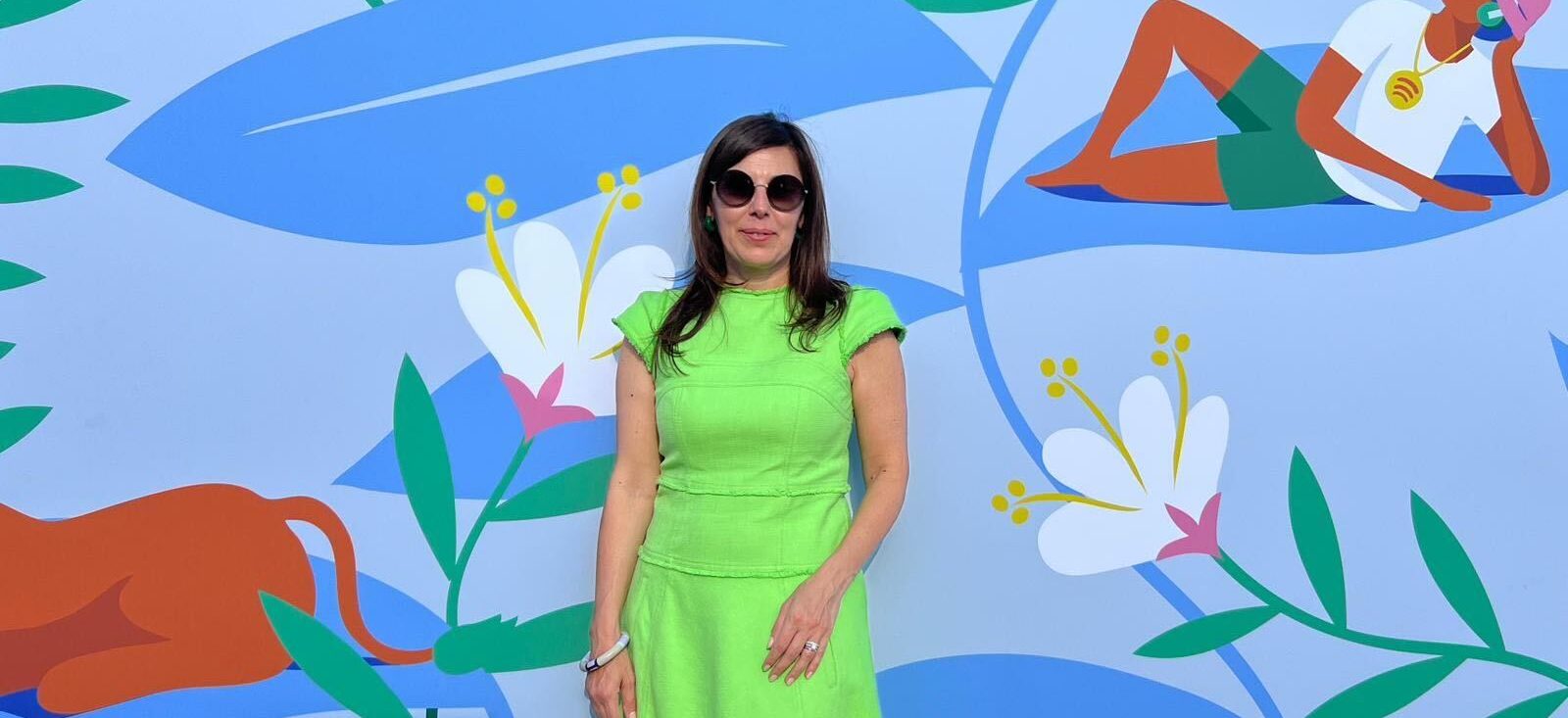 A NEW WAY TO PLAY
Head of International Sales Kristiana Carlet Shares How We're Taking Advertising to the Next Level at Spotify Beach
Each year, Spotify showcases how our platform inspires creativity, connection, and innovation for advertisers and brands at the Cannes Festival of Creativity in France. This year, we're also able to spotlight the tremendous growth we've seen recently—our ad-supported revenue grew 17% year over year in the first quarter of 2023—and how we're moving toward a future where ads account for 20% of Spotify's total revenue. 
Kristiana "Kri" Carlet has witnessed this growth firsthand. Since joining Spotify as the Head of International Sales, she's taken our efforts in Europe, Asia, and Australia to new heights. The Italian native, who moved to the U.K. in the early 2000s to start her career in advertising, says that her desire to learn something new every day and her international branding expertise are a winning combination of tools to make Spotify a leader in audio advertising globally.
"We're already seeing the forward momentum in Europe, so now I'm excited to turn my sights to the emerging markets like Japan and India, where we're just getting started with our ads business," she explained to For the Record on the ground in Cannes. "Every time I'm in those markets with the team and our customers, I'm blown away by the excitement around our brand, the creativity there, and the opportunity that audio represents for them! We're going to have a huge ability to test new ideas and ways to advertise in those markets—I'm very interested in seeing that come to life." 
We're kicking off another standout year at Cannes. What are you most looking forward to this week at Spotify Beach? 
I'll be very honest—I've done so many Cannes—but when I came with Spotify for the first time last year, I was blown away. And I wasn't sure how we could top it! So I'm very proud to say that this year, Spotify Beach will come to life with even more interactive, playful experiences, from enriching masterclasses featuring the world's most influential voices to truly FOMO-worthy evening concerts. 
Visitors can get excited for interactive experiences such as a Songs of Summer soundscape, an FC Barcelona partner zone, and an AI DJ interactive experience. Plus, Spotify Studio is back again and fully booked with creators, advertisers, and press taking advantage of our state-of-the-art audio-video facilities. We'll also host a series of masterclasses featuring exclusive opportunities to hear from Spotify executives including CEO and founder Daniel Ek, brand partners like Coca-Cola and Samsung, and some of the world's most exciting creators, including Emma Chamberlain, Trevor Noah, Issaa Rae, and Alex Cooper.
We're also hosting a series of playdates that bring the magic of Spotify to life by inviting guests to get out of their seats and play. And of course, it wouldn't be Spotify Beach without a lineup of can't-miss evening performances, including Foo Fighters, Florence + the Machine, Jack Harlow, A$AP Rocky, will.i.am, and more. All of this makes Spotify Beach the perfect spot to meet our clients and partners and show them they are part of an amazing journey with us at Spotify! 
We're constantly innovating new technologies and formats for content creators and advertisers. What are some ways we're demonstrating these at Cannes?
Ahead of Cannes, we announced Spotify Ad Analytics and our new B2B podcast, Perfect Pitch, inspired by our Cannes Lions award-winning campaign, A Song for Every CMO. We also recently shared our Sonic Science 2.0 research study, which demonstrates how audio content connects both emotionally and physically with listeners. We found that Spotify listeners are bringing audio into their lives literally 24 hours a day—and are primed to embrace brand messages. Most recently, we've been focused on using AI to enrich the listening experience—like with our AI DJ, where each user's own DJ creates personalized listening experiences for them. Now that I use it, I can't live without it! 
But I think the best way to absorb everything we're innovating on is our session with Daniel Ek, Trevor Noah, and our Global Head of Advertising, Lee Brown, as they share their perspectives on how to best leverage new technology to tell stories and drive deeper connections with audiences. I'm really looking forward to sitting in on that one myself.
Cannes Lions is also about awarding the most impactful, creative advertising campaigns and the people behind them. What are some of your favorite Spotify campaigns from the last year?
There's been so much that we've been working on with the partners around us—I can honestly say that we get to work with the world's most innovative marketers to create original and engaging ad experiences for digital audio. My favorites have been Destination Canada, easyJet, and especially Disney+, which allowed us to bridge our work with Disney to launch a new campaign that combines the worlds of music, film, and TV in a delightful and immersive experience. With it, Spotify listeners across Germany, the U.K., Ireland, Italy, and Spain were able to explore personalized recommendations, as well as new genres and titles from Disney+'s catalog based on their listening habits. It's personalized, innovative, and meets music and television lovers right where they are—truly a Spotify experience. 
Why should advertisers visit Spotify Beach on the Croisette?
During typical client meetings, you focus on the brief and the specific business challenge that your customer needs you to meet. You can't always bring the examples to life. I think events like Cannes give us the opportunity to give them a 360-degree view about the power of Spotify advertising and showcase how we're really only at the beginning of this journey. 
Spotify Beach is really going to bring our creativity and innovation in the streaming industry as a whole to life. It will demonstrate the power that our creator and industry relationships have and how we make them available for our bands and partners. Clients and partners will get to see and experience the overall Spotify ecosystem. Spotify has such an impact on people's lives, and coming to Spotify Beach shows that without question. 
What's your personal work mantra?
When you come with a great deal of experience, it's important to remind yourself that you don't know it all—and you have to be very good at listening. Because of where I am on my personal journey, I have a lot of reminders to remove my bias and spend time listening to my team and customers. If we want to be successful in business, it always starts at the end of the day, with the people. Then I can help supercharge the experiences of my team and my customers. 
Finally, what would we find on your "On Repeat" playlist? 
At the moment, anything Harry Styles. I'm obsessed—and it's a common passion I have with my 17-year-old daughter. We've been trying to learn the lyrics from Spotfiy on our car journeys so we can belt them out when we see him in concert. As an Italian, I also love Maneskin. They are so fun and they're going to become an iconic global band.
Catch more of our full Cannes lineup here.