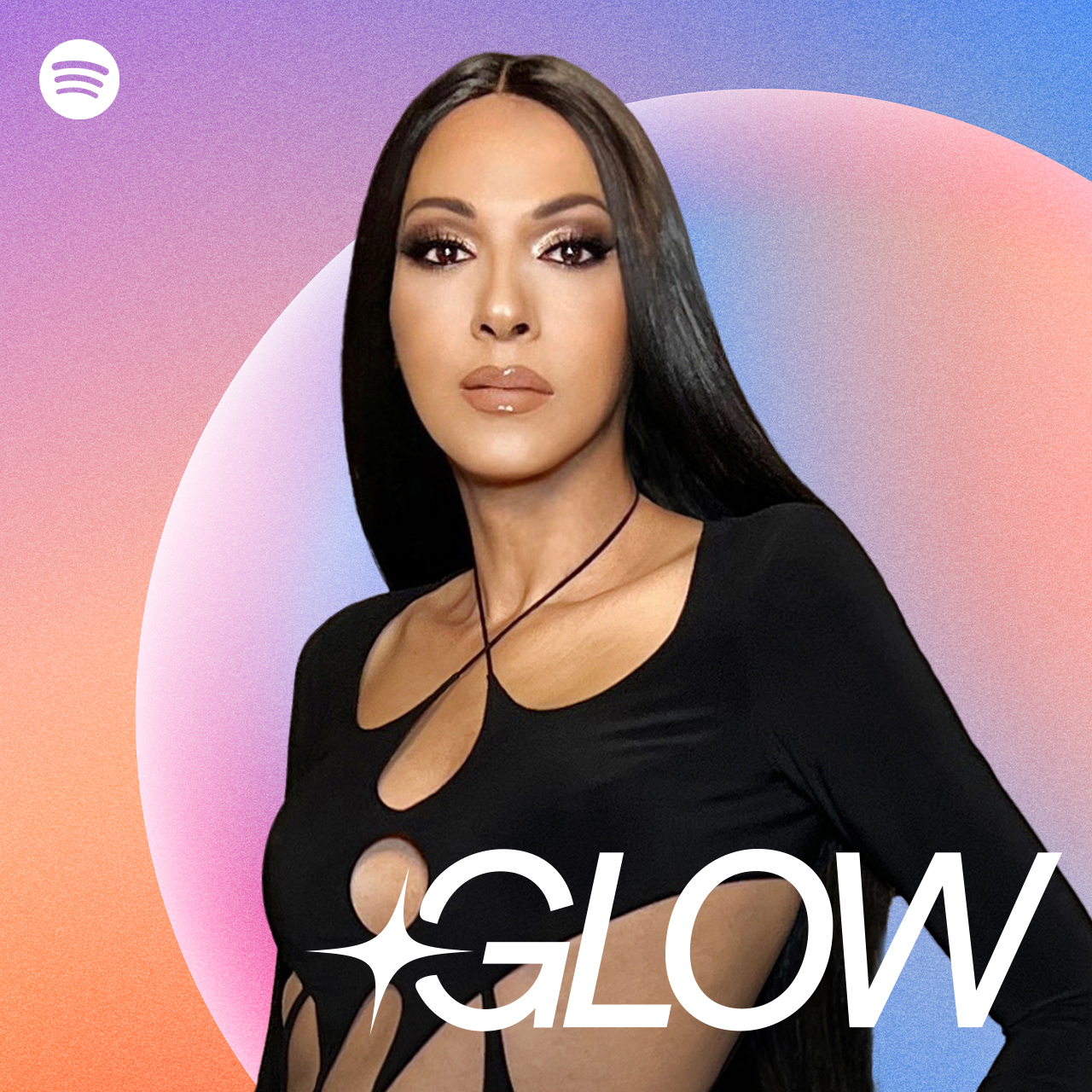 HOW SHE GLOWS
From Underground Clubs to Eurovision Fame, GLOW Artist Dana International Inspires and Ignites
Dana International defied the odds and the critics when, in 1998, she was selected to represent Israel for Europe's biggest music event, Eurovision. Her performance of "Diva" captivated the audience in person and at home, and she was crowned contest winner.
Dana's success on one of the world's biggest stages is but one example of the Israeli singer's powerful, dazzling musical presence. Over the past three decades she has released a number of albums and singles and even represented her home country a second time at Eurovision in 2011.
Dana's perseverance, passion, and talent are just a few of the reasons why she's one of Spotify's featured GLOW artists for the month of June. Through GLOW, our global music program celebrating and amplifying LGBTQIA+ artists and creators all year round, we're supporting Dana International on our platform with a dedicated hub and flagship GLOW playlist, and off our platform via billboards like those in New York City's Times Square and on the city's MTA subway system.
From finding her voice to the importance of celebrating Pride, Dana International shares more with For the Record below.
Tell us about your journey into music. How did you find your voice?
I released my first song almost 30 years ago. I was very content to have one hit song—I believed that someone like me couldn't truly pursue a singing career. As a teenager, I had begun to realize that I was a woman, and that desire was stronger than anything else. Choosing to live as a woman meant giving up on my dreams of living a normative life. That's when I discovered nightlife. Hiding under the cover of darkness—clubs, music, the exaggerated atmosphere of the 1980s—brought everything to life in Tel Aviv. The night became my refuge.
At the age of 18, I started performing with the drag team at the only gay club that existed in Israel at the time. One day we created a parody of Whitney Houston's song "My Name Is Not Susan" and turned it into a humorous Arabic song called "Sa'ida Soltana." The song became a summer hit in Israel. After that song, I released a second solo song, followed by my first album. The album was quite successful, so, against all odds, I released three more. I became the singer of the year twice and sold gold and platinum albums.
The beginning of my career wasn't easy. There were performances where people spat on me, cursed me, and threw trash at me. But it only gave me strength and motivated me to continue. After two years, I became one of the most successful singers in an early 1990s Israel that was mostly conservative. Soon, I started receiving offers for a TV series, a movie, and a musical about my life. And in 1998, I was chosen to represent Israel in Eurovision. 
What was it like performing at Eurovision for the first time?
As soon as it was announced, there was a big controversy in Israel. It wasn't easy for me, and I admit that there were moments when it shook me. But I won first place with the song "Diva." My life changed that night of the victory. I returned to Israel to pack a suitcase, and then I traveled to Europe and lived there for almost a year. The media in England declared that the new pop queen was born, but I suffered greatly.
How did your life change after winning the competition?
I became a media star. All the entertainment shows and news programs in Europe wanted me, but the interviewers felt entitled to pry into my life in a way they wouldn't dare to do today. They invaded my privacy, and I provided them with everything they wanted to hear, overflowing with smiles and charm. But inside, it deeply offended me. I was publicized as a singer who won Eurovision. Why are you only interested in my sexuality and gender? How dare you talk to me about things you wouldn't discuss with other female singers? I felt like I was living in a gilded cage.
So I returned to Israel to gather my strength and then released an intimate album that was different from anything I had done before.
What are you up to now?
At the age of 55, I am still onstage. I have become a gay icon, and it feels strange and somewhat overwhelming because I don't want to be seen solely through that lens.
From all the musical activity and hundreds of performances worldwide, the joyful successes and the painful failures, the achievements, the awards, and the journey, the thing I'm most proud of and what I truly understand to be the most important is when people—of all ages, in all languages, from all over the world—approach me and say: "You changed my life. You gave me the strength to believe in myself. I realized I'm not alone. You were with me in the toughest and loneliest moments." Very few artists truly manage to change something in the world, to change lives and help those who are struggling. Only in recent years have I truly understood this and realized that it's much more important than whether my new song succeeds or not. 
Why is it important to amplify LGBTQIA+ voices year-round?
I believe that queer culture disperses a lot of color, sensitivity, and interesting and different perspectives in the world. It's known that even during periods when people didn't come out of the closet, writers, poets, singers, and gay artists brought the world great and important cultural creations. The world would be much grayer and much more boring if the voices of our community weren't heard. Our community is the decoration committee of the world, but we're not only that. 
What's one thing fans might be surprised to learn about you?
This whole character of mine is a big show. I'm not satisfied with my character. I hate flashy designer clothes and makeup. My battle is when I go up onstage. I don't feel brave, and I'm very shy in my everyday life. In that period at the beginning of my career when I fought for my right to be onstage and sing, I created this shining, radiant, and audacious character of Dana International. 
There've been so many advances in LGBTQIA+ rights and representation in the last decade. Why is it still important to celebrate Pride?
It's important for all those children and teenagers who are sitting at home right now, afraid of who they are, afraid to tell their parents and friends at school, and feeling sad and alone. In every Pride parade, we tell them, "You're not alone, we're with you," and we embrace them. Since Eurovision, I have appeared in Pride parades all over the world. And still, I get extremely excited about Pride parade performances. I think it's important for us and for the children who used to be scared and embarrassed, too. Once a year, we celebrate our Pride holiday, where we spread the message of love, acceptance, equality, and the freedom to be who you are. 
What do you hope audiences take away from your music?
In one of my songs, I sang, "My joy is my protest." I come from a difficult place, and it was very easy to sink into sadness and give up. My songs are happy. Pop music that reminds us of the beautiful and joyful side of the world. Pop songs are generally considered light and shallow, but I believe that happiness also holds a lot of power. It's hard for me to express pain; I don't cry. In life and in my music, I don't cry. My message is that despite everything, we are obligated to find joy. I try to bring happiness to people and also find joy within myself, and it's not always easy.
How does music empower queer communities?
I believe that music influences everyone. In my eyes, it's the true prayer of humanity. We, as a community, are much more dramatic and sensitive, and I think music plays a much bigger role in our lives.
Catch Dana International and many other LGBTQIA+ artists this month and all year round on our flagship GLOW playlist.