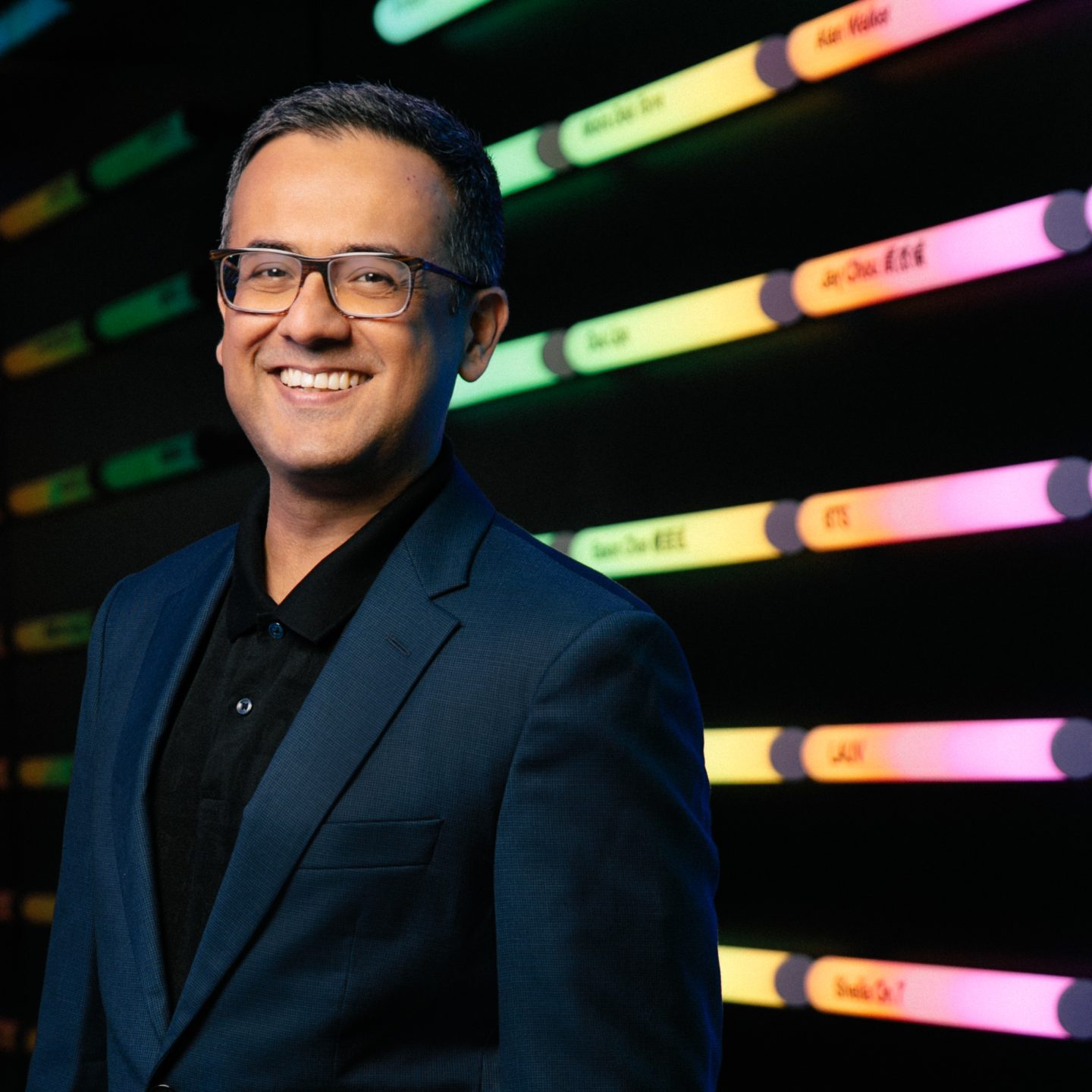 SEE YOU AT SOUTH BY
Spotify's GM of Asia Pacific, Gautam Talwar, Discusses the Music of a Rapidly Growing Region
The Asia Pacific region seems to never sleep on Spotify. From events celebrating Kalye HipHop, our flagship Pinoy hip-hop playlist, to the tenth anniversary of Spotify in Taiwan, we've spent a decade developing relevant products and content offerings to deepen our connection with local users. And our work is just getting started.  
This week, Gautam Talwar, Spotify's General Manager of Asia Pacific, is joining artists and podcasters at SXSW Sydney, the first time the festival has been staged outside of its Austin, Texas, home base. Via panels and performances on everything from music discovery to what's next for K-Pop— and how we continue to strive for gender equity—we'll highlight how Spotify helps music move beyond borders at the iconic Lansdowne Hotel.
For the Record sat down with Gautam to learn more about what's happening in the region. 
What are some factors that make the Asia Pacific region, APAC, a distinct and notable market for Spotify?
Asia Pacific is increasingly central to our global platform as a driving post for global culture—whether music, entertainment, fashion, gaming, technology, or e-commerce. And the region as a whole is one of our fastest-growing regions at Spotify today. There's three main reasons for that. 
One is that these countries have large youthful populations. You're talking about one of the largest clusters of Gen Z customers in the world, over 150 million Gen Zs residing in Asia Pacific who are driving this booming creator economy and online music culture. 
The other thing that makes it very unique is diversity. This is our superpower. There's incredible diversity across languages, religions, and ethnicities. We also see this diversity play out in music and culture. Music is a very central, core part of expression. And since music has an important role of soundtracking daily life in Asia Pacific, music is a reflection of diversity in this region.
The third thing that makes it very unique is artists and creators. We are talking about an incredibly diverse group of genres and artists that are now crossing borders and building an international audience, all thanks to Spotify. We have some great examples of artists born in Asia, who maybe got their footing in Seoul, Sydney, or Jakarta, who have now crossed borders, gone overseas, and built a global audience. 
What trends are emerging globally with music from the region? 
Spotify has evolved from bringing all the world's audio to Asia Pacific to taking all the audio from Asia Pacific to the world. 
When I joined Spotify about five years ago, the top charts in most of our Asian markets had mostly international music. Today when I look, it's increasingly local. It's increasingly K-Pop. And we're also seeing some regional and hyper-local artists and genres making it to the top. We are seeing artists from all corners of our countries who are working to build an audience on Spotify. We have examples of not only those who are topping charts in their home country, but who are crossing borders to top charts elsewhere.
K-Pop is one of my favorite examples. Traditionally, the home of K-Pop is Seoul. But if you look at the genre's top markets, it's actually the United States, Indonesia, the Philippines, Japan, and Mexico where streaming is outsizing Korea. Similarly, Mandopop, which was born out of Taiwan and China, ends up traveling to all parts of the world where the Chinese diaspora resides—Singapore, Malaysia, Hong Kong, and the U.S. We're seeing this in Aussie music as well, with names like Tones and I, The Kid LAROI, and Troye Sivan finding big audiences in the U.K. and the United States. 
But then there's country-specific trends, like hyperlocal pop with Javanese Pop in Indonesia and LukThung in Thailand. The countries have rich, vibrant, local ecosystems and creators with big fans on social media. They don't have to be in a metro region to build a career, but rather could be in any part of the country. Their fandoms help them not only drop music on Spotify but then promote it across social media. Artists care about their expression, they care about their sound, and the story. And what we're seeing is that great songwriting and storytelling wins. And thanks to the personalization of the Spotify platform and its global distribution, there are numerous examples of artists' finding an audience outside of their home country. We're seeing waves. 
Fandoms are a key part of music in the region. How do we embrace and reflect this passion?
Our growth story in the region has always been built on supporting a set of fandoms and really using Spotify as a way for fans to channel and fuel their passions around these fandoms. In many ways, we've evolved from marketing to consumers to speaking to and through fans. 
We have a fairly strong presence and investment in K-Pop discovery on the platform. We have a K-Pop hub with a flagship playlist, K-Pop ON! It contains the latest and greatest in K-Pop. It's what RapCaviar is to hip-hop and Viva Latino is to Latin music. This is for the global K-Pop community of artists and fans. It's the mothership. It's where you'll discover the next big thing on the platform. 
We've also evolved this playlist, taking it off-platform to build a strong media network around it, with a YouTube channel, Twitter handle, and Instagram and TikTok distribution. For our fans, it's really about being very playful and helping create opportunities that let them get closer to their favorite artists. Our storytelling approach is very much speaking to and through fans. They get up close and personal and see artists in their most playful states. And they're loving it. 
One of the activations we did this year was Bunnyland. NewJeans is a rookie band, a year old, and they're already commanding an audience as big as BLACKPINK. They are Gen Z, five girls, all incredibly creative and musically strong.  For their debut album release, we created an activation involving a real-life immersive fan experience for called Bunnyland. We had about 100,000 attendees across Bunnyland activations in Seoul, Jakarta, as well as Manila and Tokyo and heavily supported their U.S. debut at Lollapalooza.  So for us it's about showing up every day, both with playlists and with iconic big-beat moments. 
We've also got ideas for how to do this with T-Pop, particularly with the strength of the Boys' Love fandom, and in Australia, with A1 hip-hop—Aussie hip-hop. This subculture is very strong locally, and I'm very excited about how we've taken it to the main stage. 
How about podcasting? 
This is an exciting region for podcasts due to its history of talk radio. Today, markets like Australia, Indonesia, and India are some of the top markets for podcast listening. There's been a lot of early adopters in this market, especially in Indonesia and the Philippines. When Anchor, now Spotify for Podcasters, launched, we saw radio personalities and social media personalities rally to it as an easy means to express themselves and get onto an audio platform. That has increasingly been going mainstream since.

In Indonesia and the Philippines we're also seeing a whole new breed of creators who believe in long form as a means of storytelling. (There are some really big commutes in those countries, and podcasts play a role there). The big genres are comedy, horror, and crime, and the audiences tend to be more educated, more affluent, more curious about what's out in the zeitgeist. Love and relationships is another one—people can use podcasts as a format to talk about subject matter that the mainstream wouldn't talk about. 
Australia, too, has a very rich podcast ecosystem. We are a lead player there with a thriving ad sales operation. We have a number of original and licensed tentpole shows, both Aussie and American, that really do well. We also just announced the introduction in Australia of our premium audiobook offer. This makes available at least 150,000 audiobooks as part of Spotify Premium subscriptions—something that's going to be huge in the market. 
What are you most excited to bring to SXSW Sydney?
I'm excited about the platform South By presents for us. It's at the cutting edge of tech and innovation. It's one of the most exciting congregations of the sharpest creative minds in the industry. And what I'm excited about is how we are really showcasing our diversity as Spotify, and the things that we are really passionate about, be it our EQUAL or RADAR programs, and how they elevate discovery for artists. 
I'm excited about showcasing artists from multiple genres, everyone from MILLI, one of my favorite Thai hip-hop stars, to, you know, some of the most exciting acts in Korean music and Korean hip-hop.
It's interesting that Sydney is where the first edition of South By is happening outside of Austin. Sydney is home to musicians, artists, and designers, and there's a lot of commonalities between Sydney and Austin. I'm hoping to see this become a returning franchise that we can become a part of. 
Hear more from Gautam about our presence at SXSW Sydney on the Spotify: For the Record podcast.