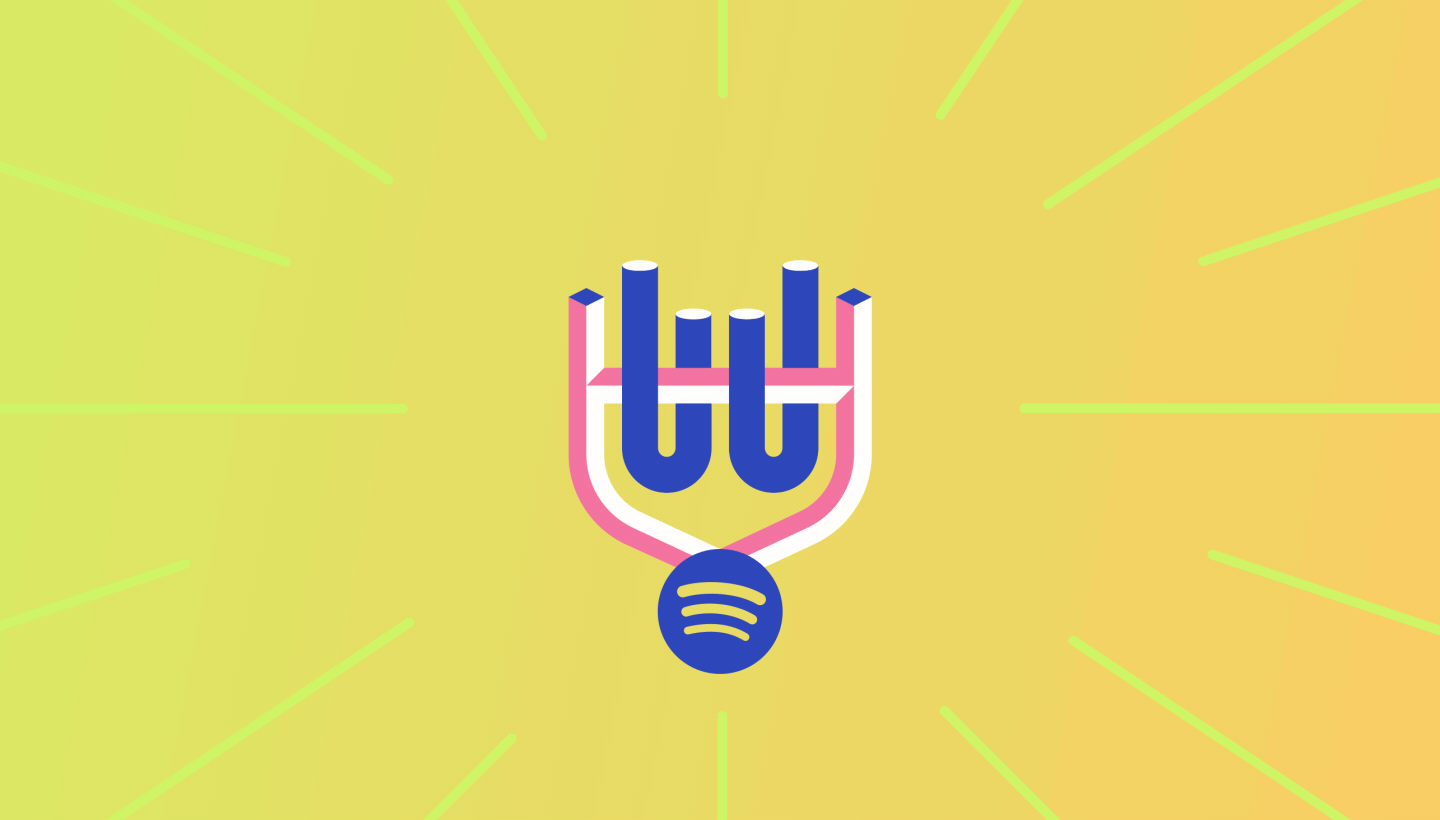 THE FUTURE IS . . .
Tips for Creating a Successful Hack Week
Hack Week has become something of Spotify lore. The beloved Discover Weekly playlist originated as a Hack Week idea, as did the ability to exclude select playlists from your Taste Profile. Now Spotify employees across functions worldwide look forward to the annual week where they put their regular work aside and collaborate on ideas that combine their passions, creativity, and skills. But developing Hack Week into the massive event that thousands of Spotify employees participate in annually is a feat in itself. 
According to Sarah Gänsicke and Nanci Veitch, Spotify Project Managers for R&D Communities, Hack Week started out as a "hot potato" in the early days of the company. "Each year it had the same skeleton—a kick-off event, a week of hacking, a fair, and local People's Choice awards, but no repeatable format from a project management perspective," Sarah shared. As Spotify matured, its teams turned Hack Week into a full-scale experience with a dedicated internal website, Skill Exchange portal (itself a Hack Week project), a developed visual identity, and an internal communications campaign to generate excitement and spread knowledge. "What has been great about the intentional scaling and effort behind the program is that it's created a space for Hack Week to exist all year round rather than just being an engineering event that happens somehow every year," said Nanci. Hack Week has also expanded to include non-R&D employees and now has "a long legacy throughout the company." 
The benefits of Hack Week—providing opportunities to collaborate outside of one's everyday team, giving employees flexibility to improve upon the product, offering ways to stretch beyond comfort zones—are endless. Nanci and Sarah offered five thoughtful tips to teams and companies looking to host their own hack weeks. 
Create dedicated program management and identity.

Though our core event has mostly stayed the same throughout the years, having a process that's driven by a schedule and a set of principles has allowed us to make improvements to our communications, reduce barriers to entry, and increase the ease of participation for a diverse group of participants. For example, we developed a Hack Hub where employees can find hack ideas, explanations on how to join a team, and examples for a great hack. We also have a dedicated visual identity for Hack Week, which has helped to inspire and attract non-R&D employees.

Be inclusive. It's not just who gets involved, but how you're opening the door to them. We've enabled employees worldwide to join Hack Week by holding a mostly virtual event that abides by our distributed first principles. This year, we have hackers representing most of our global offices. We've also found ways to ensure Hack Week is not just for engineers. Members across many disciplines now engage in Hack Week. We encourage this by spotlighting nontraditional hacks and roles like user researchers, product designers, and music team members so they can see available opportunities. Encouragingly, we've found that individuals who join Hack Week are over 50% more likely to do it again.
Make the themes innovative and inspiring.

This year's theme is "The Future Is . . ." and it builds on a base of big-picture ideas inspired by recommendations from Spotify leaders. We recommend connecting the Hack Week theme back to your company's core identity and priorities, but it's also important to make the theme broad enough to allow for creative interpretation. With a powerful theme, people believe they're setting their own mission. "We want to set the stage for hacks that push boundaries," Nanci and Sarah noted.

Step out of your comfort zone.

Hack Week is short, leaving many projects left unfinished—and that's part of the beauty of the week. Goal-setting during Hack Week takes many forms but doesn't necessarily include completion of the product. Hackers are encouraged to embrace the Spotify value of playfulness and utilize the week to get out of their day-to-day roles. We also recommend connecting and working with individuals outside of one's direct realm. This really allows Hack Week to be a tool for interpersonal connection as well as a meaningful professional experience.

Don't be afraid to bring in outside perspectives.

This goes for participants

and

coordinators. Hack Week is a collaboration between Spotify's dedicated Hack Week team and

Say It Good Studio

, a branding and communications studio that created and built Spotify's Hack Week hub. "We treat Hack Week internally as if it's an external campaign, keeping track of click-through rates and the like," explained Sarah. "Having an external partner helps us avoid our biases, maintain good communication, and ensure it's a more accessible process for everyone in the organization."
Over the years, we've also brought inspirational figures into Hack Week to help our teams get excited about hacking. Notable artists involved in our internal campaign challenged hackers to "make space" ahead of Hack Week 2021 and "make the planet cooler" during Hack Week 2022. 
Like any good project, there's always room for improvement. "One challenge that we're still working through is that it's hard to follow hacks from Hack Week to reality," Nanci explained. "We began methodically tracking Hack Week projects in 2022 to address this and now use our Skill Exchange as a library to keep a close eye on projects that continue into development." 
As for what the future of Hack Week at Spotify holds—we'll leave that to the hackers to determine.