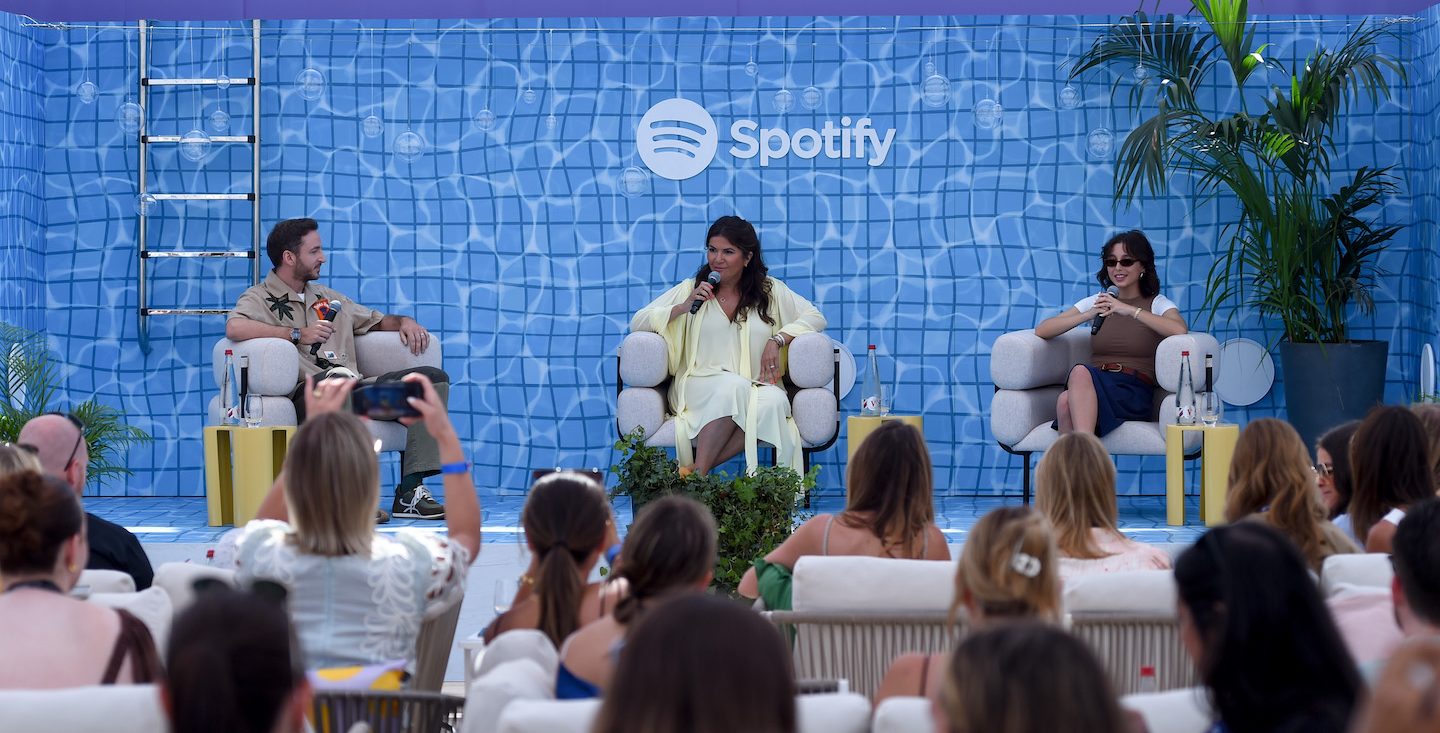 LIVE FROM CANNES
Emma Chamberlain and Taj Alavi On How to Work With Brands and Maintain Your Voice
Emma Chamberlain, host of anything goes with emma chamberlain has built her following on her unique voice and aesthetic. Her frank perspective goes a long way to establish trust and credibility with her listeners, and they keep coming back for more.
This master of branding and voice joined us at Spotify Beach during the Cannes Lions Festival of Creativity for a session on building a brand, talking not only about her approach to the content she creates, but how she navigates partnerships, projects, and other ventures.
She was joined by Charlie Smith, Chief Marketing & Communications Officer, Loewe, and Taj Alavi, VP, Global Head of Marketing, Spotify. The three shared their thoughts on engaging with Gen Z, how brands can find their voices, and Spotify's playful new brand positioning. Here are four top tips for finding your voice, building a brand, and connecting with fans from Emma and Taj.
1. Bring out your personality—and maintain it—across all projects. 
While it can be tempting to mimic what's trending on the internet and create an elaborate strategy to gain popularity, genuine content creation is completely intuitive, says Emma. She doesn't curate a persona or a personality, but simply follows her instincts as to what will perform. And then she doesn't stop working until she's made content she feels proud of. 
Taj agrees. "Our audience knows and loves us for the things that make us uniquely Spotify, and staying true to our brand beliefs and principles in every collaboration, partnership, new product feature, and playlist is crucial," she says. "As we evolve our platform to become more interactive and discoverable, we also prioritize creating content that's intuitive and speaks to our community of creators and fans alike." 
When it comes to Spotify marketing, we focus on what makes our brand special to creators, artists and fans. Why? Whatever is happening in the world is unfolding, evolving, and remixing on Spotify too. "When you press play on Spotify, your listening experience enhances whatever is happening in your present moment," notes Taj. "This is the basis of our new brand campaign which is starting to roll out this week across many markets around the world."
2. Find a brand partner you really love
It can be tempting to partner with any brand who reaches out, especially if you're just getting started. But both Emma and Spotify maintain credibility and identity by being just picky enough. 
"There's a freshness to our platform," says Taj. "Spotify is a place where global culture is made, shared and celebrated by the world's fans and creators. We look for brand partners and creators who share this passion for cultivating culture."
"I look for a strong personal connection, a genuine love for the product," Emma agrees. "For example, I have been using Spotify for all things audio since I was 15 years old, I have been using Canon cameras since the beginning of my video career, and have been wearing clothes from Aritzia and Levi's for years." 
While she sometimes discovers a brand through a partnership—cosmetics brand Lancôme is a recent example—she always makes sure to test run their offerings before promoting them. "I started playing with their products immediately and have become a genuine fan that way."
When it comes to Spotify, Taj notes that successful collaborations allow us to engage with communities in meaningful ways. When we work with creators to help them connect with and grow their audience, our top priority is to lift up and showcase their authentic voices. We also look for partners who help us build synergies and engage specific fan groups—from movies and shows like The Little Mermaid and The Last of Us to our integration with Strava.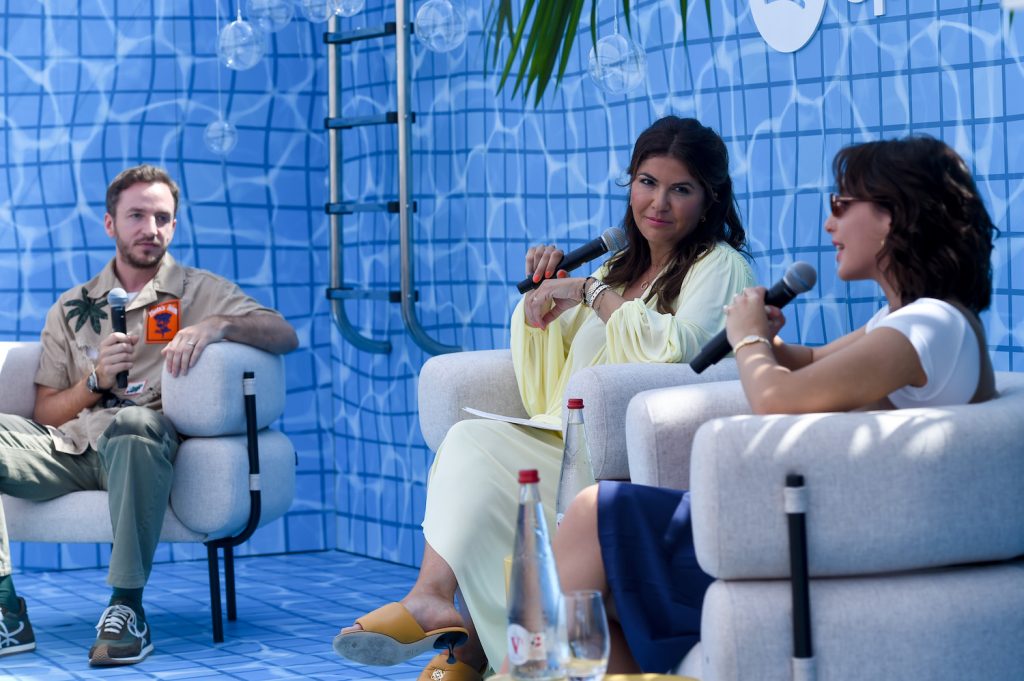 3. Communicate, communicate, communicate
Balancing your own voice with that of a brand is tricky, and requires an "incredible amount of communication," says Emma. "It is my number one priority to maintain my voice in a partnership, and I make it clear to the brands I work with that I need to be able to have creative input and creative freedom, while also promising to honor their creative vision for their channels."
On the brand side, Taj agrees. Brands should prioritize flexibility in the moment to have a consistent and engaged presence and relationship. "Form the ability to pivot quickly and adapt to cultural conversations and new opportunities," she recommends. 
4. Grow together
"Transformation is the key to growth," says Taj. She believes that radical experimentation can drive longterm brand outcomes—and that Spotify thrives thanks to our constant drumbeat of efforts and commitment to continuous evolution. Fostering an entrepreneurial spirit can, too. "You have to create a team and cross-functional environment where challenges become opportunities, and creativity drives growth," she explains. 
"I think the key to a successful partnership is a balance between the personality of the brand and the personality of the public figure," Emma notes. While it can be frightening for both parties to hand over creative control, but in a quality partnership, finding this balance is crucial. 
"Let the voice of the public figure provide a new dimension to your brand," says Emma. "Let them bring a new brand perspective to the public, even when it feels like a risk. This is what makes these partnerships lucrative when they are successful."
Catch all the conversations happening on the ground at Cannes on Newsroom.Spotfy.com/SpotifyBeach2023 and listen to the full conversation on Spotify.