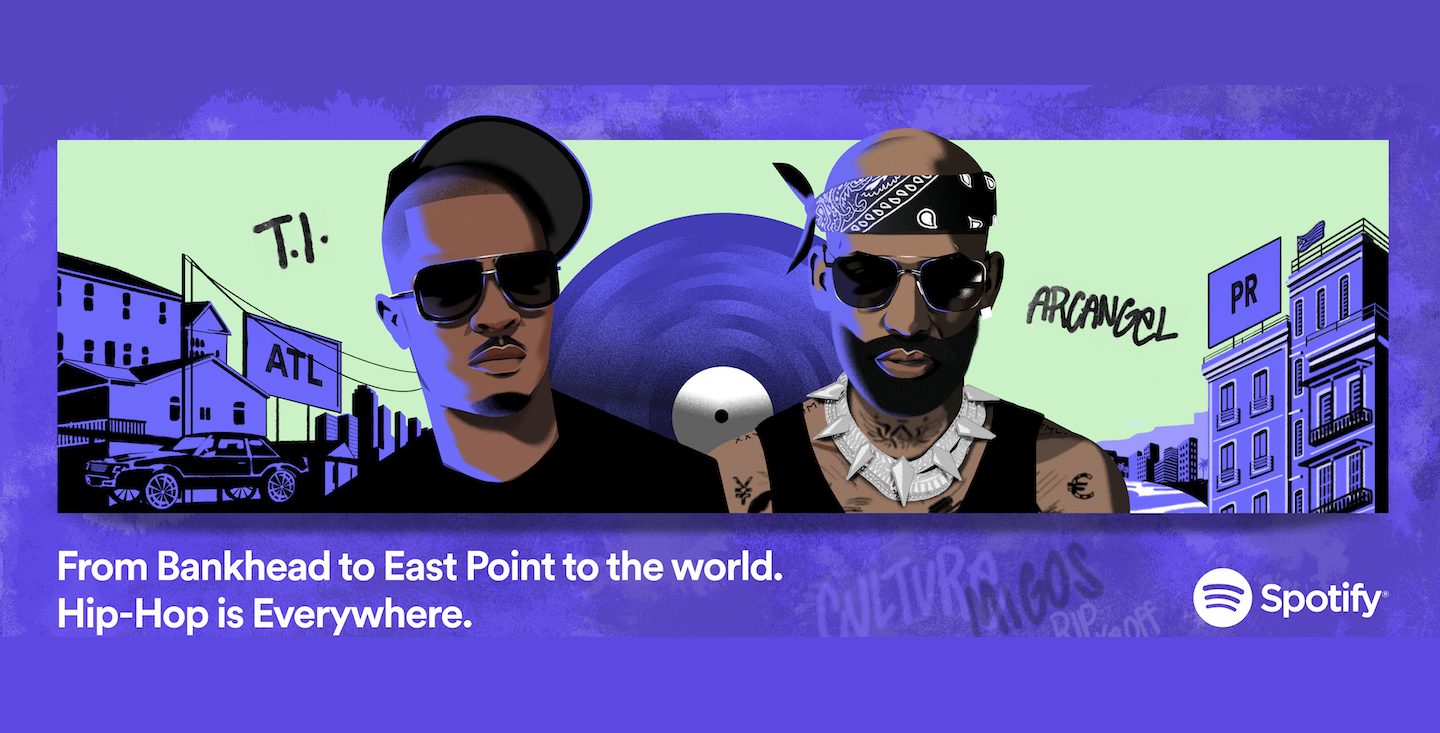 'TIL INFINITY
Nearly a Quarter of All Streams on Spotify Are Hip-Hop. Spotify's Global Editors Reflect on the Genre's Growth
As hip-hop turns 50, fans around the world are celebrating its golden anniversary. For a genre that started at a block party in the Bronx, this milestone is a testament to the massive impact and influence hip-hop has had in virtually every corner of the globe.
And today on Spotify, hip-hop is thriving, with artists and fans from around the world discovering and connecting with one another. In 2023, nearly a quarter of all streams on Spotify globally are hip-hop music, led by artists like Drake, Nicki Minaj, 21 Savage, Ice Spice, and Metro Boomin.
But it goes further than that . . . 
Hip-hop is one of the most-listened-to genres globally on Spotify, and more than

400 million

users around the world have streamed hip-hop music in 2023 so far.

RapCaviar

ranks as the second most-followed playlist on Spotify. 

Around the globe, there are

over 53 million user-generated and Spotify-curated playlists

on Spotify that

mention hip-hop or rap in the title of the playlist

, and

over 2 billion playlists that contain at least one hip-hop song

. 

For the past three years,

almost half

of Spotify's Top 50 most-streamed artists globally have been hip-hop or rap artists. 
One of the most distinct aspects of hip-hop culture is its regionality, with the unique sounds coming out of local U.S. scenes like New York, Atlanta, Los Angeles, and Miami helping one of the most dynamic genres in the world flourish.
That's why we're celebrating these iconic regions with a series of original murals created by Raj Dhunna.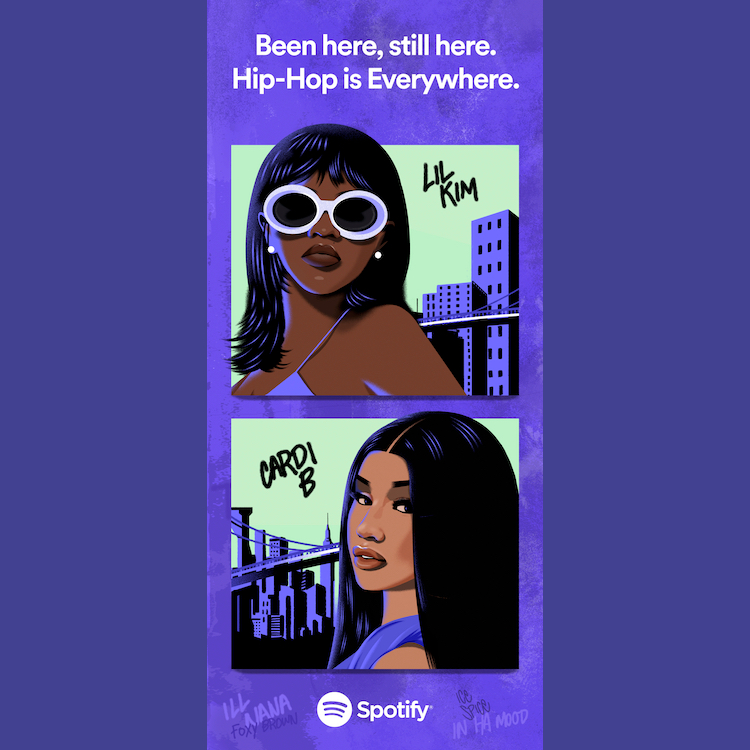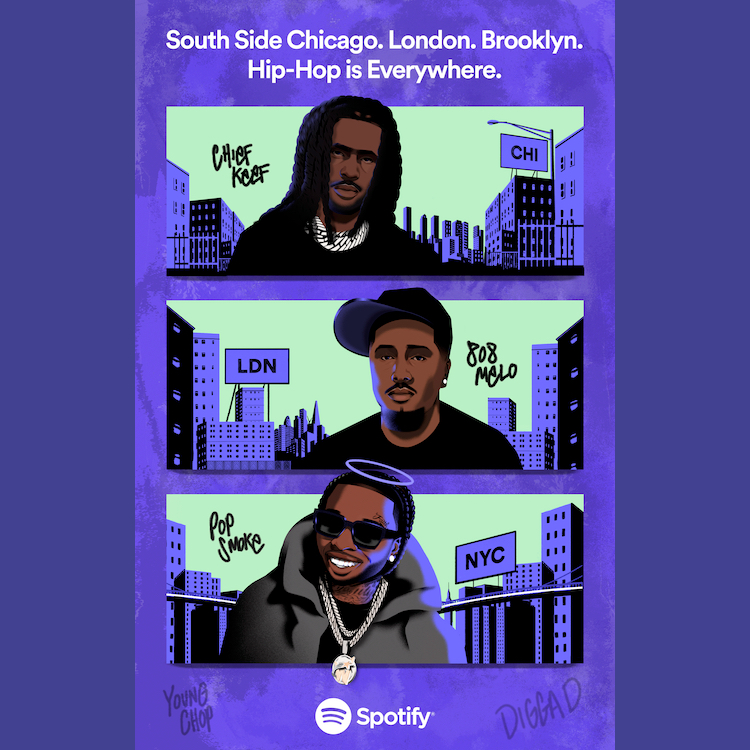 In New York, Chief Keef, Pop Smoke, and 808 Melo will be featured as we highlight drill's evolution over the years, while Lil' Kim and Cardi B will appear in a second mural honoring the Big Apple's legendary women rappers. In Atlanta, we're toasting the globalization of trap with T.I. and Arcángel. In Los Angeles, we're saluting Dr. Dre and Mustard, two titans of the West Coast sound. And in Miami, we're paying homage to the provocative flows of Trina.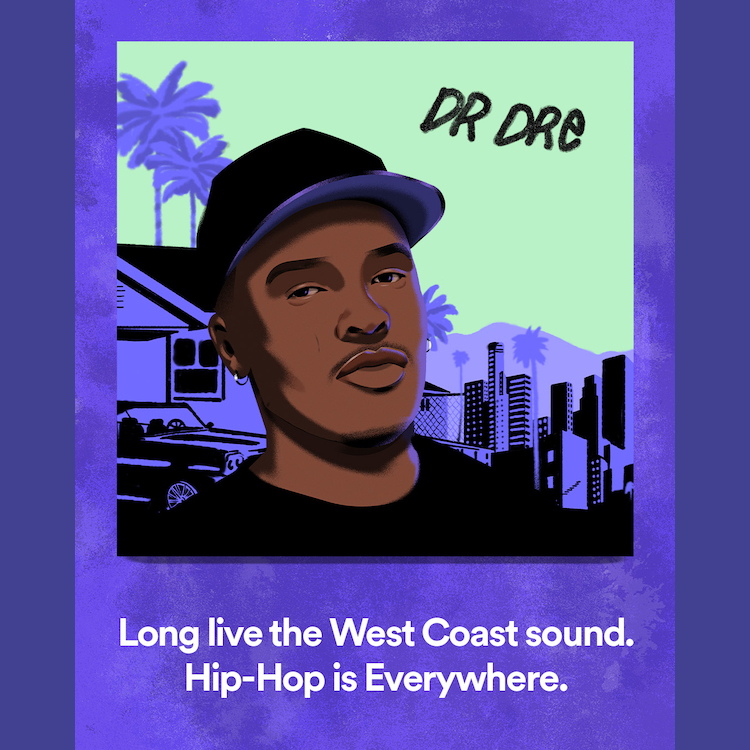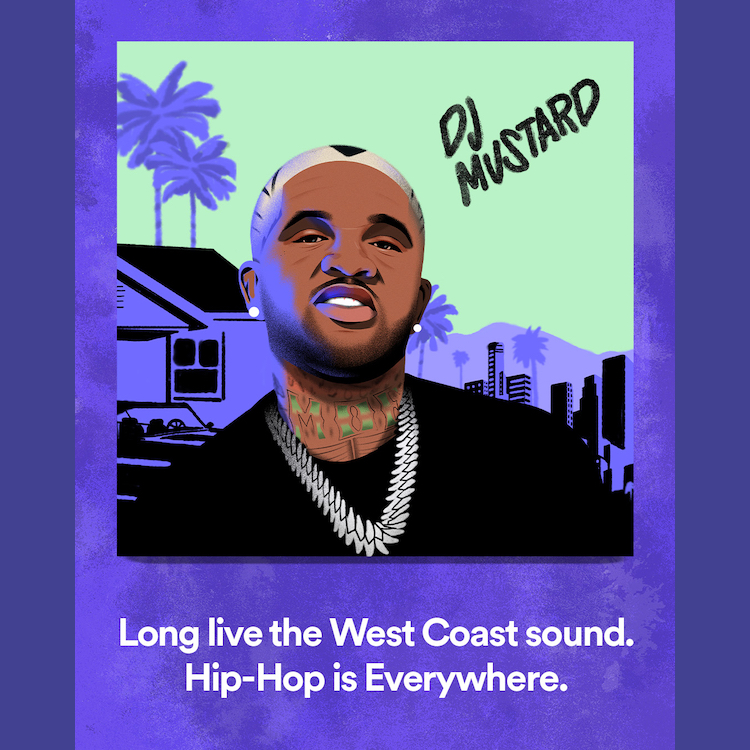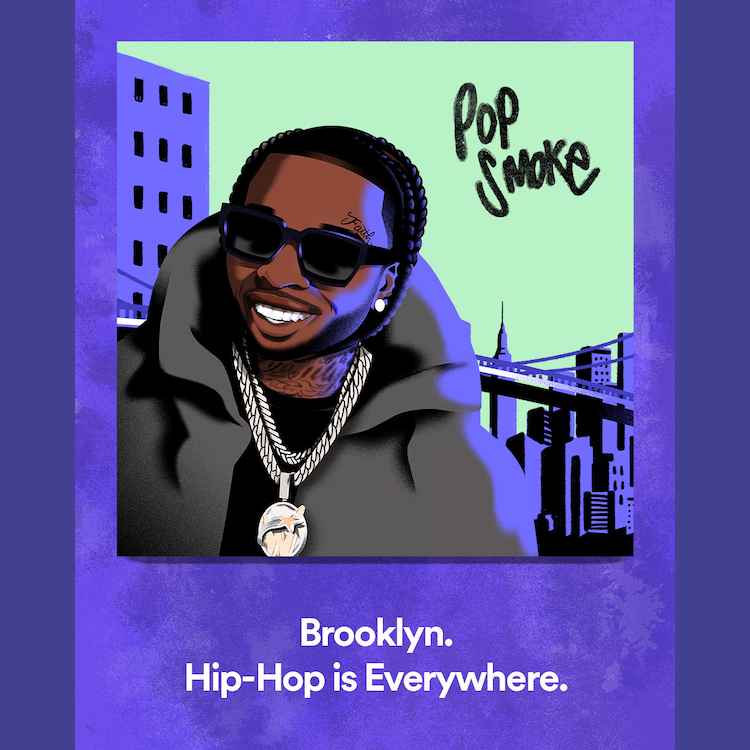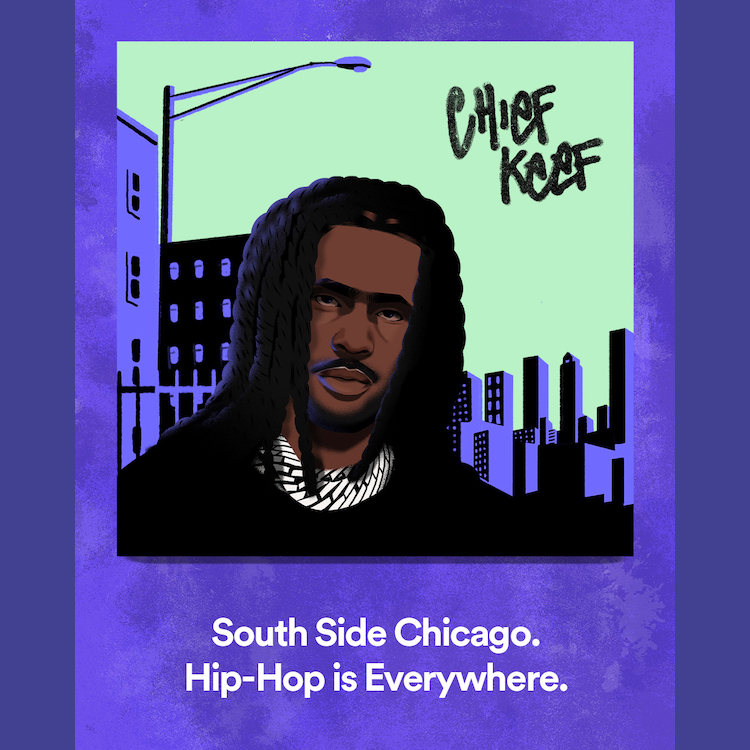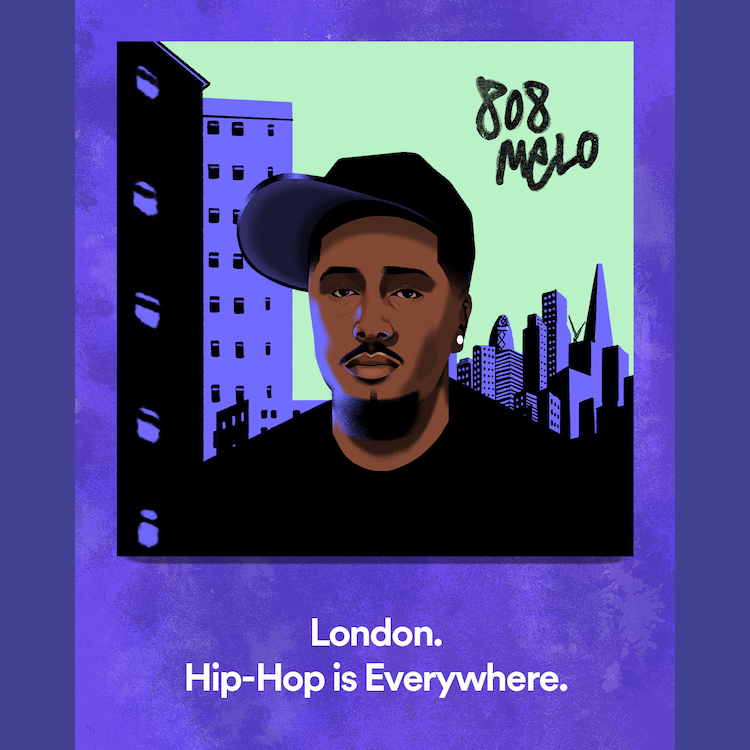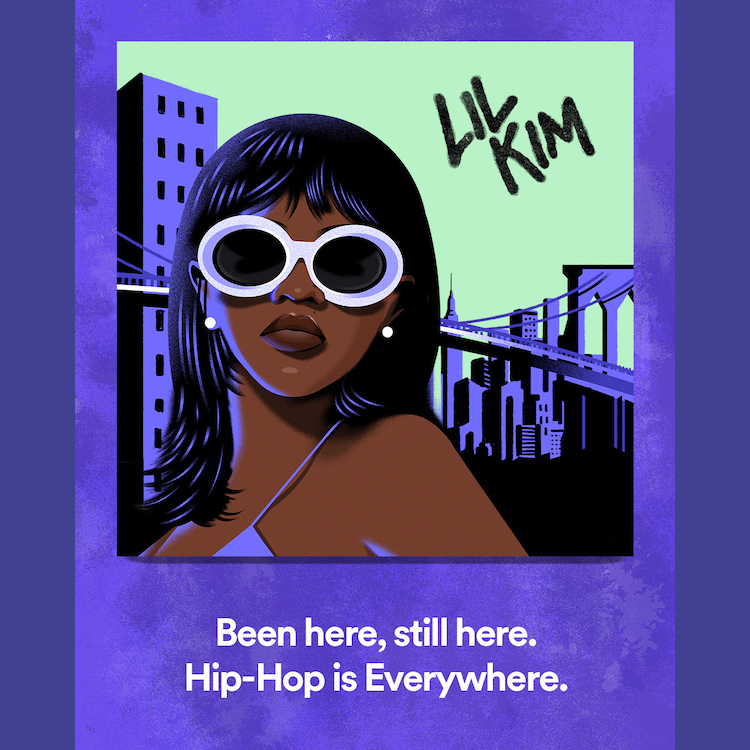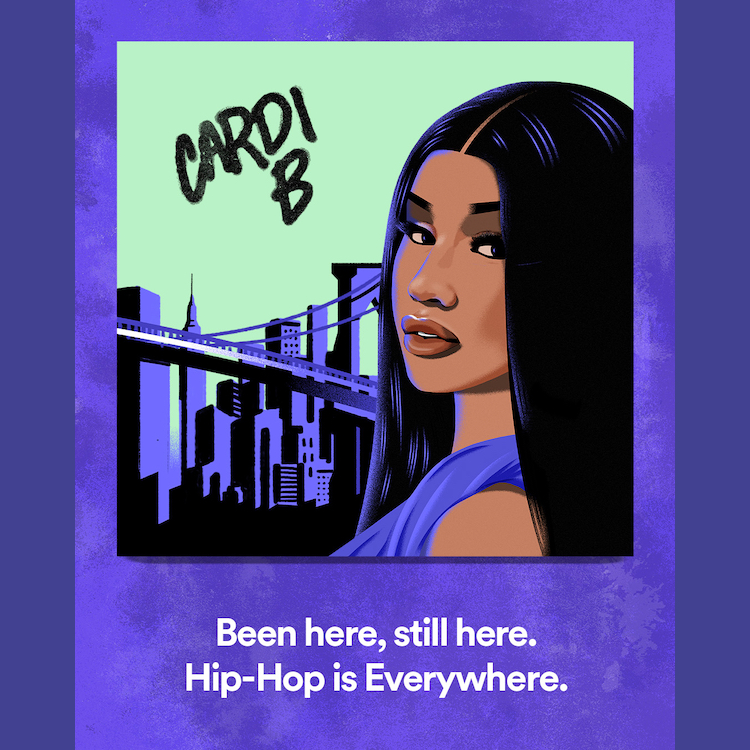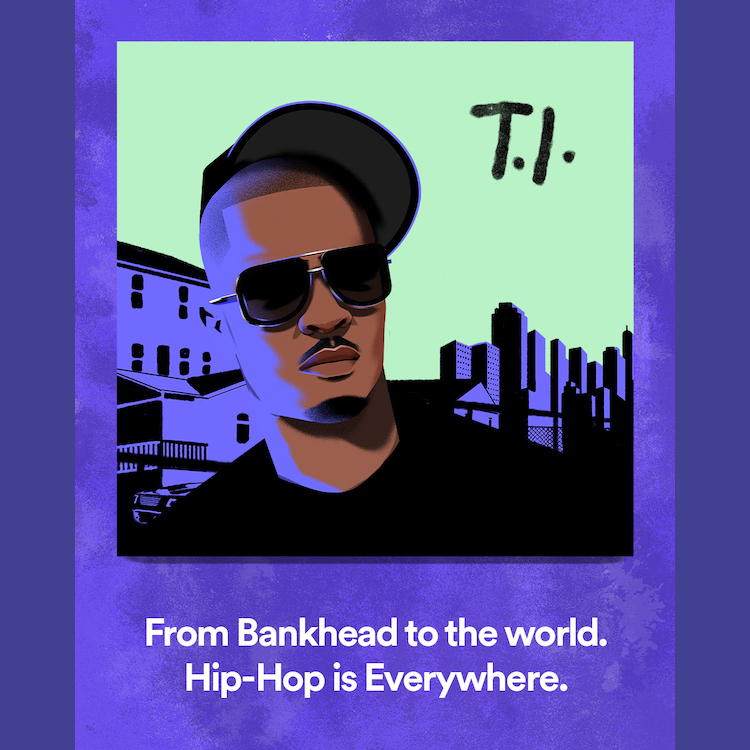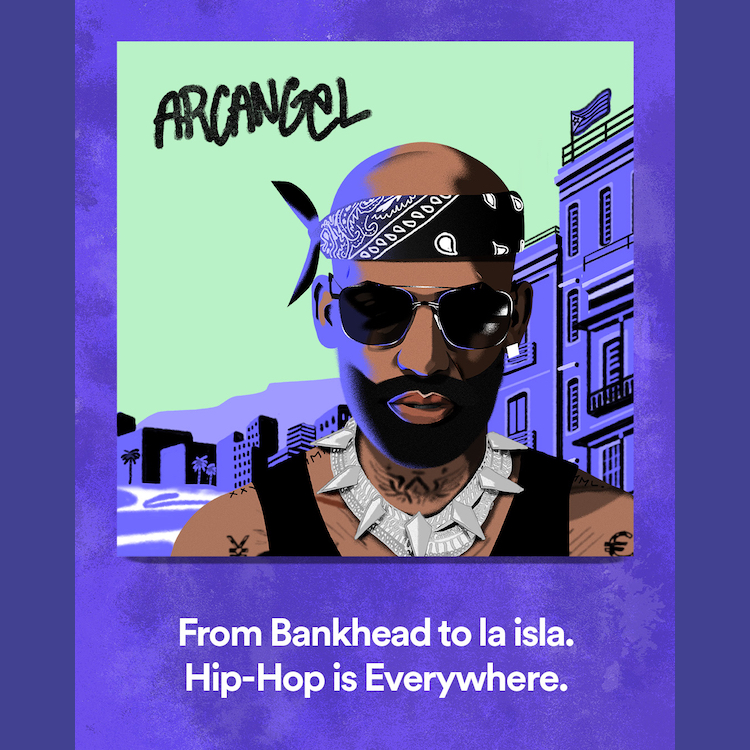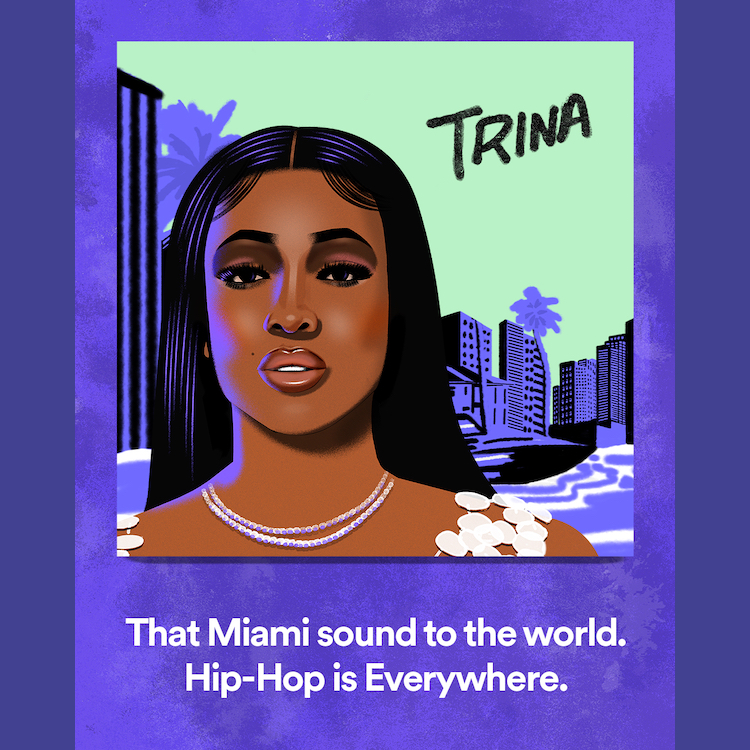 In Mexico, we're also honoring the country's most influential hip-hop stars with a mural that features over 15 artists, including Akwid, Cartel De Santa, Santa Fe Klan, and Gera MX.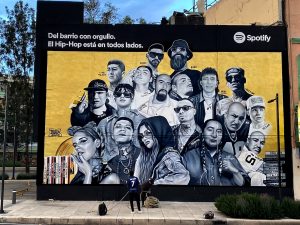 "It's interesting that hip-hop has become regional, but also region-less at the same time," said Carl Chery, Creative Director, Head of Urban Music, Spotify. "Trap is no longer exclusive to Atlanta. We've heard Drake, Kendrick Lamar, and J. Cole on trap beats. Drill is no longer exclusive to London, Chicago, and New York; it's a global sound. It's always fascinating to see how fast sounds travel now."
But as hip-hop continues to grow and evolve, it's not just U.S. regions that are setting the agenda. In countries and markets across the world, artists and fans are putting their stamp on the genre as they take inspiration from hip-hop's pioneers and innovators in the U.S. and add their own special flair to the music and culture.
In 2023 to date, the Top 10 markets for hip-hop streams on Spotify are . . .
USA

Mexico

Brazil

Germany

France

UK

Spain

India

Canada

Italy
"I think American artists approach music with a much more global mindset now. They're aware that there's an entire world to conquer out there," Carl explained. "We're also seeing more artists from global markets having success in the U.S. Central Cee is a great example. We're now in a space where culture can originate in Toronto, London, Paris, or Nigeria and make its way to the U.S."
To better understand the global impact hip-hop has had over the last half-century, For the Record talked to Spotify Editors in Mexico, Brazil, Germany, South Africa, Colombia, and the Philippines. They shared their insights on the defining moments that helped hip-hop blossom in their countries, what makes each region's sound unique, and exciting local artists the world should be looking out for. 
Brazil
Hip-hop in Brazil basically started in São Paulo in the mid-'80s, when young people from different neighborhoods were regularly gathering downtown to have fun and share their cultural inspirations from around the world, like in the classic hip-hop film Wild Style. The political and social climate in Brazil at the time—which revolved around the end of the military dictatorship and a lack of job opportunities, among other things—revealed shared vulnerabilities that united these young fans, who were Black and poor for the most part.
What makes Brazilian hip-hop unique: One distinct aspect of Brazilian hip-hop is that it's strongly linked with drums. As a people with a close relationship with African roots, BR rap incorporates other Brazilian genres, rhythmic constructions influenced by samba and African religions learned from samba and African-matrix religions, and rhyme schemes inspired by repente and embolada—local genres from the northeastern part of the country. These rhyme schemes and influences help emphasize much of the genre's message: A vibrant call for social and racial equity.
Artists to look out for: Orochi, Matuê, and RADAR pick Veigh.
Mexico
Mexico has a wholesome relationship with hip-hop music, not only because of its closeness to the U.S. but also because the street culture and the fight for the community are integral to Mexican identity. From the earliest days of hip-hop, Mexico has been embracing the sound. This started with the comedian Memo Rios when he recorded a Spanish-language parody of The Sugarhill Gang's "Rapper's Delight" with funny lyrics. Then in the '80s, Mexican pop began to mix with hip-hop in TV top programs, and hip-hop reached the hood when those who had been deported from the U.S. returned to Mexico. But things really took off in the '90s, as rap collectives started to form and DJs began throwing parties all over the country. That was the decade when Mexican hip-hop turned into a real and unique thing.
The Mexican editorial team explains what makes their brand of hip-hop unique: Mexican hip-hop gives a voice to the struggle of the working class and those without privileges. In Mexico rappers blend their style with música Mexicana, salsa, corridos, cumbia, funk, and anything that inspires their bars. And nowadays, Mexican freestyle MCs are at the top of the world with artists like Serko Fu and Aczino, with the latter winning the Red Bull Batalla contest three times. In Mexico the elements of hip-hop are still alive, and it all feels very homegrown.
Artists to look out for: Alemán, Cartel De Santa, Eme MalaFe, Yoss Bones, Hispana, Snow Tha Product, Santa Fe Klan, La Santa Grifa, Robot95, and El Moreno Mexicano.
Germany
Inspired by American expats and soldiers stationed in Germany in the '80s, German hip-hop started as a niche, underground movement. While rapping in German was initially seen as uncredible, in 1992, a German rap crew from Heidelberg named Advanced Chemistry released a German-language rap record that would set the tone for the next 30 years. Touching on themes of immigration and racism in Germany, "Fremd im eigenen Land" is still felt in the DNA of German hip-hop today, which reflects the many different diasporas living in the country. But as German hip-hop has grown to become the country's most popular music, it has still evolved, taking cues from U.K. and French hip-hop, as well as American hip-hop. 
What makes German hip-hop unique: Along with Detroit, Berlin has been one of the world's techno capitals, which is reflected in its culture. But music enthusiasts in the city also love German hip-hop. And around the start of the pandemic, a new wave of young artists, mostly from Berlin, kicked off a new style of techno-influenced rap that caught on with younger ravers. So in 2023, German hip-hop might sometimes sound like stepping out of a Berlin techno club on a Monday morning. 
But German rap is still tremendously diverse and is also highly influenced by 2000s and 2010s pop, trap, afrobeats, Jersey club, and drill, as well as emo and pop punk.
Artists to look out for: BHZ, 01099, Luciano, badmómzjay, Pashanim, Rua, Dante YN, RAF Camora, reezy, Miksu/Macloud, and one of our latest RADAR additions, Ski Aggu.
South Africa
South Africa's hip-hop origin story coincides with some of the most significant moments in the country's turbulent history. Right from their 1990 debut album, Our World, Cape Town veterans Prophets of the City set a political tone that several acts would later adopt. Inspired by hip-hop pioneers like KRS-One, South Africa's hip-hop scene devoutly subscribed to turntablism, graffiti, break dancing, and rapping—the four elements of the culture—and used hip-hop as a platform for grassroots advocacy, which was often censored by an oppressive government but embraced abroad.
What makes South African hip-hop unique: South Africa's sound has been heavily influenced by radio and TV in the '90s and 2000s—a time when fans would hear tracks from local artists alongside hits from big U.S. icons. And that sensibility remains today. Skwatta kamp, Tumi and the Volume, PROKID, HHP, and Teargas are among a long list of names who champion South Africa's hip-hop golden era. Using a mix of their native tongues and popular rap slang to express an ever-evolving identity, these artists set the tone for South African hip-hop today. 
Artists to look out for: Nasty C, Blxckie, Wordz, and A-Reece.
The Philippines
While Filipino hip-hop retains its influence from American popular culture, it has taken on its own unique Filipino identity with "kalye," which means "street." The genre reflects the energy, how organic the art form is, and how accessible rapping is to everyone. Pinoy hip-hop is gritty; it's street. It encapsulates everyday experiences using beats and the subversion of beats. 
However, it should not be defined by just one sound. If you dive deeper into the Pinoy hip-hop scene, you'll discover that the genre is more than what breaks into the mainstream. That's why Kalye Hip-Hop playlist is a place where Pinoy hip-hop music thrives and a place where artists can be themselves.
What makes Filipino hip-hop unique: Kalye hip-hop is uniquely Filipino in the topics that the artists talk about. Some artists would talk about things that only other Filipinos would be able to relate to, while some would talk about love—a concept that Filipinos love to sing about. When it comes to the sound, the majority of the hip-hop tracks that come out of the Philippines are more melodic.
Artists to look out for: Al James, Cookie$, and recent RADAR picks Illest Morena and PLAYERTWO. 
Colombia
Colombian hip-hop emerged as a captivating cultural movement in the '80s. Drawing inspiration from trends in the United States and Europe, it thrived within major Colombian cities like Bogotá, Medellín, and Cali.
A powerful means of self-expression, hip-hop allowed young Colombians to share their personal stories and connect deeply with their local communities. In the face of social inequality and challenging circumstances, hip-hop provided a creative sanctuary, empowering the youth to explore different paths to overcome their adversities. Notably, groups such as La Etnnia, Alcolirykoz, and Tres Coronas, among others, played pivotal roles in shaping the Colombian hip-hop scene.
What makes Colombian hip-hop unique: Colombian hip-hop serves as a potent form of expression, offering a window into the nation's streets and highlighting the societal complexities in the country. Through their lyrics, hip-hop artists infuse profound social meaning, turning their songs into powerful anthems of resilience that have deeply resonated with the younger generation.
A standout attribute of Colombian hip-hop is its independent ethos, with artists often managing their own careers. Moreover, it's noteworthy that Bogotá is home to the largest public hip-hop festival in South America, which attracted over 150,000 people in 2023.
Artists to look out for: Kei Linch, Nanpa Básico, Ali Aka Mind, and Luis7Lunes.
Celebrate hip-hop's landmark anniversary with our special Hip-Hop Turns 50 on-platform hub, featuring the hottest and most comprehensive playlists, as well a curated selection of podcast episodes that look back at hip-hop culture over the years.