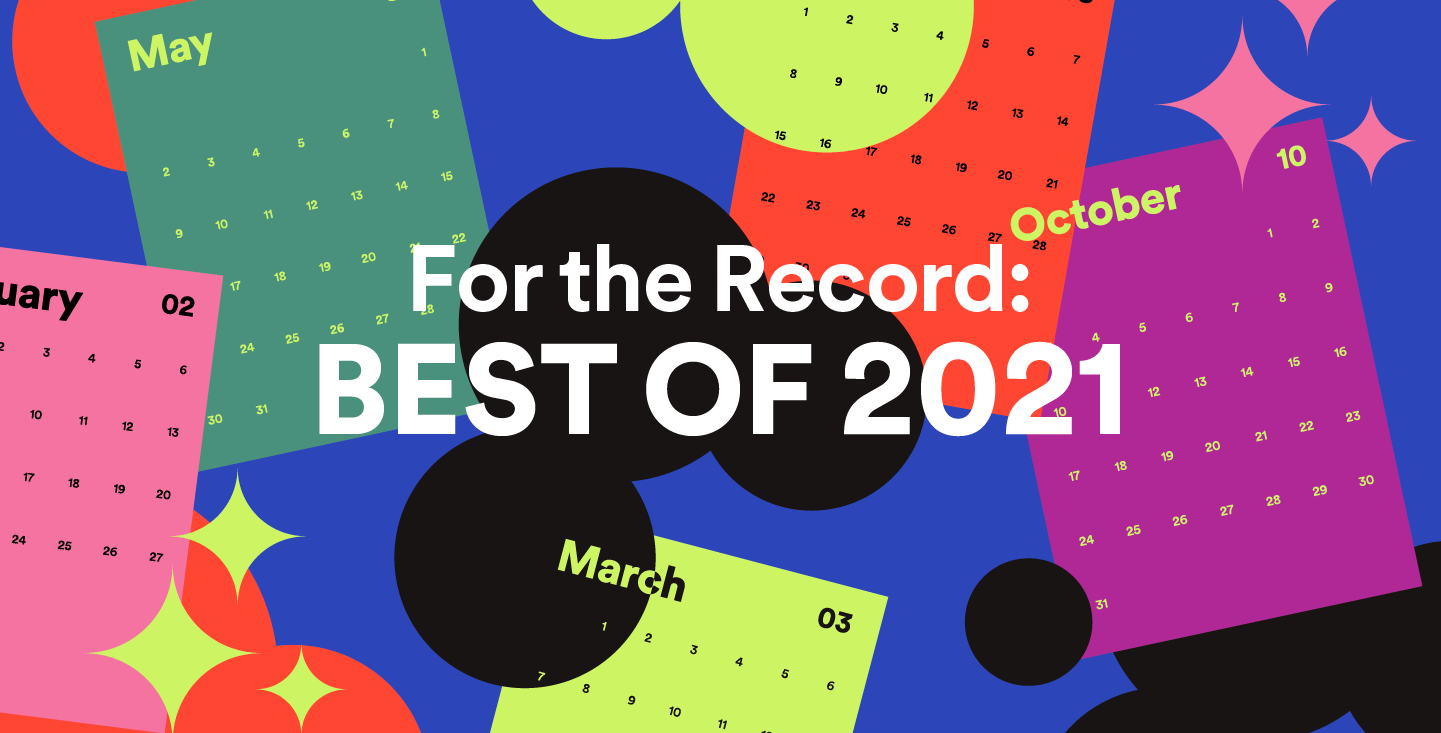 YEAR IN REVIEW
From Country Nostalgia to Podcast Partnerships, These Are Our Favorite 2021 'For the Record' Moments
From fantastic new music and podcasts to product releases and exciting partnerships, 2021 was packed with high notes—and For the Record was there to cover it all. As we wrap for the year, here are some of the For the Record stories and Spotify moments that resonated with our readers and us.
January signaled emerging trends and artists.
We kicked off the year by exploring emerging music trends and artists. Brazil's genreless playlist creme, which pulls together the diverse sounds of urbano music, set the tone for a year of genre experimentation. Atlanta-based rapper Flo Milli helped launch another year of Spotify's global emerging-artist program, RADAR. Check out the U.S. RADAR artist's advice for other aspiring female rappers.
February brought the streaming power.
Spotify leaders gathered in February for the livestream event Stream On, where we explored the power of audio and the opportunities ahead for millions of creators and billions of fans around the world. Spotify founder and CEO Daniel Ek also announced Spotify's sweeping expansion to more than a billion people in 80+ new markets around the world. It's all part of an ongoing commitment to building a truly borderless audio ecosystem that connects creators, listeners, and content.
March mixed it up.
This month we introduced a new family of personalized playlists: Spotify Mixes. We added three newcomers—artist mix, genre mix, and decade mix—that represent the next generation of the platform's focused, personalized offerings. Check them out in the Made for You hub.
April called for amplification.
On the heels of International Women's Day, Spotify announced a new global music program designed to turn up the volume on women. Enter EQUAL. Since then, we've spoken with impactful women artists around the world like Lido Pimienta and STAYC and reached a six-month milestone. And to highlight one of the fastest-growing music markets in the world, the Spotify: For the Record podcast (now Spotify: Discover This) explored the diverse beats in African music on "Afropop to Amapiano: African Music Ignites."
May refreshed and flourished.
In May, we launched Spotify's Fresh Finds program, which focuses on supporting independent artists. Within a few short months, Spotify's inaugural class of artists had gained over 6 million first-time listeners and had welcomed four more fresh voices to the program. For the Record also took a closer look at a fresh trend and explored the flourishing collection of plant playlists after finding that streams of Spotify playlist Music for Plants had increased by nearly 1,400%.
June buzzed.
Readers were quick to hit the "like" button when American rapper Saweetie was in the hot seat defining hyphy slang on our podcast episode "Celebrating Local Genres: Chopped & Screwed, Go-Go, and Hyphy."
Bay Area royalty @Saweetie knows what slaps. Learn the lingo in our latest episode of "Spotify: For the Record." https://t.co/XKmcW0ch1z pic.twitter.com/xqgkKPG5QI

— Spotify News (@SpotifyNews) June 23, 2021
And fan-favorite podcast Call Her Daddy made things exclusive with Spotify. The buzzy show was the latest addition to Spotify's ongoing partnerships with beloved entertainment brands like Dax Shepard's Armchair Expert and Bad Robot. Plus, our Only You in-app experience gave listeners a fun-filled, shareable data moment midway through the year. Take a look back at the campaign and the personalized playlists still waiting for you on Spotify.
July jammed out.
Dance and dance music fans, this month was for you. SB19, a group leading the Philippine-style pop movement "P-pop," chatted with us about their latest EP, Pagsibol, and their creative process. Plus, Spotify's global team of dance music editors shared the big genre trends on their radars.
August was a friend blend.
In August, two playlists became one as friends and loved ones tapped into the new Blend personalized experience. In case you missed it, two listeners can now merge their musical tastes into one shared playlist created just for them, making it even easier to connect, discover, and bond. Speaking of friendship, members of the Gossip Girl team came together to discuss the sounds and tracks featured on the show—and to spill a few secrets.
September leaned into nostalgia.
Two musical blasts from the past swept through For the Record as we looked back at the '80s and '90s. Swedish pop sensation ABBA had listeners around the world crying "Gimme!" when they announced the release of their first new album since 1981. And in celebration of Gen Z's nostalgic listening, Spotify launched a campaign highlighting the staying power of our country catalog. It's not too late to take part in the '90s Country Digital Experience.
October welcomed new growth.
Did you catch Spotify: For the Record's news? After a year of audio adventures in storytelling, we grew our slate of company news podcasts from one to three. Now our audiences can tune into Spotify: For the Record, Spotify: Mic Check, and Spotify: Discover This for episodes tailored to their interests. Keep your ear to the ground and stream all three.
November shared news you can use.
This month brought a few long-awaited moments to listeners around the world, starting with our redesigned For the Record newsroom. The site debuted with a sleeker, more interactive design and remains a hub for Spotify's latest and greatest news, podcasts, resources, and more.
Spanish speakers heralded the season two arrival of Caso 63, a Spotify Original podcast that's setting new records as it draws a growing global audience.
A message from @cantillana1975, @antoniazegers and #JulioRojas just for you. Season 2 of #Caso63 is here: https://t.co/EX0YUFRZmm pic.twitter.com/nBlcn5rgST

— Spotify News (@SpotifyNews) November 11, 2021
And, sing it with us—lyrics became available on a Spotify for the majority of our extensive library of tracks. Fans can even share a favorite line with friends on social media.
December wrapped with a bang.
Happy #SpotifyWrapped to all who celebrate.

— Spotify News (@SpotifyNews) December 1, 2021
That's a wrap! Spotify 2021 Wrapped, that is. Creators, listeners, and audio enthusiasts around the world joined us in celebrating the large role audio played in the lives of our listeners and creators this year. From unveiling what the world streamed most to marking the fifth anniversary of Artists Wrapped, this was a favorite moment across the Spotify community. For a behind-the-scenes look at how Spotify brought this year's event to life, listen to "2021: That's a Wrap!" on Spotify: For the Record.
No matter how you connected with Spotify this year, we're grateful to have been part of your story. We can't wait to see the audio innovation 2022 brings and keep sharing it with our For the Record community.